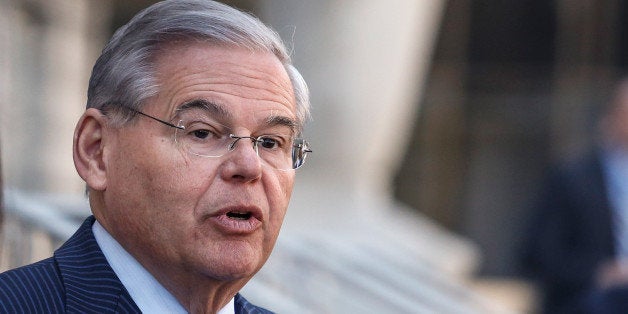 Senate Majority PAC released a statement Thursday from executive director Stephanie Potter, saying, "Senate Majority PAC carefully adheres to the letter and the spirit of the law, and we take pride in that. We take our separation from official government action very seriously and do not advocate legislation before the Senate. The fundraiser referenced in the indictment as 'fundraiser 2' and Dr. [Salomon] Melgen are personal friends, and we were not aware of the full extent of their communication until the indictment came out last night. While we are confident that this was an isolated incident, the fundraiser in question is no longer with Senate Majority PAC."
Menendez was indicted Wednesday for allegedly using his office to do favors for Melgen, a top donor to his campaign and to a host of committees that worked to re-elect the senator in 2012, in exchange for gifts including those contributions. The largest contribution were two $300,000 donations by Melgen's Vitreo-Retinal Consultants company to Senate Majority PAC specifically earmarked to back Menendez's campaign. Senate Majority PAC ultimately spent $582,500 in support of Menendez. Melgen was also named in the DOJ's indictment.
The indictment identifies "Fundraiser 2" as a "[Senate] Majority PAC fundraiser and former staffer to and fundraiser for Senator 3," who is Senate Minority Leader Harry Reid (D-Nev.). Reid is tied at the hip to Senate Majority PAC.
Three people involved with Senate Majority PAC fit this description: Rebecca Lambe, Susan McCue and Jake Perry. The Huffington Post has confirmed that neither Lambe nor McCue are Fundraiser 2.
Fundraiser 2 received both $300,000 contributions from Melgen, according to the indictment.
Melgen's first contribution, made in July 2012, came as a check that Fundraiser 2 received from another unnamed fundraiser -- identified in the indictment as "Fundraiser 1" -- who had collected it from a close personal friend of Menendez. Fundraiser 1 wrote in an email to Fundraiser 2 that the contribution was to be "earmarked for New Jersey."
The second contribution came in October through Fundraiser 1 with a similar email stating, "Entire $300k to [Majority PAC] is earmarked for New Jersey."
During this time, Melgen was attempting to get Secretary of Health and Human Services Kathleen Sebelius to intervene in a dispute he was having with the Centers for Medicare and Medicaid Services related to his company's overbilling the agency. To do so, he had enlisted Menendez, who had in turn brought in Reid to help arrange a meeting with Sebelius. Sebelius, Menendez and Reid met to discuss Melgen's dispute with CMS in early August.
Melgen and Menendez continued lobbying into the fall, and just days after Melgen made his second $300,000 contribution to the super PAC, he made contact with Fundraiser 2. On Oct. 19, Melgen emailed Fundraiser 2 with the intent of communicating to Reid where things stood with his dispute, and included instructions that Sebelius should intervene to state that his overbilling practices were permitted.
"Dr. Sal,

I'm going to see [Reid] on Tuesday. I will give this to him directly. Is that ok?

I am sure he will forward this to [the senior health council] in his office. She was the staff person in the meeting before. I would suggest that someone come in and brief her on the updated information."
The Department of Justice alleges that the $600,000 in super PAC contributions earmarked to re-elect Menendez were bribes directly connected to Menendez's support in the Medicare billing dispute.
Calling all HuffPost superfans!
Sign up for membership to become a founding member and help shape HuffPost's next chapter
BEFORE YOU GO
PHOTO GALLERY
Political Tattoos That Really Suck