 Further proof that no one really becomes an overnight success is found in the story of Bob Nelson. The 56-year-old wrote what would become Alexander Payne's "Nebraska" back in 2002, as a way to stay employed in an industry that was ready to push him aside.
"It was somewhat in desperation," Nelson told HuffPost Entertainment about the impetus for the script, which Nelson wrote following the cancelation of the Seattle-area television show that he worked on, "Almost Live!" "I was basically out of work. I had never tried to go to L.A. and I thought that if I was going to do it, I should do it now. One of my friends there said, 'I'll help you and get your script out there, but they're tired of reading 'Everybody Loves Raymond' and 'Simpsons' spec scripts.' He said executives loved reading film scripts, because they were able to see if you can develop characters. I had the idea for 'Nebraska' for a few years, but I finally wrote it up."
What Nelson wrote is a road trip comedy-drama about Woody and David Grant, a father and son who travel from Montana to Nebraska after the elder man thinks he won $1 million from a direct-mail sweepstakes. En route, the pair (played onscreen by Bruce Dern and Will Forte) encounter their extended family, along with feelings of past regrets. "It's amazing. It's still astounding to me," Nelson said of his experience with the film thus far, which debuted to rave reviews at the Cannes Film Festival in May and premiered in limited release on Nov. 15. "I keep having people come up to me and say, 'I'm from Brooklyn, I've never been to the Midwest, but I know those people. This is my family.'"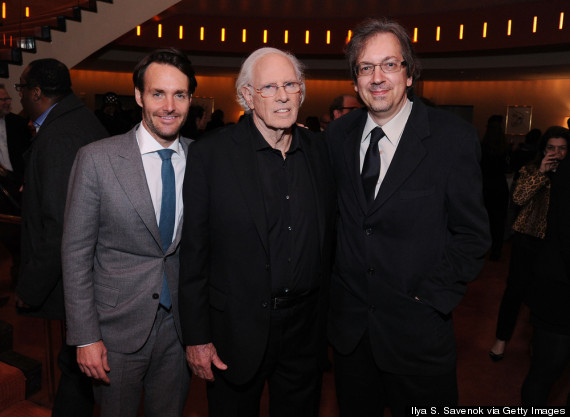 Will Forte, Bruce Dern and Bob Nelson in New York on Nov. 6, 2013
Payne first optioned Nelson's "Nebraska" script in 2003 during production on the road-trip comedy "Sideways," but he decided against making it his next film at the time. "I was so sick of shooting in cars that I didn't shoot this after ['Sideways']," Payne told Indiewire in May of this year. "You make a film at a given moment in time."
In the ensuing decade, Payne would tweak Nelson's script, but not enough to change its original core. "It's amazing how much is intact," Nelson said about the work Payne did on his screenplay. "When I look at it now, I do see how much he did. He sent me his script when it was done and I was really happy. There were a couple of things in there where I was like, 'Why didn't I think of that? Of course!' The structure and the characters and the settings, though, are almost all the same."
According to Nelson, Payne's script changes were character driven. For instance, he turned up the tension between David and his successful older brother, Ross (Bob Odenkirk), a decision that pays off in a comical third-act set piece where they team up to steal an air compressor. "They've been competing with each other but now they're going to do something together," Nelson said of the scene. "It also gives the brothers a complete story."
Other script changes were made by Nelson himself. In an early draft of the screenplay, Woody's wife, Kate (June Squibb), didn't accompany the men to Nebraska. In the finished film, though, Kate winds up in the state to participate in the Grant family's impromptu reunion, and she scores some of the film's biggest laughs.
"Kate was tricky, because in the beginning she can seem quite unpleasant and maybe unbearable," Nelson recalled. "Coming from humor, though, I felt a desperate need to have some comedy in the second half of the film, when the story might start to seem to bleak and overwhelming. So she's there to help the plot along, and then that gave me a chance to show another side of her. That was really fortunate."
The duality of the film's characters -- that they are played with both sincerity and some good-natured mockery -- has become a source of criticism for some. "Whenever I get the question, 'Are you making fun?' or if I'm being accused of feeling superior to the characters, it's usually by people who themselves feel superior to others," Payne told HuffPost Entertainment in an interview back in October. "At least I think so. I remember when 'Fargo' came out, the Coen brothers got some shit for making fun. People in Minnesota peed their pants because that movie was so funny. Are you kidding me?"
"Any time you put humor into a film, you're going to have people who think you're making fun of people," Nelson said. "Woody Allen has savaged the people of Manhattan for years. All of the characters in 'Manhattan,' if you make a literal comparison, look bad. My hope is that if you sit through 'Nebraska,' and you watch it, I think you know that all of us involved have the best intentions. This is based on my family. Woody is inspired by my dad. My family in the Midwest was like this. They didn't talk much, they were great people, but they also had these wicked senses of humor. My thought is that I would think most of them would enjoy it."
One member of Nelson's family, in particular, does enjoy the film: his 85-year-old mother, who has a cameo appearance in "Nebraska." Nelson's script has already been the subject of awards buzz -- it's eligible for nomination in the Best Original Screenplay category at the Academy Awards -- and Nelson hopes to take his mother to next year's Oscars ceremony, provided he's nominated.
"To me, I don't even think about what a nomination would mean to me. I think of my mom," Nelson said. "I think of the people I worked with on 'Almost Live': Bill Nye, Joel McHale of 'Community' started there. This tiny little show in Seattle gave us all this opportunity. I feel like a nomination would represent what we were able to do there for 10 years. Winning, though, is not even a thought.
"It's like getting the movie made is all you really need. When I sat down to write 'Nebraska,' I wasn't thinking in any terms of [awards]," Nelson continued. "My wife and I went to Cannes. Usually, we live out in the woods. I'm usually out on the tractor mowing the lawn. A few days later we're in France, walking the red carpet. We tried to enjoy that as much as we could, but it's not our world. The movie is what it's really about."
"Nebraska" is out in limited release.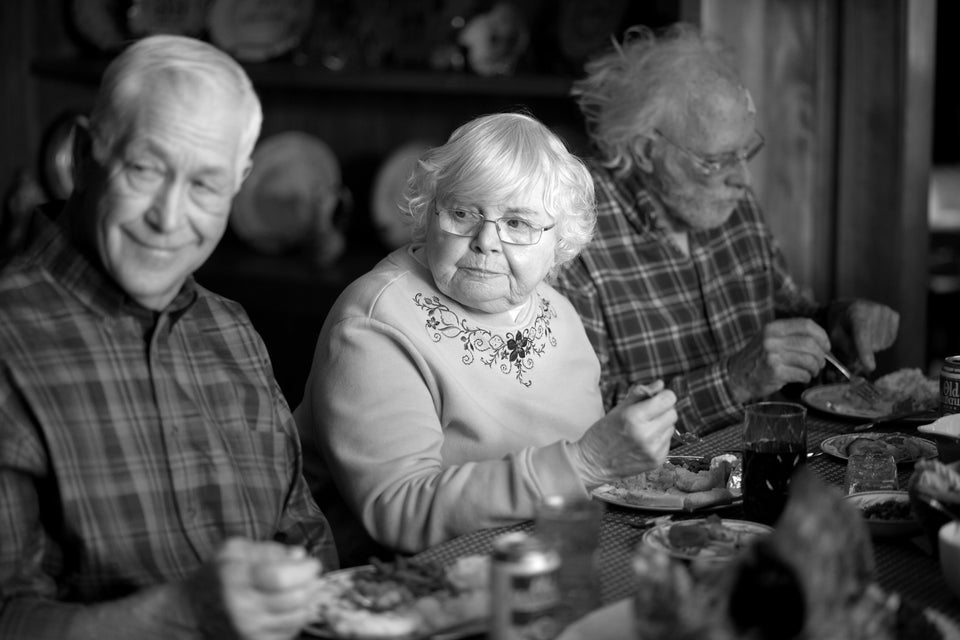 "Nebraska" Photos
Popular in the Community