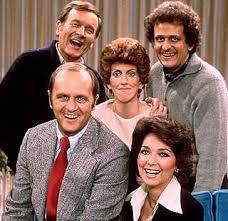 In the 1970s, Bob Newhart found himself literally in the middle of a revolution. He did not look the type. In his "button-down" appearance and deadpan delivery and demeanor, he resembled what he was before he embarked on his standup comedy career; an accountant. But "The Bob Newhart Show," which debuted in 1972 and would run for six seasons, was in the vanguard of a new era in which television got real.
That's the title of the first episode in CNN's new eight-part-documentary series, "The Seventies," which premieres Thur. June 11 at 9 p.m. ET. "Television Gets Real" is a clip-rich episode featuring new interviews with Newhart, Tom Hanks (who served as "The Seventies'" co-executive producer with Gary Goetzman and Mark Herzog), Valerie Harper, John Amos, Norman Lear, Robert Klein and critics Tom Shales and David Bianculli.
In its second year on the air, "The Bob Newhart Show" was an integral part of arguably television's Best. Programming. Block. Ever; CBS' Saturday night lineup of "All in the Family," "M*A*S*H," "The Mary Tyler Moore Show," "The Bob Newhart Show," and "The Carol Burnett Show."
"The Mary Tyler Moore Show" and "The Bob Newhart Show" cleansed the palate from the envelope-pushing "All in the Family" and "M*A*S*H." Neither show pointedly delved into the social and political issues of the day, which is one of the reasons both seem to have aged better than other more topical counterparts.
"We were different," Newhart said in a phone interview. "We certainly weren't 'All in the Family.' Mary and I and Carol Burnett were more traditionally funny. If the whole night had been shows taking on issues, I don't think it would have worked. Our shows were a necessary balance."
Newhart was no stranger to television. He was a mainstay of variety and talk shows such as "The Ed Sullivan Show" and "The Tonight Show" (he guest-hosted almost 90 times). Following the breakout success of his first comedy album, "The Button-Down Mind of Bob Newhart" in 1960, he was tapped to host an eponymous variety show that lasted one season, but did win an Emmy Award and the Peabody.
One and done suited Newhart fine. "I probably never should have done it," he laughed. "I wasn't seasoned enough. I did a monologue every week, but at the time we did about 39 shows and I felt I couldn't maintain the quality I had achieved on the record album. That had been like a dam that suddenly burst and all this material came out. And they put me in sketches, which I wasn't very good it. So I made a point of watching good people work to see what you had to do to be good. Plus, I wanted to get back to the standup world. I felt much safer there."
He did some series work, an "Alfred Hitchcock Presents" episode; an episode of the Buck Henry series "Captain Nice." And then MTM Enterprises, the producers of "The Mary Tyler Moore Show," came calling.
By this point, the times may have been a'changin', but prime time television was still most associated with escapism and rural-based comedies such as "The Beverly Hillbillies," "Green Acres," and "Petticoat Junction," all on CBS. Executive Robert Wood executed a so-called "Rural Purge" that opened the door for Bob, Mary, Archie Bunker and Hawkeye.
Newhart was all in. "The fact that it was MTM suggested it would be different," Newhart said. "Also, I had been on the road for 12 years and the road is not that romantic. It's a lot of hotel rooms and travel and missing luggage. As far as a home life is concerned, you're gone. When I was offered a sitcom, it was like, 'You mean I can have a normal life?'
"The Bob Newhart Show" was set in Chicago, Newhart's hometown. "Mary had taken Minneapolis and Andy Griffith had North Carolina," he joked. "I know Chicago. I understand Chicago." Newhart portrayed psychologist Bob Hartley, husband to Emily (Suzanne Pleshette). At Newhart's insistence, there would be no kids.
"I didn't want to be that TV dad," he said. "I didn't want to be that father who is not very bright, but the family loves him and in the final scene, the family is hugging him but they're looking at the camera, like, 'What are we going to do about him?'"
Making his character a psychologist was a masterstroke. It dovetailed with his standup persona as a listener and reactor in his classic phone routines. "(When it was suggested), I said that psychiatrists really deal with more severely-disturbed people. Personally, my own strange comedy preferences would have enjoyed getting humor from that, but I didn't think it was viable (for television)."
"The Bob Newhart Show" did not want to set the world on fire and it succeeded brilliantly. As with "The Mary Tyler Moore Show" it was a character-based comedy that boasted a peerless ensemble and smart, pitch-perfect writing. "That's a formula I stumbled on," he joked. "Get great writing and a great cast and take all the credit yourself."
And yet, Newhart thought the show, which was getting Emmy nominations and "Super Bowl numbers" in the ratings, thought that it was living in the shadow of "The Mary Tyler Moore Show" ("And for good reason," he laughed). In the show's fifth season, he approached Robert Wood about moving the show. "I felt we were doing good stuff that wasn't getting as recognized," he said. "Bob Wood said to leave it alone; that it worked where it was. It wasn't until syndication and we didn't follow Mary that the show was really recognized as being good on its own."
It was Newhart's decision to end the show after six seasons. "We might have had another year left in it," he said, "but I had seen shows that had stayed on too long and it damaged the brand."
Today, at 85, the brand is still in demand. He won his first acting Emmy in 2013 for his role as Professor Proton on "The Big Bang Theory," While his character was killed off, he said, there has been talk he could appear as a Yoda-like figment of Sheldon's imagination to help him in times of trouble.
He plays about 20 dates a year at which fans of a certain age are compelled to tell him what "The Bob Newhart Show" means to them. "That's one of the great things about being on television, and I run into it more and more," he reflected. "You're part of people's lives. A man will come up and say that he and his dad watched the show together on Saturday night and they have this look in their eye, like, 'What a wonderful time it was.'"
Which makes the notion of retiring seem ludicrous. "As long as I am able to," he said of performing. "It's a new experience every time. And why stop making people laugh? I can't understand that--'I'm tired of making people laugh; I don't want to hear it anymore.'"
REAL LIFE. REAL NEWS. REAL VOICES.
Help us tell more of the stories that matter from voices that too often remain unheard.