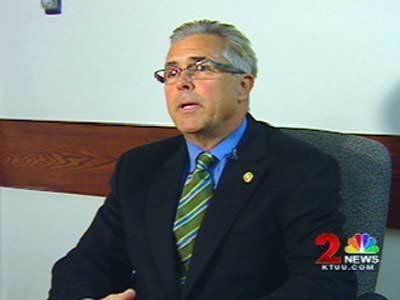 Bob Poe, an erstwhile state commissioner and former president of the Anchorage Economic Development Corp., has announced his run for the Alaska Democratic gubernatorial ticket in 2010. Whether Sarah Palin will seek re-election is yet to be determined. But if she does, The Hill says that Poe could prove to be a formidable challenger:
Poe is viewed as a serious, viable candidate by state Democrats, though there are some other candidates that could derail Poe's bid to unseat Palin. Poe lacks statewide name recognition unlike a candidate such as Ethan Berkowitz, the Democrat who came close to defeating Rep. Don Young (R-Alaska) this past November.
However, it is precisely this lack of name recognition that prompted Poe to announce his gubernatorial candidacy "Obama-style" -- two years prior to the election. The Anchorage Daily News notes here that, in addition to his public obscurity, Poe has never run for public office and thus lacks campaign experience. But this is another hurdle he is prepared to clear. According to the Daily News:
Poe, asked why he's announcing this early, said it gives him time to get out and meet voters. He cited a comment in the Alaska Ear, which, reporting on rumors he would run, suggested the first thing that people would ask is "Who's Bob Poe?"

...

But he's been around Alaska government and business for 28 years. He's currently a business consultant in Anchorage and said he worked under four governors - Sheffield, Cowper, Hickel and Knowles.
Palin's favorables are still pretty high, last time we checked -- 60% favorable, 38% unfavorable. So it'll be a tough race for Bob Poe, and as we saw in 2008, even popular Democrats, like Berkowitz and Mark Begich, have trouble in Alaska, even against crooked Republicans like Young and Ted Stevens.

It should be a fun one, though. The chances of beating Palin are very low, but it will be nice to have her in the media spotlight again in 2010. Even a victory for her in 2010 could damage her chances for 2012, if it's not "convincing" enough.
Thus, Poe is not the first Alaska Democrat to enjoy somewhat favorable odds. But with such a head-start, it seems only time will tell whether he can prove himself on the campaign trail, as he reportedly has in his past public service duties. Interestingly, the Anchorage Daily News also notes that Poe's wife Terzah Poe works for Shell Oil. This is an interesting parallel to Todd Palin, who was obliged to take a leave from BP when his wife's administration entered into negotiations with that company for a natural gas pipeline in 2007.
Popular in the Community