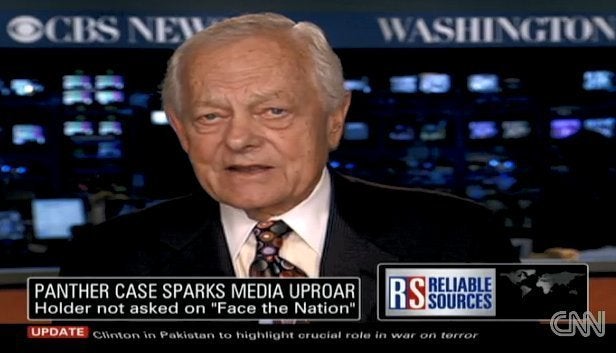 Schieffer, who interviewed Attorney General Eric Holder last weekend on "Face the Nation," came under fire from Fox News' Megyn Kelly for not asking Holder about the New Black Panthers scandal that Kelly has spent so much air-time covering:
Attorney General Eric Holder sit downs with CBS' "Face the Nation" host Bob Schieffer for a half hour, a one-on-one interview. And not one question about the now-infamous New Black Panther voter intimidation case....

I'm telling you one of two things happened. You tell me if I'm wrong. Number one, Schieffer doesn't care about the story and just decided to punt on it, even though you can find facts about it on CBS.com. So, the Web site over there is doing its job, but Schieffer apparently isn't interested in the story. Or, number two, the DOJ sent guidelines for this interview and told him you can't ask about that.
Schieffer denied both of Kelly's accusations, telling Howard Kurtz that he simply hadn't heard of the story by the time he interviewed Holder.
"Frankly, had I known about that, I would have asked the question," Schieffer said. "I was on vacation that week. This happened -- apparently, it got very little publicity. And, you know, I just didn't know about it. I mean, you know, God knows everything, but I'm not quite that good. Every once in a while, something will slip by me. And in this case, it just slipped by me. If I'd have known it, I would have asked about it."
WATCH:
Responding specifically to Kelly's implication that Schieffer and "Face the Nation" agreed not to ask Holder about the scandal, Schieffer said "that's not true. We never ever make deals with anybody that's on 'Face the Nation.'"
Schieffer also disagreed with Bill O'Reilly, who said that the major broadcast network newscasts haven't covered the New Black Panthers story because they are trying to protect President Obama.
"I think the reason that there hasn't been much coverage on it is there is a question about how significant this really is," Schieffer said. "I think it is -- you know, the coverage or lack of coverage has to do with editors' news judgment. It doesn't have anything to do with protecting President Obama. And I mean, I think, frankly, that's absurd on the face of it."