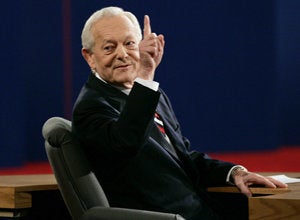 NASHVILLE -- One of the keenest students of this year's presidential debates has a compelling reason to pay so close attention: He's up next.
CBS' "Face the Nation" host Bob Schieffer was tapped months ago to moderate the third and final presidential debate, which will take place Wednesday at Hofstra University in Hempstead, N.Y., a suburb of New York City. Schieffer said in an interview before Tuesday's debate here that he had an inkling that he had landed a task that might well end up being crucial to what happens on Nov. 4.
"It's going to be very, very interesting. The whole election may turn on that last debate," Schieffer said.
After watching the first two debates between the presidential and vice presidential candidates, Schieffer said that he's going to try to make sure that the candidates answer his questions. In the vp debate with PBS' Gwen Ifill, neither candidate hewed precisely to the topic at hand, and GOP vp candidate Sarah Palin said flat out that she wasn't going to answer some questions.
"If they do (fail to answer the questions), I'm going to call them on it," Schieffer said. Not answering questions "is not what a debate is about," he said.
Popular in the Community