CBS "Face The Nation" host Bob Schieffer nabbed the first joint interview with presumptive Republican presidential candidate Mitt Romney and his newly announced vice presidential running mate, Rep. Paul Ryan.
The network tweeted Sunday morning that Schieffer was on his way to High Point, North Carolina to sit down with the presumptive Republican presidential ticket just one day following Romney's VP announcement.
The network will then turn Schieffer's interview around in less than one day for broadcast, airing it on Sunday's "60 Minutes" at 7:00 p.m.
(UPDATE: The interview took up the first 15 minutes of "60 Minutes" on Sunday. Among other things, Ryan talked about whether or not he will release more tax returns than Romney has.)
This is another big Romney get for the CBS news host. Schieffer was the first non-Fox News host to interview Romney on a Sunday public affairs program after the presumptive Republican presidential candidate limited his Sunday show appearances during the 2012 election to Fox News.
Schieffer had another public moment with Romney last month, after the "Face the Nation" host publicly announced his dissatisfaction with his appearance in a Romney campaign ad.
After the Sunday program returned from commercial break, Schieffer and his team noticed that the Romney campaign bought advertising time on "Face the Nation" and ran a new ad, which included a video clip of the CBS News host, without the program's permission. After replaying the ad, Schieffer announced, "I'm running this not to give circulation to it, but just to state that obviously I have no connection with the Romney campaign."
Related
Before You Go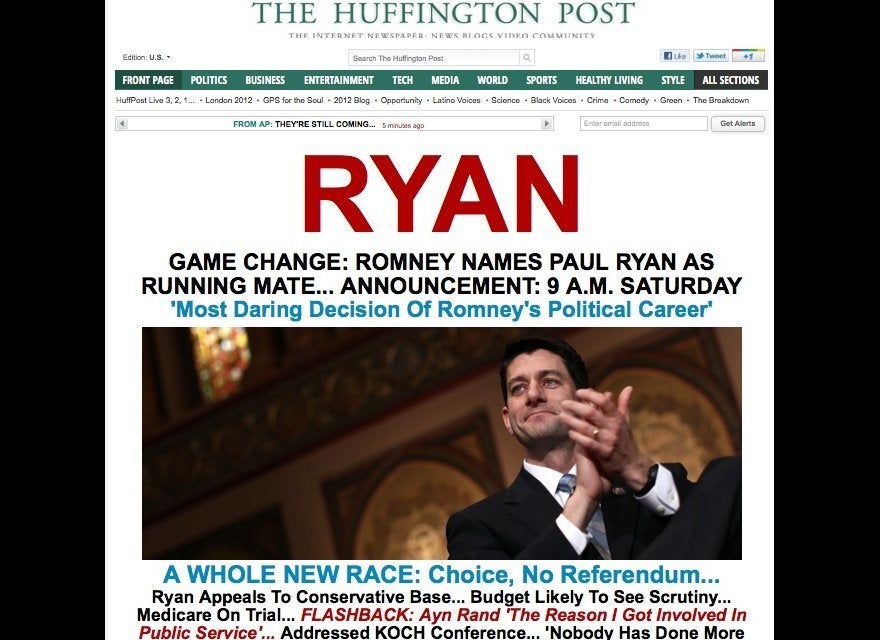 Media Coverage Of Paul Ryan Pick
Popular in the Community