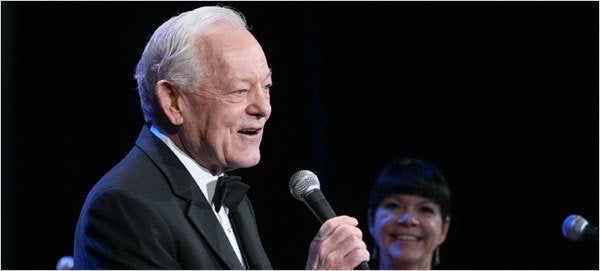 Two singers who owe their success, in part, to the media mogul Sumner M. Redstone paid tribute to him at a gala given in his honor last week in New York by the Paley Center for Media. One, Tony Bennett, the 81-year-old singer, sang "Fly Me to the Moon" and thanked Mr. Redstone for changing the path of his career.

Also performing was Bob Schieffer, best known as the host of "Face the Nation" on CBS News. And in contrast to Mr. Bennett, Mr. Schieffer wrote his own material.

Singing "Mr. Redstone" to the tune of "Mr. Goldstone" from the musical "Gypsy," Mr. Schieffer sang about the boss splitting up CBS and Viacom in 2006. "You are the guru, and who would know but you what a little change in Viacom's name would do. Have an éclair, Mr. Redstone, buy some networks, make a movie, play a tune. Take a break now, Mr. Redstone, 'cause another deal will come along real soon."
The original version of the song, according to Multichannel News and Gawker, included a "Brokeback Mountain" reference that was deemed distasteful following Heath Ledger's death. From Multichannel:
In the recorded version (at www.honkytonkconfidential.com/cliptvanchorman.mp3), though, there was no claim that "I don't understand this interlude." Instead, Schieffer says, "I ain't some Brokeback Mountain dude."

"That's how we originally wrote it, but we thought it might be more sensitive to people's feelings to change the line, and we haven't sung that line for a very long time now," band member Diana Quinn, who also works for CBS News, told The Wire in an e-mail message.

"I don't think we played it that way more than once or twice,' " Schieffer said Friday by phone.
Listen to the original, Brokeback-inclusive version:
Related
Popular in the Community