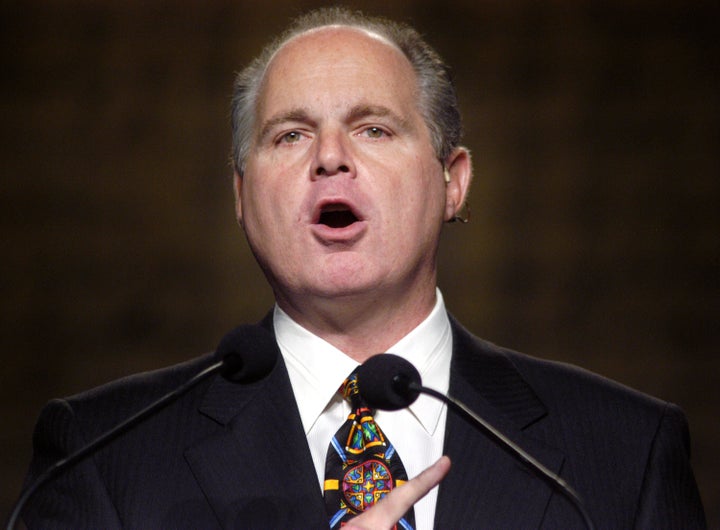 WASHINGTON -- Bob Turner, the Republican television executive hoping to win a special election for the New York congressional seat vacated by Anthony Weiner, is running on a long record of accomplishment. But there are also a few flops in there. Indeed, Turner is the man to thank for bringing Rush Limbaugh to television.
Turner has been outspoken in the past about his ties with Limbaugh, boasting about his involvement in Limbaugh's 1990s syndicated TV deal. A long-time TV executive, Turner also produced "The Jerry Springer Show" and "Baywatch."
"When I was president of Multimedia, I brought Rush Limbaugh to television for four years," Turner told Human Events in May 2010. "And, boy, did we get bombed with complaints from NOW [National Organization for Women] and the other Democratic surrogates."
The 30-minute show, generally considered a failure, was pushed to late-night time slots and eventually canceled.
"The Rush Limbaugh show was a great success. It lasted three years and was profitable," William O'Reilly, Turner's campaign spokesman, told HuffPost. "But at the end of the day, Rush decided to switch to radio, which was even more profitable and easier to do. The rest is history."
Backers of Democratic candidate David Weprin, whom Turner trailed by six points in an August poll, are eager to point out the similarities between the policy views held by Turner and by Limbaugh -- whose TV show was no doubt even less popular in the 9th Congressional District, which includes parts of Brooklyn and Queens, than it was across the country.
For example, Turner and Limbaugh are both strong supporters of cutting spending, including Social Security and Medicare benefits for those under the age of 55. Turner told the New York Post editorial board that he supports raising the Medicare eligibility age for people under 55, quipping, "That's one of the easy ones." He said Social Security has "failed," but vowed to protect those over 55 from changes.
Limbaugh has made harsher statements on Social Security and Medicare. "When there's no money in something, eventually the Madoff Ponzi scheme is exposed," Limbaugh said on his radio show in May 2010. "[The] Social Security Ponzi scheme is going to be exposed the same way, [and the] Medicare Ponzi scheme is going to be exposed."
Both Turner and Limbaugh have spoken in support of the budget plan put forth earlier this year by Rep. Paul Ryan (R-Wis.), which would effectively privatize Medicare for future seniors.
Turner, a social conservative, has said he supports teaching intelligent design in public schools. Limbaugh has stated similar beliefs, arguing in favor of intelligent design in the classroom.
"God makes the rules, and we have to abide by them. That is in the Constitution," Turner said in a debate with Weiner in 2010. "The Founding Fathers were all Christians, and this is a Christian nation. That would be a good thing to teach our children. That is a yes. You are talking about religion as opposed to belief in God. You can teach that there is a creator of everything. That is woven into the fabric of our nation."

Popular in the Community