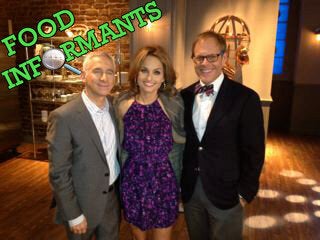 Food Informants is a week-in-the-life series profiling fascinating people in the food world. We hope it will give you a first-hand look at the many different corners of the food industry. Know someone who would make a great Food Informant? Tell us why.
Bob Tuschman is the general manager/SVP of the Food Network. He previously served as senior vice president, programming and production for Food Network, heading up all programming aspects for the network. He was instrumental in discovering, developing and producing many of the network's biggest stars including Rachael Ray, Giada De Laurentiis and Guy Fieri, and led the network to record viewership levels. Prior to joining the Food Network, Tuschman worked at ABC News as a producer for Good Morning America, as well as on specials and numerous pilots. He also produced pilot, series and documentary projects for HBO, ABC, American Movie Classics and CNBC. Tuschman is a graduate of Princeton University and currently lives in New York City.
Read Bob Tuschman's diary to learn what it's like shooting the "Next Food Network Star." Read closely -- Bob has a great sense of humor!
Monday, January 23
5:45am: As a food media type gearing up for weeks of on-set eating, breakfast and lunch are on autopilot and include: a bowl of whole grain, fiber-y, flakey cereal, soy milk and frozen blueberries -- turning the milk an icy-crunchy blue.
7:00am: Chelsea Piers for a little workout -- swim a mile, plus a half hour of weights. Feeling good! 54 is the new 53.
7:45am: A trainer friend of mine is in the locker room and comments, "wow, your abs are cut!" I think he's actually noticing deep set wrinkles.
9:30am: Arrive at Chelsea Market -- this place isn't so bad to stroll through when making my way to my desk and meetings upstairs. I had planned to give up coffee. That is until Ninth Street Espresso opened downstairs. Damn them. One cup of hi-test acquired.
12:00pm: Lunch is strictly Byron Junior High, circa 1972. I brown bag a PB & J (or almond butter) on whole wheat bread, two pieces of fruit (typically an apple and orange) and chips (now, pita). Food is a balance of comfort and adventure for me.
1-3pm: Programming and development meetings with the staff -- discussions range from what's been working (January was our best month EVER!) to future talent and show concepts...
3-4pm: Staff reviews -- other department heads get weeks to do this, but with FOOD NETWORK STAR's shooting schedule, I have to share feedback now -- before I see them sporadically over the next few months!
7:00pm: Starting tomorrow, FOOD NETWORK STAR production (in addition to of my regular office job) begins, which means 14-hour shoot days, very little sleep and endless high fat, low veggie food to eat, critique and judge. Tonight is my very last chance to cook/eat healthy for a while: whole wheat pasta with roasted butternut squash, shallots, goat cheese, parmesan and vegetable stock. Steamed broccoli and steamed spinach, both drizzled with extra virgin olive oil. Generally, I cook Sundays and eat leftovers any night I'm home. I may be a type A exec, but I'm strictly a type B-minus cook. Not so much lazy as just simple.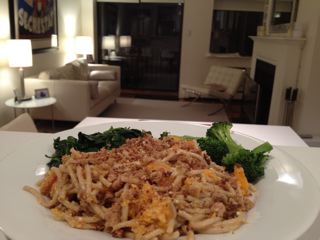 Tuesday, January 24
5:45am: See above.
12:00pm: On set for FOOD NETWORK STAR. Six hours trapped on a moving tour bus with 20 tourists and my fellow STAR stars, Bobby Flay, Giada DeLaurentiis, Alton Brown and Susie Fogelson. Good thing we like hanging out together. Lunch is 14 mismatched dishes I have to judge: pastrami in puff pastry, meatloaf cupcake (don't ask), catfish sliders, ricotta/cannoli cheesecake, ceviche, eggplant parmesan soup, beef short ribs, cheese turnovers with espresso caramel sauce (I eat three), BBQ shrimp, bialy chips with caviar, pickle juice cabbage slaw. All consumed while lurching along NYC Streets in the airless, fumy bus. Fun!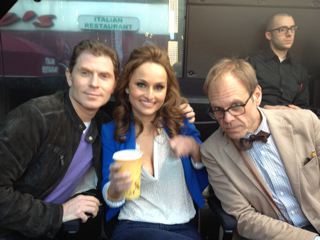 4pm: Time on-set, not as productive as when working off an office schedule; it feels like hours between camera set-ups, lighting, sound checks and of course contestants preparing their edible gems (or not-so-gem-like items)... all the while back at the office trusted staff holds down the fort -- IF ONLY I could assign one of them to start responding to the hundreds of emails filling my in-box, our Wi-Fi here seems to be slow or down whenever I have a break!
7:00pm: Shooting wraps at 6, and I'm whisked to Newark Airport, as I have an 8:00am presentation in Miami. Dinner is Vivo Volo winebar located in terminal C: a glass of Seghesio Zinfandel (yum!), a chicken sandwich on focaccia with red pepper aioli. I try to eat mostly veggies, but it's the only appealing item I can fixate on. I'm aspiring to becoming a better vegetarian.
12:15am: Arrive at Doral Hotel, just 15 minutes from the airport. Sleep is officially reclassified as a nap, as my day wraps around 4:00am.
Wednesday, January 25
5:30am: 90 minutes sleep. Ugh.
6:00am: My standard hotel breakfast arrives: oatmeal, banana, coffee, orange juice. Presentation rehearsal is scheduled for 7:00 am. Though I'm just giving a PowerPoint in a hotel ballroom to 400 ad sales executives, in my mind I'm headlining at the Legends Ballroom.
8:00am: Speech goes well. That is, I get many laughs, which is all I really care about. I realize I have spent exactly four minutes outside of a car or room during my entire 11 hour Miami trip.
11:00am: Back in the sky, middle-seat (mental note to have discussion with travel department). Lunch is an $8 turkey/swiss/industrial bread deal. Remember when flying was glamorous? Me neither.
3:00pm: Back on the soundstage in Brooklyn, getting ready to eliminate a contestant.
6:00pm: Dinner while shooting is takeout consumed in a wood paneled trailer just outside the soundstage. Remember when TV production was glamorous? Me neither. Dinner: grilled salmon on top of stir-fried vegetables and broad, thick rice noodles in a ginger soy sauce, and a glass of perfectly balanced Entwine Cabernet (full disclosure: I just subtly plugged Food Network's own brand of wine.)
12:00am: Shooting wraps. Sleep at 2:00am, wake at 5:00am. Thank god for TV makeup.
Thursday, January 26
10:00am: Late call time to be on set today. So, after the gym I stop by Joe on 23rd Street for a macchiato. Though I'm going to spend the entire afternoon judging desserts, I can't resist when I spot a hubcap-sized, jelly filled, glazed doughnut from The Doughnut Plant.
1pm - 6pm: FOOD NETWORK STAR shoot. Lunch today becomes endless plates of desserts. Thirteen to be exact: puddings, cakes, custards, napoleons, mousse. I eat them all.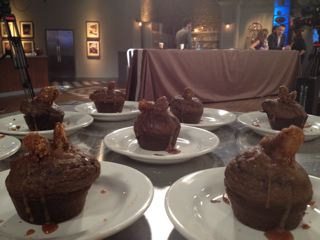 6pm: With the last of my lunchtime rush trickling through my veins, I ask our PA (production assistant for anyone not in the industry) for a vegetable packed dinner. Some stir fry arrives. Of course, Entwine wine goes well with anything (plug #2).
11:45am: Production wraps. Car heads home. I'm beat, but diving into my daily emails. Sleep comes earlier than last night, 1:30 am.
Friday, January 27
10:00am: Car to Brooklyn for FOOD NETWORK STAR. Hair. Makeup.
11:30am: Lunch was evidently not part of today's shooting schedule. I ask our PA to raid the craft services table for anything healthy. What returns? A small plastic cup of garlicky hummus and some broken shards of multi-grain crackers. Beyond glamorous, I am a superstar (heavy on the sarcasm).
4:00pm: Susie and I have a four hour break until our next scene, so I decide to wander the foodie hipster streets of Williamsburg. Half the GDP of wool caps and plaid shirts must be shipped here. I buy some amazing reblochon at Bedford Cheese Shop to tide me over until dinner.
6:00pm: Another takeout, trailer dinner. Stir-fried veggies, brown rice, plus, of course, Entwine Merlot.
Saturday, January 28
1:30pm: Finally, free from the confines of a shoot day. Solo lunch at one of my favorite village spots: Buvette on Grove Street. A croque madame, blood orange juice and leeks vinaigrette. A real treat.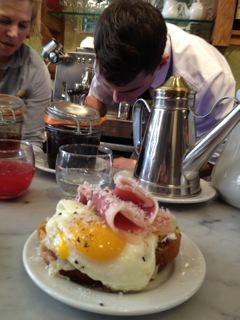 2:00pm: Haven't been in the office all week, so I swing by -- the only fool in the office on a Saturday -- to work on a speech I need to give to our advertisers, write up a few staff reviews, and return emails I've ignored all week while shooting.
7:00pm: Meet four friends to see the film "A Dangerous Method."
9:30pm: Dinner at Jo's on Elizabeth Street. Too late for a full dinner, so I decide on a beet and kale salad with a rich-tasting buttermilk, goat cheese dressing and two glasses of Malbec. Not Entwine. Darn it.
Sunday, January 29
12:00pm: Back at the office, lunch at my desk: Chobani vanilla yogurt, bananas, almonds, dried cranberries, a macchiato from downstairs, plus a chewy molasses cookie from Eleni's.
5:30pm: Meet friends visiting from L.A. for drinks at Sardi's. A Maker's Mark Manhattan (though Entwine would have been good, too). I'm a Broadway baby (show queen is such an ugly word, no?) and I love the classic Times Square theater hangouts.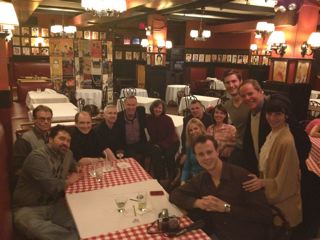 7:00pm: A final weekend treat -- dinner at the bar at Joe Allen on 46th Street, one of my all-time favorite restaurants: Thai Vegetarian Stew, glass of house Primitivo.
See more Food Informants below: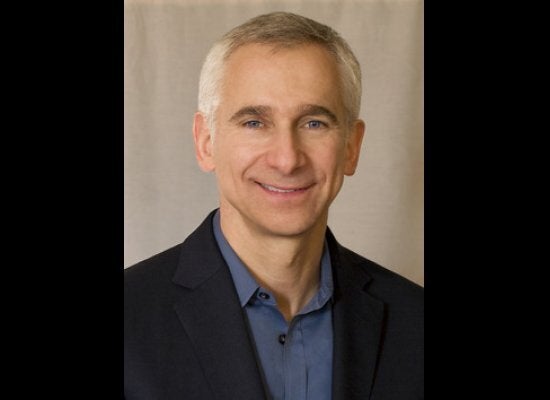 Food Informants(CLONED)(CLONED)