"I couldn't stop thinking, 'How can I help?'" Wilson, a real estate developer and co-owner of a chain of Fish Market restaurants in California, told The Washington Post.
One particular news story about the struggles facing the students of Paradise High School, hundreds of whom had lost their homes in the blaze, struck a chord with Wilson.
"I made the decision within two or three minutes of reading the news, that I would like to give these kids something," he told NBC News. "So they could have some good times and I could put a smile on their faces and maybe lift their spirits."
On Tuesday night — Giving Tuesday — Wilson, who has homes in Los Angeles and San Diego, traveled to the city of Chico to meet with the students and staff of Paradise High School. He brought along two suitcases, each stuffed with hundreds of $1,000 checks: one each for every student and staff member, including custodians and bus drivers, at the school.
According to the Post, Wilson personally spent hours in his office preparing the checks — 1,085 in all, worth about $1.1 million altogether.
He also wrote letters to the students, which read, in part: "Please know that you are not alone, as someone as far away as San Diego is rooting for you and has the firm belief that tomorrow will be better than today."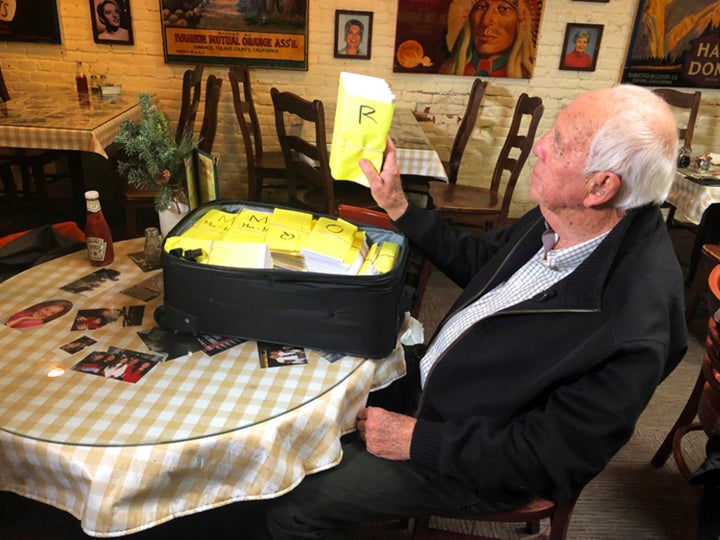 Wilson said he'd considered other ways of helping the school but decided the best way he could lend a hand was to give cash directly to the students and staff, no strings attached, to use however they choose.
"Let them figure out what they want to do with it," Wilson told KHSL-TV. "Maybe they'll help their family, maybe they want to buy gasoline for their car, maybe they want to buy a bicycle, it's up to them."
Paradise students and staff expressed gratitude and awe at Wilson's generosity. Many also said the occasion had been an opportunity for the community to come together. Classes are only scheduled to resume on Monday for Paradise students. They'll be held in a shopping mall in Chico.
"Not only was it generous, but it kind of brought everybody together," parent Breanna Tamayo told KCRA-TV. "My daughter saw a lot of her friends. And so it was more than just the money, it was just very generous of him."
Wilson, however, insisted that it was he who'd gotten the most out of the exchange.
Related
Popular in the Community