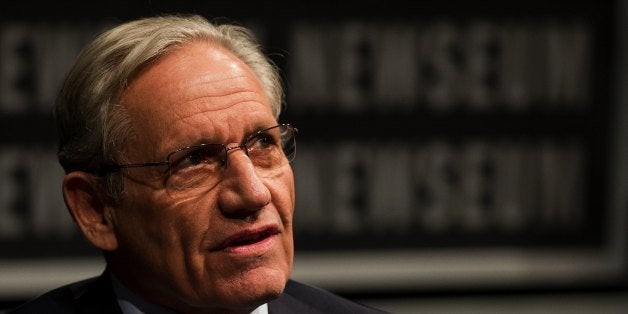 NEW YORK –- Bob Woodward is back at The Washington Post.
It's not that he ever completely left. But in recent years, Woodward has focused more on writing books than on regular involvement in the newsroom where he and Carl Bernstein broke the Watergate scandal four decades earlier. The Post's most famous journalist's byline has appeared five times in 2013, four in 2012 and three in 2011.
However, Post staffers have lately been seeing more of Woodward -- both in person and in print. Since Amazon chief Jeff Bezos completed his purchase of the paper earlier this month, Woodward has met with reporters and editors and has temporarily set up shop near the Post's investigative team on the fifth floor, according to staffers. On Thursday, Woodward co-wrote a front-page drone story based on "top-secret CIA documents and Pakistani diplomatic memos."
In an interview with The Huffington Post, Woodward said he's "always been involved to one degree or another" with the newspaper. But he acknowledged he's increased his presence since the Bezos era began.
"I've known him for years," Woodward said of the Post's new owner. "I think he's really serious. I think those of us who have been around, like myself, and have clearly benefited from our association with the Post, we want to redouble, triple our efforts."
Woodward met privately with Bezos last month for breakfast during the new owner's two whirlwind days of newsroom meetings and a much-tweeted town hall event with staff. Woodward, who continues to hold the title of associate editor at the paper, said he gave Bezos a 14-point memo with his thoughts on the Post and the two discussed it.
Woodward expressed optimism that Bezos might figure out a formula to help save the newspapers, noting that "no one's done for newspapers what Jeff Bezos has done for commerce in America or the world."
Post staffers have griped in the past of not knowing what Woodward is finding out as he reports within the corridors of Washington power, thus keeping them out of the loop until his latest book drops. Several Post staffers said they have been encouraged to see Woodward in the newsroom and hope his experience and deep sourcing can be even more of an asset to reporters.
"Bob has always been a generous colleague, even as he carved out a career as a bestselling author," Post managing editor Kevin Merida wrote in an email to HuffPost. "He has been spending some time in the newsroom of late meeting with reporters and editors. He has some ideas of his own, will offer advice on other stories, and collaborate with colleagues."
Woodward may have a bit more time than usual to help, considering he has no immediate book project in the works. That's a change of pace for the prolific author, who has written two books during President Barack Obama's years and four on the administration of former President George W. Bush.
At this juncture in the Post's history, Woodward said he feels it's his "obligation" to assist the newsroom where he can. That obligation, however, doesn't come with a bump in salary.
Woodward, who profits off writing books and speaking engagements, asked the Post several years ago for a salary of $1 a year. The Post instead offered to pay him $25 a month, which is what he'll continue to take home under new management.
During his private breakfast with Bezos last month, Woodward recalled his new boss joking that he's "worth every penny."
Related
Popular in the Community