Bobby Gordon had a seemingly normal upbringing. He grew up in Northern California, was the youngest of three, and played baseball in high school. Nurtured by loving and supportive parents, his upbringing was happy. Bobby went onto graduate from UCLA and currently works for an arts program at his alma mater.
Indeed, he looks like any other young man roaming his college campus. There is one thing about his upbringing that makes him slightly more interesting. His father, Howie Gordon, was Playgirl's Man of the Year in 1979 and, under the pseudonym of Richard Pacheco, made over one hundred adult films. These films had won Howie Gordon multiple film awards for Best Actor, Best Supporting Actor, and Best Director. He ultimately earned a Lifetime Achievement Award from Adult Video News.
How many boys can say their fathers won a Lifetime Achievement Award in porn?
Bobby Gordon, an emerging performance artist, brings this tale to the stage in his one-man show, Debbie Does My Dad.
When did you become aware of your father's profession?
My dad having been a porn star was always normal. So normal, in fact, that I have absolutely no recollection of when I found out. I asked a friend the other day what her dad did. "Accountant," she said. I asked if she remembered when she found out that her dad was an accountant. She didn't. It was the same for me.

Were you ever teased or harassed for this?
I remember getting prank calls in middle school where people would call and talk about my dad. It was very startling. And then I also felt ashamed that I was startled. I remember feeling like I should be able to just brush it off.


How did your father's profession shape your worldview?
I learned that, like him, I am really interested in redefining manhood. Our society messes things up. I'm sorry, but we are not doing our young men any favors by forcing them to bury their real emotions. They are all too likely to either live an entirely distant life or to burst out violently at some point without knowing exactly why.
My show, Debbie Does My Dad, is trying to say that there is another way. Men can be sexual and sensitive beings at the same time. The show invites viewers into a world where it's okay to talk about sex. It does NOT mean that it was always easy, or wasn't really awkward. In fact, with so many expectations from girls about what a porn star's son is supposed to be, fumbling and uncomfortable are words I could use a lot to describe my early sexual experiences.

Have you considered a life in porn?
I have not considered a life in porn. I certainly am not judging someone else's decision to do porn, but for me it feels to a certain extent like, "That's what my dad did. I want to do my own thing." Poetry and the theater feel more and more like the creative home I'm building for myself.

Performances are on Friday and Saturday, April 8th and 9th, at 8:30pm.
Following this weekend's run in Los Angeles, the show will go back into rehearsals and then do a full run at the Edinburgh Fringe Festival this August at the Bedlam Theater.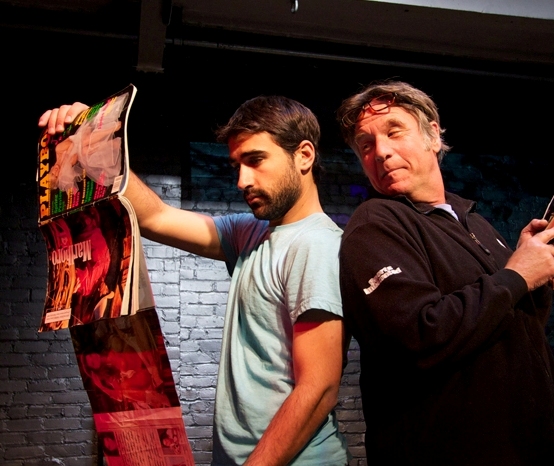 Bobby with his father
Popular in the Community