Social barriers are broken within sporting events quite often. It is not so often, however, that those occurrences go unnoticed.
This past weekend, the Latino community of America shared a proud moment in the wide world of sports. The man who was at center stage, a passionate, well rounded guru of several categories of business and life, partook in its passing humbly.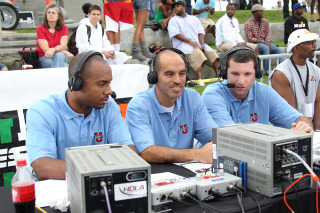 (L-R Jay Williams, Bobbito Garcia, Eamon McAnaney) Courtesy Kelly Kline Photography
Enter Bobbito Garcia. The first Latino-American to announce a nationally televised game in English in ESPN's 30-year history. Alongside D1 basketball legend Jay Williams who provided the color, Bobbito provided the play-by-play for Boost Mobile's Elite 24 High School All-American Game on Saturday, the 28th.
To be clear, ESPN airs ESPN Deportes, which is dedicated to broadcasting sports news to the Latino communities of our country daily. Garcia loves that that channel exists and honors ESPN for such a creation.
But Bobbito, co-director of Doin' it in the Park: Pick Up Basketball, NYC (Flambee Films), sees the significance of being put in the booth this past weekend. And I must agree with him: it means way more than sitting there and talking about basketball.
"The Latino community doesn't have a huge star player who could make a natural, post playing-career move into broadcasting. I came to this opportunity through a very non-traditional route," said Garcia.
He's certainly right. His basketball skills and brainpower led him to Wesleyan University in Middletown, Connecticut, an elite Division III Academic School. Many Wesleyan graduates go on to jobs in the financial world, business or onto graduate school. Bobbito stuck with hoops and let it carry him through to new and amazing opportunities.
He's written books, he's made documentaries, he's done voice-overs for countless amounts of very famous basketball video games and he's met with and interviewed some of the NBA's greatest players. Although he won't admit it, he's a star himself and considered to be a legend in the world-famous NYC street basketball arena. Go ahead, watch his basketball video biography, I guarantee you recognize him.
His latest role- controlled, poised and professional within a booth, hearing producers in one ear while maintaining his voice- was quite different from his Rucker Park performances, walking the sidelines and making comments and erratic noises over a loudspeaker, sending crowds into hysterics mid-game. He handled it well- like a pro- and from what I hear, a lot of people out there would like to see him on TV again.
This wasn't the first time Garcia broke a social barrier through basketball. His first one was arguably more notable. In 2006, MSG-TV hired him to do half-time reports with celebrities during Knicks games. He was the first Latino broadcast member in the franchise's 60-year history.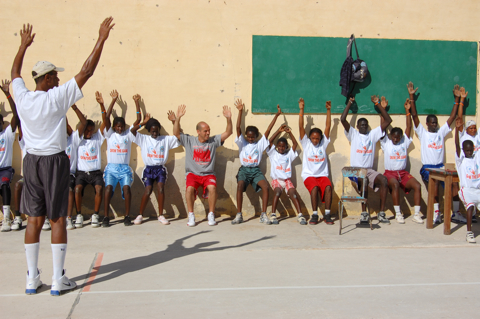 Bobbito (center) in Senegal with the SEEDS organization.
Bobbito explained to me the cultural significance that his achievements carried to the Latinos watching at home this past weekend, to his family watching at home.
"Latinos used to be cast negatively in media and on TV. Now, that's changing. There's an intrinsic meaning here. A 12-year-old Latino in a disadvantaged area can watch me broadcasting while he's or she's at home and tell his or herself, 'I want that to be me. Maybe I can do something with my life.'"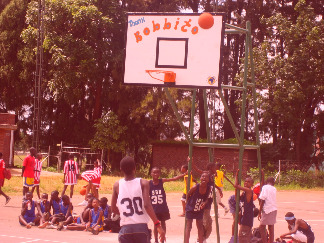 A backboard dedicated to the changemaker during his work in Zimbabwe with Hoops 4 Hope (www.hoopsafrica.org)
Let's not ignore another issue here: the heating up of issues on our border and the controversial law Arizona has put into place. No matter what way you lean, Garcia has added a positive to a world of many negatives, arguments and division-causing debates. He's a Latino figure who does what he loves and, almost inadvertently, sends waves of encouragement to a young generation of Latinos everywhere.
The most humbling experience about all of this is that Bobbito- an admitted, tongue-in-cheek self-promoter- made no mention the barriers he's broken on the air or to large public audiences. He barely even mentioned it to me, even though that's what I was digging for.
He sees the meaning that the event carried in its mere passing for the Latinos watching at home. And he casts no negative light on anyone, nor does he see it as an opportunity to shove it in anyone's face. "I hope the audience was colorblind," he said.
"I owe the sport a lot, but at the same time I've paid a lot back by bringing the sport to a lot of people in a lot of places."
For his own community, Bobbito has given back a lot more than just a game.
Congratulations to Bobbito Garcia, a true agent of change.

Follow Bobbito on Facebook for basketball events all around the country.

Related
Popular in the Community