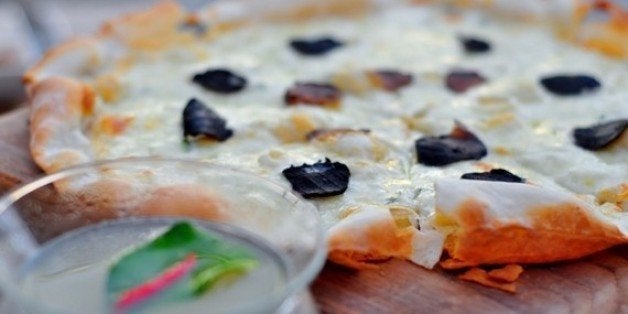 He's cooked for Bill Clinton and Bob Dylan, but celebrity chef Bobby Chinn is probably best known as the lively presenter of World Cafe Asia, and is one of very few who could keep an audience hanging on every word during a monologue about fish sauce.
Even in tropical paradise thoughts turn to food, and a Chinn cooking demonstration promised to be diverting entertainment along with serving up some useful culinary tips. As a bonus, this one took place overlooking the northwestern coast of the Thai island of Phuket, at Trisara, a beachfront villa resort where almost every crevice has a view of the Andaman sea.
An enthusiastic fellow, Bobby pretty much talks non-stop, most of it about food, whether describing how to prepare the perfect burger for an Arab prince or a new oven that cooks vegetables while he sleeps. He trained with improv comedy troupe The Groundlings in LA - he didn't stick with stand-up because he says he wasn't funny - but as far as chefs go he offers more jokes than most, along with insights into Southeast Asian cuisine.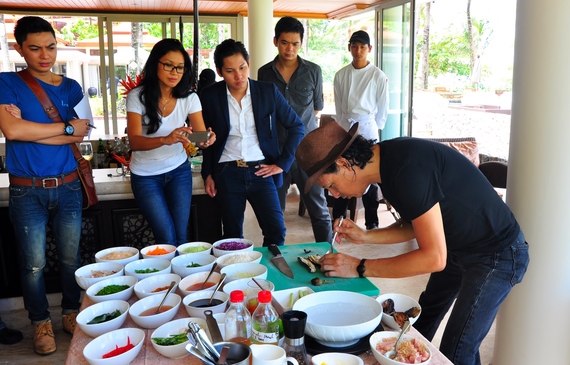 Bobby Chinn demonstrates his secrets for preparing Smokey Aubergine (eggplant) for an attentive group of local food enthusiasts at Trisara, Phuket
He shares his secrets for cooking eggplant: essentially poke it with a fork and put it on the grill. "We'll just burn that," says Bobby, but it's a good idea to rescue it before it turns into charcoal. Then skin it, slice it neatly and serve with a scallion (spring onion) topped, oil-less vinaigrette, his version of nuoc cham, the Vietnamese dipping sauce.
The passion is unleashed when he moves onto making lemongrass chicken and starts rhapsodizing about fish sauce. "Fish sauce is the quintessential ingredient in Vietnamese cuisine," Bobby proclaims. But not any old fish sauce - he advocates Phu Quoc fish sauce from the Vietnamese island of the same name where it is made with black anchovies, that Bobby likens to the marine equivalent of truffles. Comparing it with whisky, Bobby notes that Phu Quoc fish sauce gives you umami, is a probiotic to aid digestion and a source of protein.
Salty fish sauce doesn't rock Bobby's wok, and he doesn't think Thai fish sauce is really up to the job and tells the Thais so. Though somewhat shocked, they accept this condemnation with good grace. Ever resourceful, Bobby ensures however that his creations are not sullied with inferior nam pla by bringing several liters of the preferred variety with him in his suitcase.
"This hotel has a great laundry service," Bobby tells us for no particular reason, though with a private beach, 88 swimming pools and yacht trips, there is probably more to think about at Trisara than dirty socks. For example, the spa offers a six-hand massage, which is at first slightly disconcerting, but in a very good way.
Born in New Zealand to Egyptian/Chinese parents, Bobby tried working in finance before embracing food. In 1996 he moved to Vietnam, later opening restaurants in Hanoi and Ho Chi Minh City. Although he "didn't know that food could be a horrible experience until I went to England", his latest restaurant, The House of Ho, fed its first customers in London late last year. In between he's found time for a television career and to write a book.
Ironically enough, he says this volume, Vietnamese Food, was censored then banned by Vietnamese authorities, but in July he was appointed a tourism ambassador for the Southeast Asian nation.
Bobby describes Vietnamese food as sustainable, gluten-free, healthy and light - "modern cuisine perfected a thousand years ago" . If it has a drawback, that would be sugar ("so diabetics - sorry"), however he eschews the white stuff in favor of sweet stuff from the coconut palm which the chef says has more flavor and a lower GI.
So back to the chicken, which he tells one of the locals to chop: "Make it pretty, pretend you are working for Alain Ducasse." Along with the fish sauce, Bobby is also fond of lemongrass, demonstrating how it is a natural mosquito repellent before mincing some to marinate the pretty chicken. The Vietnamese, according to Bobby, say that "lemongrass goes well with all meats".
The caramel, a 1:1 mix of sugar and fish sauce, is poured over the chicken as it is fried (see the full recipe here). Bobby makes it look easy, like something we can try at home. Use a little fish sauce to get the caramel going he advises, and add the rest later so it isn't overcooked and its beneficial properties destroyed.
A fan of healthy food, the demo finishes with a salad combining shredded cabbage, carrot and mint with steamed crab, pomelo and toasted sesame that is "all about texture".
But it is the fish sauce that makes the biggest impression. Quality of fish sauce was not a concept I had ever considered before, and yet if exploring a cuisine in which it is a ubiquitous ingredient, it is of vital importance.
Even in the absence of celebrity chefs, eating options at Trisara reveal a reassuring dedication to quality ingredients. A simple sunset drink becomes memorable when it comprises a chilli vodka martini accompanied by a slice of black truffle pizza (top). The award-winning Thai sommelier can advise on wines to accompany its vibrant regional Thai cooking.
Trisara's award-winning Seafood, which uses local organic produce and fish that is line-caught and sustainable, offers a classically eclectic menu. The resort's General Manager, Antoine Melon, who devised the concept, has an impressive track record in restaurants, and two under his stewardship have attained Michelin stars. I suspect he hopes to acquire another one in Phuket.
Popular in the Community