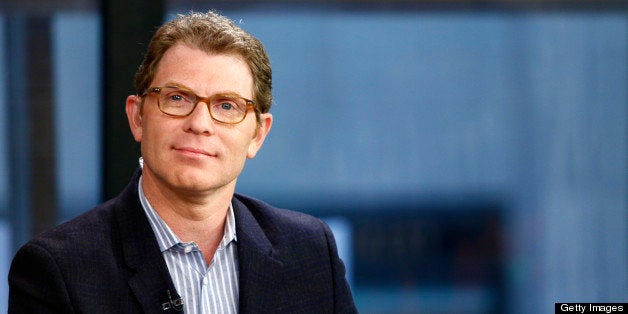 We've been thinking a lot lately about the chefs, musicians, comedians, actors and others whose career frequently takes them out on the road, into more airplanes, restaurants and hotel bars than they can count. When they finally settle back in at home, what do they want to cook for themselves? We asked, and they just started telling us! Find out their answers in our series, Homecoming Meals.
We would be pretty surprised if you are even remotely interested in talking and reading about food, and hadn't ever heard of Bobby Flay. This hyper-exposed, grill-focused chef was one of the original Food Network stars, and helped -- whether he likes it or not -- contribute to the rise of the celebrity chef. As a restaurateur, television star and ultra-competitive chef, Bobby is a perfect candidate to talk about Homecoming Meals because it doesn't seem like he gets to be home all that much? Like most of our busy interviewees before him, his favorite recipes to return home to are simple, satisfying and remind him of home.
It's usually something very comforting. It's probably going to be a cheeseburger or some fried chicken. My wife and I like really comforting food and we don't eat on airplanes so basically if we're coming from L.A. or somewhere overseas, it's a really long trip so we have a long time to think about what we want. And it's never going to be a salad, I can tell you that. It's going to be something that has some substance to it and it's usually going to be comfort food, so fried chicken, a roasted chicken, a cheeseburger or maybe like a porter house steak.

What I do with my fried chicken is I first marinate the chicken, if I can do it overnight great, if I don't have time then I do it for at least a couple of hours, and it's usually in buttermilk and some cayenne. And then I double dip it so that it starts with the buttermilk and cayenne, then into flour, then back into the buttermilk, then back into the flour and then I fry it in canola oil.

And with the cheeseburger, I like to put very thin crisp potato chips on it for a little crunch. I crunchify my cheeseburgers!
Thanks for the fried chicken tips, Bobby! And we forgive you for using the word crunchify, just this once.
Related
Before You Go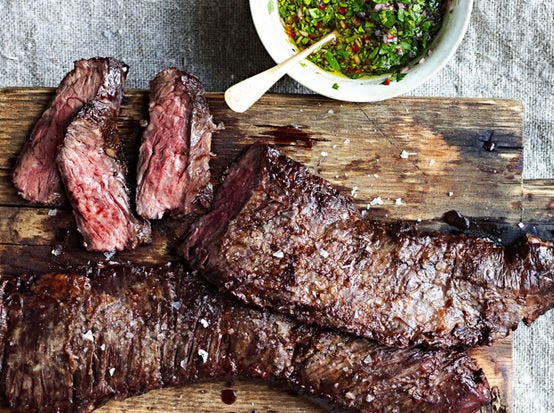 Grilling Recipes