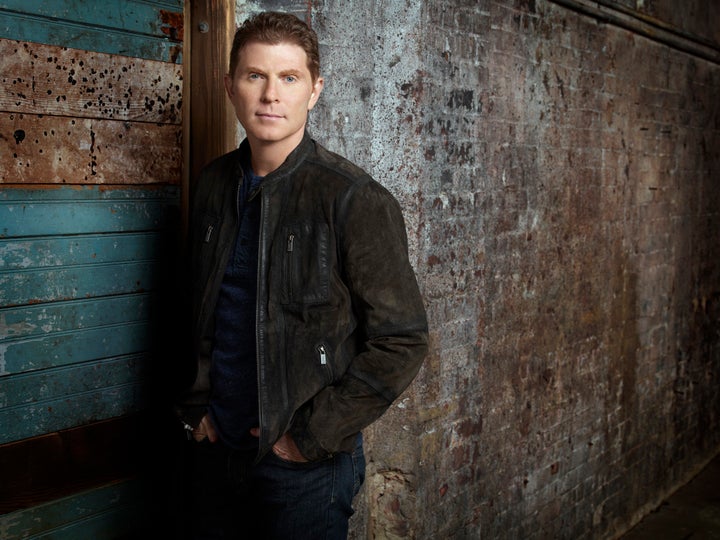 "Food Network Star" is getting a whole new look. Now in its eighth season (premieres Sun., May 13, 9 p.m. ET on Food Network), they're mixing things up, splitting the 15 cheftestants into three teams, which will be led by the network's top personalities: Bobby Flay, Giada De Laurentiis and Alton Brown.
I caught up with Bobby Flay to find out how he feels about switching from judge (he's sat with network heads Bob Tuschman and Susie Fogelson for the past seven seasons) to coach, and to find out what his strategy is and how it differs from Giada's and Alton's plans of attack. No shock here: They're looking for very different things.
He also opened up about his favorite challenge of the season (which sounds a bit like "Top Chef's" Restaurant Wars -- in a good way), his ultimate test for any chef and why he won't be moving out West to open restaurants like he did on "Entourage." Then he dished all about his other love: TV. Right now, he's obsessed with HBO's "Girls."
Keep reading for more, including his take on that Angry Bobby Flay Twitter account ...
I love it that you all are shaking things up this season. It feels like a great time to hit the reset button. Did you have a say in the teams idea?
I totally agree. I think that they may have taken a cue from the way I was judging these last seven years. I always felt like I was mentoring from the judging table as best I could. I always felt like I wanted to jump over the judging table and actually take these people under my wing, because you really get connected to them -- especially the people who kind of hang around for a while. So we were talking about figuring out a way to do something new, but really keeping the essence of what we're trying to do, which is find the next star of the Food Network, and I thought this was a really good idea. I loved it as soon as we talked about it. I'm psyched about it.
So you were immediately on board to move from judge to coach?
Immediately. Absolutely. So now I'm competing against Giada and Alton ... which is totally fine with me! [Laughs.]
A little confidence there! I mean, none of you are competitive at all, so ...
[Laughs.] That's what's going to make this a really fun season -- that's part of it, for sure. Ultimately, it's Team Bobby, Team Alton and Team Giada, but I think people are really going to get into the individual contestants. They're really the stars of the show.
How did you all go about picking teams? Was it, "Here are 15 chefs -- go!" or did you each make your own selections from the larger group of applicants?
We got to watch a lot of tapes -- as you can imagine, we get hundreds, maybe thousands of tapes from people who want to audition for this. We all got to look at the tapes separately. I picked 20 or 25 people that I wanted to see, then I auditioned them myself. I basically gave them one thing to do. When I'm hiring a cook for one of my restaurants, and I want to see what they can do, I usually ask them to make me an omelette. So that's what I did -- I just handed them one egg and said, "Cook me something." So I had those 25 people do it, and then I picked five.
The three of us coaches look at this very, very differently: My feeling is that if you can cook, I can teach you how to do television; Giada's feeling is if you have a personality, then I can teach you how to cook on TV; and Alton's philosophy is if you're quirky, I want to work with you. [Laughs.] It really is our personalities -- I picked people that had some really good cooking chops. As long as they're comfortable with food, then I can get them to be comfortable in front of the camera. Obviously the other two coaches don't agree with that, but that's what makes this really fantastic.
Was there any overlap with the contestants when you selected them? Was there one chef with the food knowledge, the personality and the quirk that you were all after?
There was actually one person who I did not pick that Giada did pick.
Interesting. Did you regret that?
Um ... I can't tell you that. [Laughs.]
Fair, fair ... what can you tell me about your team?
I have a very eclectic group of people, but they all have one thing in common: They really love to cook, and they do it very well. I have a guy named Eric Lee who's a professional chef in wine country; I have a woman named Nikki Martin from L.A., and she's been in the food and beverage business for a really long time, and she's been a private chef; I have a guy named Malcolm Mitchell from D.C. and he's a professional chef with a food truck business as well; there's Michele Ragussis who grew up in New England, and she loves the flavors and ingredients of New England, and she's a professional chef in Brooklyn now; and a woman named Kara Sigle who's a really great cook and also a health and fitness expert. Food is their common denominator, but they come from all different walks of life, which is great.
I'm just shocked you didn't miss sparring with the Tuschelson, as we call them -- Bob Tuschman and Susie Fogelson -- on the judging panel. Getting to be brutally honest ...
Not one bit! Now, every week we have to go up in front of them and try to save our people. It makes perfect sense because they are the network, and these people are trying to get a job there. We're already on the network, so we're trying to mentor them to get the network to fall in love with them. I think that this concept makes fantastic sense -- I think people are really going to get into it.
Did you have a favorite challenge this season?
In one of the initial challenges, they had to open their own restaurant as a team, like in a matter of hours. I thought that that was really interesting because they had to work as a team without really knowing each other very well, and they had to come up with a concept, a menu, the decor ... it was really cool to watch. That's what I do for a living, so it's something that I really liked.
Off topic, but I saw a tweet of yours that really made me smile -- you're watching "Girls"?
Oh my god -- how brilliant is that show? Did you watch it this Sunday? Our favorite scene this week was when she went into the bathroom at work and talked to those two girls ...
The eyebrows! [Laughs.]
It was ridiculous. Like we watched it three times. How amazing is [Lena Dunham]? What is she, 26 years old? She's brilliant. And the thing that she's so good at ... I mean, it's her, let's face it, she's on TV and she's writing this stuff for herself. Her self-deprecation is amazing. It's amazing that she's so confident to be able to do that.
Agreed. But you mentioned self-deprecation, which leads me right into an Angry Bobby Flay question. The day that the Angry Bobby Flay Twitter account was disabled, I was interviewing Anthony Bourdain, and I thought he was going to cry. You think I'm exaggerating, but he was so upset, like "That's my favorite Twitter feed -- I can't believe someone would have it taken down!" What happened?
I have no idea. We have nothing to do with it. Some people think that it's actually me writing it. I think at some point, Twitter made them put "parody" on the site so that people understand it is a parody. [Laughs.] It's obviously a form of flattery ... but the one thing I'm happy about is people seem to really like it. I don't read it, but people say to me all the time, "The guy's really, really funny." So at least he's funny and he's not just being incredibly mean. That's a good thing.
Tony compared it to the Ruth Bourdain account, which has been up for years ... I just wanted to make sure, clear it up once and for all, that it wasn't you saying, "I can't take the joke -- take it down!"
No. We're busy doing other things than worrying about that stuff! You can't chase everybody on the Internet who's saying stuff about you, that's for sure.
Business question: Any plans to move out West?
No. I'm really an East Coast boy ... there's nothing wrong with L.A., but I'm not so sure that I'd be successful out there. First of all, I live in New York and I'm in New York basically all the time. I spend a lot of my time in my restaurants, and I feel like that's why they're successful. To go to L.A. and open a restaurant ... I just don't know that it would be able to overcome the fact that I wasn't there enough. That's something that concerns me.
I hear you. Although your fictional restaurant on "Entourage" appeared to be pretty successful. But that show also implied that you were single, so ...
I know -- people were trying to make reservations! It was crazy. The whole thing was crazy ... my wife's the best. She was like, "Whatever, do whatever you want."
What else are you guys watching?
We watch "Mad Men," we watch "Girls" and we like "Veep" also. I started watching "Magic City" ... have you seen it? I've watched two episodes ... I'm waiting to get into it. We'll see what happens.
Yeah, it's no "Mad Men" ...
"Mad Men" has been great this season! It really has -- I don't know how they keep writing such good stuff. It's crazy.
Would you consider guest starring on any of these shows?
Well, I'm not an actor, so it's hard for me to even consider it ... I'm so bad at trying that stuff. No, I have plenty of shows on the Food Network -- I think I'm going to stay put! [Laughs.]
Tell us: Are you excited for the new format on "Food Network Star"?
"Food Network Star" premieres Sun., May 13, 9 p.m. ET on Food Network.

Calling all HuffPost superfans!
Sign up for membership to become a founding member and help shape HuffPost's next chapter
BEFORE YOU GO