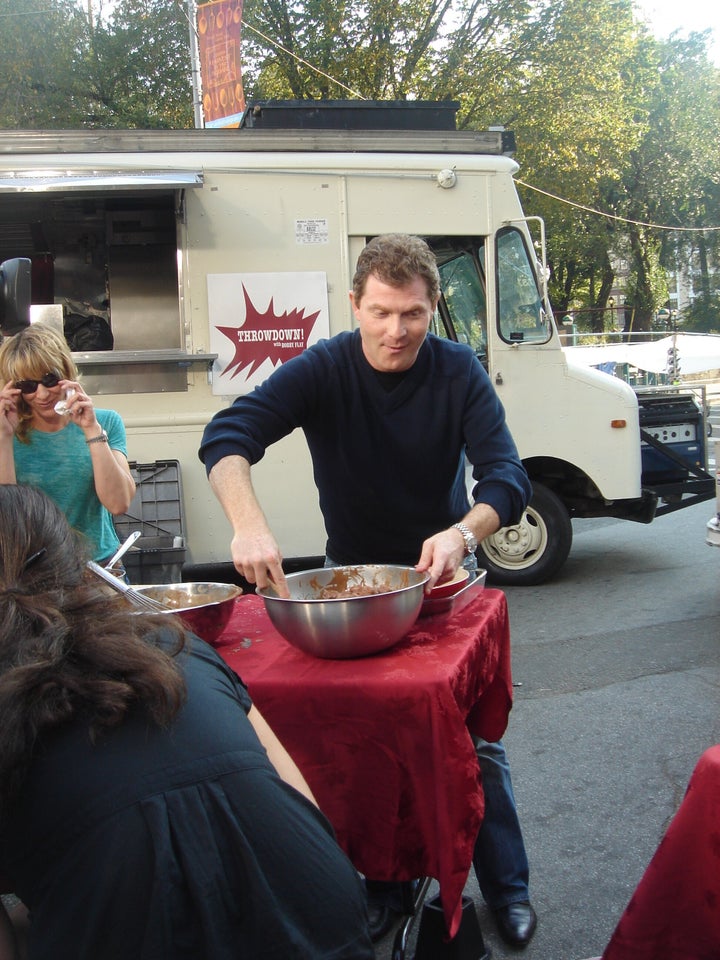 When my phone rang at the precise time for my interview with Bobby Flay, I picked up and was surprised to have the man himself on the line. "I thought I'd be getting a call from your people," I said as I laughed, "who would then patch me through to you." He laughed with me, replying, "I don't have 'people'."
Despite not having people, Bobby Flay is a supernova in the culinary universe. With cookbooks, restaurants, product lines and oodles of TV shows, he has so much going on that I asked him the question I ask all celebrity chefs with overloaded plates... "Just how much time do you spend in your restaurants?" He quickly corrected me. "You have it backwards. I spend 80% of my time in my restaurants. Taping my TV shows doesn't take much time, and then they get aired a lot. That's the thing people don't realize. The most important thing is my restaurants. It's the thing I want to do most, it's where I'm most comfortable and most happy."
Thing is, Bobby Flay didn't start with a great love of kitchens, he just needed a job when he quit high school at 17. "I wasn't passionate about food until I'd been cooking for a while. I started long before food became part of the mainstream media. I just wanted to cook, period. I had ups and downs in the business, then after about four years I met Jonathan Waxman (Barbuto) and that's how I became very passionate."
Waxman introduced Flay to Southwest cuisine. Having grown up on New York's Upper East Side, Southwest obviously wasn't a part of Flay's culinary landscape. "Jon was the first chef to bring California cuisine to New York City," explained Bobby. "And that cuisine has a lot of the Southwest in it. I fell in love with the ingredients... the flavors, textures, and colors. Jon opened my eyes to that cuisine."
"They were incredibly gracious with me. I was this young New York City punk, and they let me in their doors, opened their kitchens to me, and taught me so much. I'm very grateful to them to this day." Then Bobby added, "I think this is the most giving profession there is. While we're all competitive, everybody is generous with each other, with their time, knowledge, and kitchens."
Traveling to Texas also helped Flay become a BBQ master. Given that I grew up in LA, BBQing year round and now jonesing for BBQ during my NYC summers, I always wondered where Flay got his passion for BBQ. After all, growing up in NYC doesn't lend itself to year round grilling, let alone having a yard to grill in even in summer (if you're lucky you get a rooftop). He told me that as a kid his family would spend summers on the Jersey Shore, where they would grill outdoors all summer long. "It was very basic BBQ," said Flay. "But I took the concept of simple grilling and added my own twist to it, like I do with all of my food."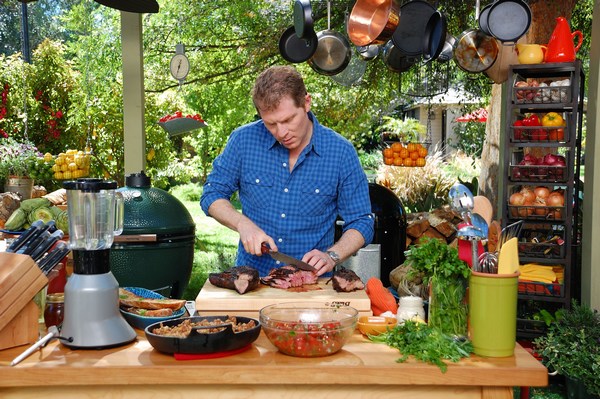 Slicing Santa Maria Style BBQ Tri Tip on Bobby Flay's Barbecue Addiction (Photo Courtesy of Food Network)
Thanks to Waxman and those generous Southwest chefs in the BBQ capitals of Texas, when Flay opened his first restaurant at age 25, Mesa Grill quickly became one of the hottest tables in NYC. Then something unexpected happened, he was approached by a fledgling Food Network.
"Nobody believed the Food Network could last. Even I was short sighted and thought to myself, 24 hours of food on TV? They'll run out of things to talk about in four days! But," added Bobby, "that wasn't true. Food Network continues to get better and evolve."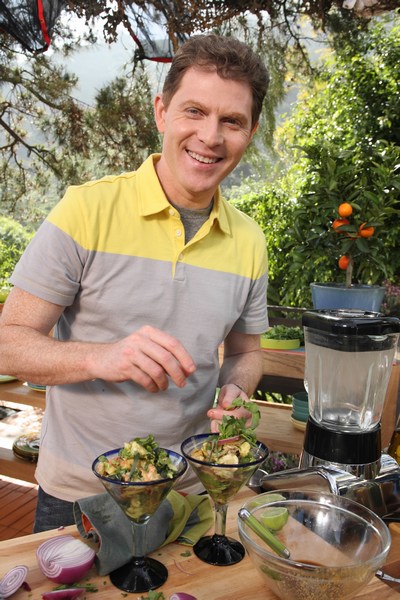 On Grill It! with Bobby Flay (Photo Courtesy of Food Network)
At first Flay was a frequent guest on Food Network programs, then they offered him his own show, then another, and another. He became an Iron Chef on Iron Chef America, after a cocky showing on the original Iron Chef series in Japan in two battles against Masaharu Morimoto (remember the cutting board incidents?).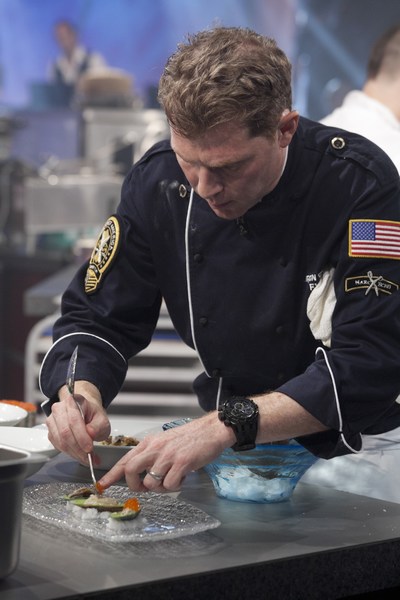 Iron Chef Bobby Flay (Photo Courtesy of Food Network)
Through television Flay has become a BBQ icon, a heavy weight champion Iron Chef, and a humble competitor often losing to challengers on Throwdown!. He's also become a keen judge himself, weeding away the wanna-be's from the will-be's on both The Next Iron Chef and The Next Food Network Star. But when I asked him if the only way he could have ended up on television was to be a contestant on The Next Food Network Star, would he do it? He laughed and said "No. Definitely not."
"When people do the competition shows," explained Bobby, "they try to be what they think you want them to be. I'm constantly telling people you have to do something that's all you. It has to be something you really know about, something you're passionate about. Don't try to be the next Rachael Ray or Bobby Flay, we already have those people. We want someone who is going to make their own mark on Food Network."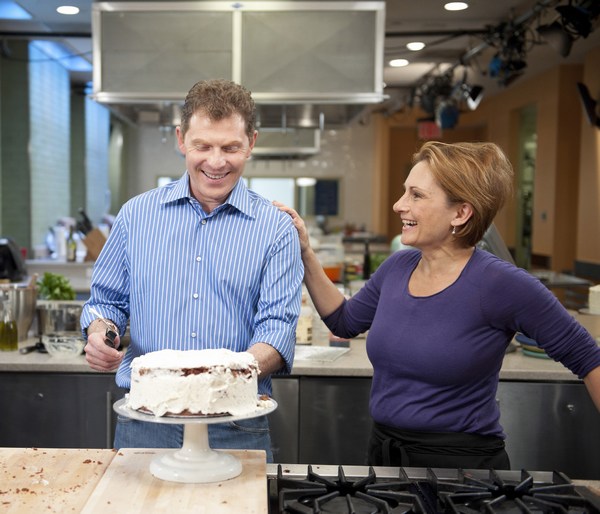 Getting ready for a Throwdown in the Food Network test kitchen with sous chef Miriam Garron (Photo Courtesy of Food Network)
And TV isn't easy. If you think the fire is hot in a kitchen, just try making it big in the scorching frying pan that is network television. "To be the next Food Network star you have to have a repertoire of ideas and skills. You can't just have enough in you for six shows, we want someone who has 600 shows in them."

With Next Food Network Star Contestant Orchid Paulmeier (Photo Courtesy of Food Network)
Thanks to his television success, cooking is a very public passion for Flay. But he does have what he called a "private passion" that I just had to ask about, because it's one of my own too. Horses. Bobby is the owner of more than one Thoroughbred, and his filly, More Than Real, was the winner of the 2010 Breeders' Cup Juvenile Fillies Turf race, with legendary jockey Garret Gomez in the saddle.

Bobby in The Winners' Circle with Jockey Garret Gomez (Photo Courtesy of Bobby Flay)
"The city boy has to get on the farm sometimes," said Flay as he laughed. But when I asked Bobby if he's ever ridden any of his Thoroughbreds he came back with a quick "No. Not race horses, no chance. It's a dangerous sport!" It's also a sport to which Flay has lent his time and name in an effort to bring attention to the often tragic fate of injured and retired Thoroughbred Ex-Racehorses.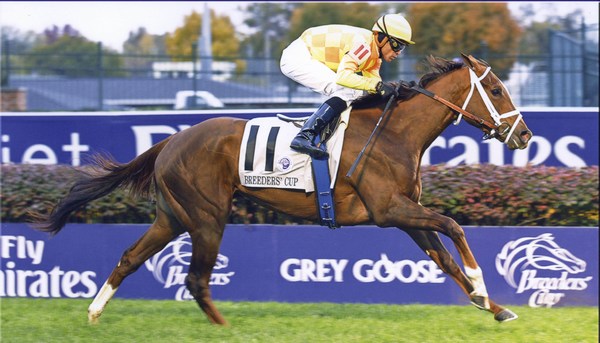 Garret Gomez Riding More Than Real to Victory (Photo Courtesy of Bobby Flay)
Flay has come a long way from the "punk" he said he was years ago. While early success and stardom reportedly got to his head at times, he's accumulated as much sagacity and temperance as one would expect from a chef of his caliber and experience. And it's the lessons he's learned over nearly 30 years in the business that today he enjoys sharing. "One of the things I love most about what I'm doing now is that I'm able to pass down my wisdom and knowledge to others, and hopefully push people in the right direction. I love seeing people do better."

Popular in the Community