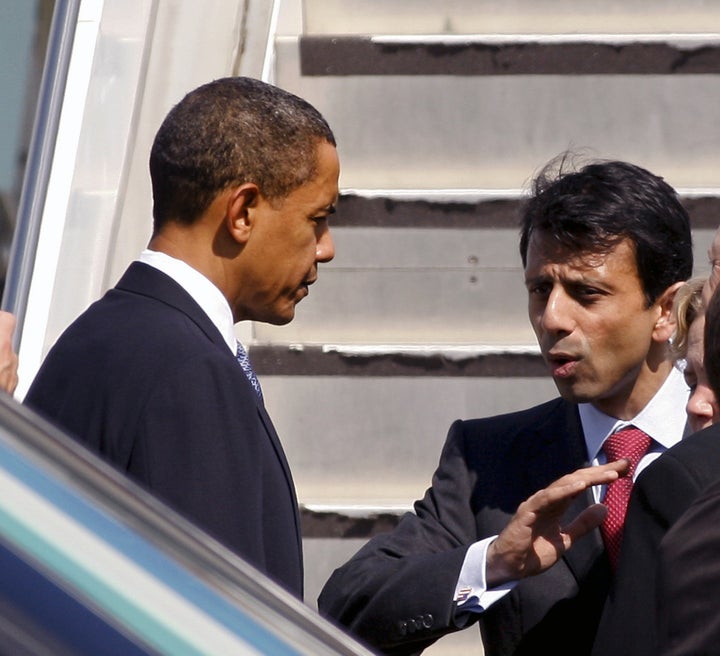 While much has been made about former president George W. Bush's refusal to criticize President Obama in his recent book, apparently sitting governors with potential presidential aspirations of their own don't feel bound by similar rules.
Governor Bobby Jindal of Louisiana (R) is out with a new book just in time for pre-2012 election season that largely bypasses professional courtesy for an unsparing admonishment of the president's handling of the BP oil spill in the Gulf.
At the forefront of Jindal's swipe is Obama's demeanor upon touching down in Louisiana, a trip that he supposedly kicked off with a warning to Jindal over the poorly perceived tone of a letter the governor wrote to the White House asking for help.
"Careful," Obama warned Jindal in the book, according to Politico's report. "This is going to get bad for everyone."
Meanwhile, Obama's then-chief of staff Rahm Emanuel was giving Jindal's chief of staff an earful:
"If you have a problem pick up the f-n' phone," Jindal recounts Emanuel telling his staffer.
Jindal continues his criticism of the Obama visit, characterizing it as a press stunt, and then blasting the president's response to Jindal's opposition to an offshore oil drilling moratorium, a stance that Obama seemed to think was more about appearing compassionate than actually about his concern over its economic impact.
"The human element seemed invisible to the White House," Jinal writes, according to Politico. "Political posturing becomes more important than reality."
An earlier advanced look of Jindal's book showed that he also tackled the delicate topic of "Men Behaving Badly," a segment that lambasted the not uncommon intersection of infidelity and politics. Notably, however, Jindal managed to leave out former speaker of the House Newt Gingrich, who has kind words about the book on its back cover, and Sen. David Vitter, a fellow Louisiana Republican.
Popular in the Community