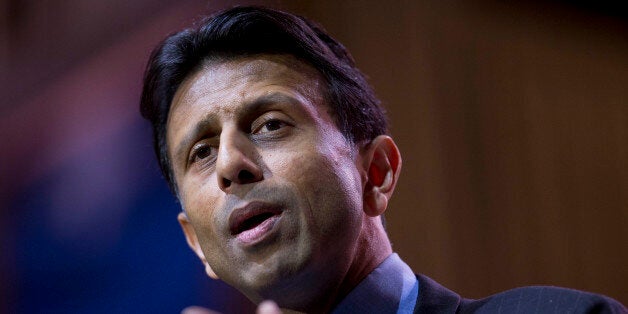 NEW ORLEANS, Aug 19 (Reuters) - In a blow to Louisiana Governor Bobby Jindal's move to withdraw his state from Common Core education standards, a state judge on Tuesday blocked Jindal's plan to scrap a key set of standardized tests due to be introduced in the coming school year.
Jindal's push to ditch Common Core, announced in June and given teeth by his orders to scrap the multistate tests, came amid a backlash against the English and math standards aimed at boosting critical-thinking skills and unifying state guidelines.
Judge Todd Hernandez, in issuing a preliminary injunction against the governor in a lawsuit filed by Common Core backers that is awaiting trial, said plans to drop the tests, slated to serve as a must-pass benchmark for fourth-graders, had sowed uncertainty.
"The evidence is clear that this state of the unknown has caused anxiety and other harm to the parents, teachers, administrators and students in Louisiana," he wrote.
Jindal's office, which has argued that the state's contract with the test maker violated Louisiana laws against no-bid contracts, said the governor would seek to have the ruling stayed ahead of the trial.
"The judge took the arguments from Common Core proponents hook, line and sinker," Jindal's chief of staff, Kyle Plotkin, said in a statement.
Jindal's push to scrap the standards has pitted him against Louisiana Superintendent of Education John White, a Jindal appointee, who applauded the judge's ruling.
Jindal, who is widely viewed as holding presidential ambitions, was a supporter of Common Core when the state joined 44 others, along with the District of Columbia, in passing the standards into law in 2010.
But the standards have since come under fire across the political spectrum. Left-leaning groups argue they increase reliance on standardized testing and discourage creativity and flexibility in the classroom. Some conservative groups say they amount to a federal takeover of education.
Although the standards were developed and implemented at the state level, the Obama administration encouraged their adoption through a competitive-grant program called Race to the Top, which gave money to cash-strapped states during the recent economic downturn.
Several Republican-led states have dropped Common Core this year, including Indiana, South Carolina and Oklahoma. (Editing by Eric Walsh)

Popular in the Community