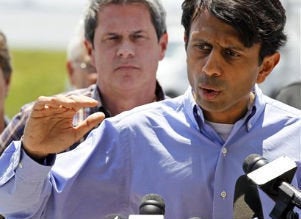 Louisiana Gov. Bobby Jindal (R) is declining to endorse home state U.S. Sen. David Vitter in his Republican primary fight against Chet Traylor, who announced his bid to challenge the GOP incumbent earlier this week.
With the Louisiana primary just weeks away, Jindal spokesman Kyle Plotkin signaled on Tuesday that the Republican Governor isn't focused on the last-minute match-up, at least for now. In a statement e-mailed to The Hill Plotkin wrote, "There will be time to discuss endorsements in the coming months."
Jindal has appeared at Vitter fundraisers but has not made a public endorsement.

The Louisiana Republican Party, however, has been "very actively supporting" Vitter, according to spokesman Aaron Baer. "We're going to continue to do that."

Washington Republicans are also standing by Vitter.

"We fully support Sen. Vitter," said Brian Walsh, a spokesman for the National Republican Senatorial Committee. "His numbers have only grown stronger as the election cycle has gone on."
Traylor said earlier this week that if Vitter "was in good shape [he] wouldn't be running" in a primary to unseat the Republican Senator.
Popular in the Community