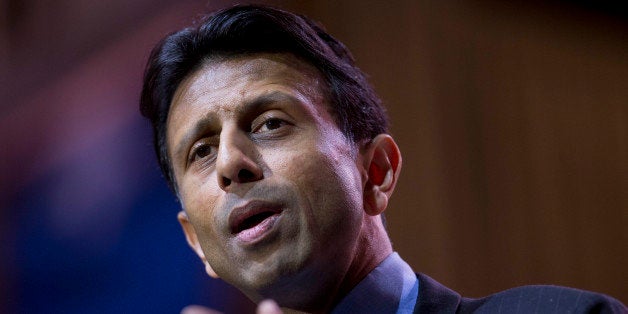 A billboard criticizing Louisiana Gov. Bobby Jindal (R) for his opposition to Medicaid expansion may remain, a federal judge ruled on Monday in a trademark infringement case.
The state of Louisiana sued MoveOn.org in March for the billboard's design, accusing the liberal policy group of ripping off its multi-million dollar tourism brand and seeking an injunction ordering the billboard removed. The billboard parodies the state's "Louisiana: Pick Your Passion" motto and logo.
U.S. District Judge Shelly D. Dick ruled Monday that the billboard is permissible, saying that Lt. Gov. Jay Dardenne, whose office developed the tourism slogan and sued MoveOn.org, "underestimates the intelligence and reasonableness of people viewing the billboard."
"The State has not demonstrated a substantial likelihood of prevailing on its burden of proving confusion by viewers of the billboard. Furthermore, the State has failed to demonstrate a compelling reason to curtail MoveOn.org.'s political speech in favor of protecting of the State's service mark," Dick wrote in her opinion. "There has been no showing of irreparable injury to the State."
MoveOn.org had argued that the billboard was protected under the First Amendment. Anna Galland, the group's civic action executive director, released a statement expressing disappointment in the state's "baseless lawsuit."
'Lt. Gov. [Jay] Dardenne should apologize to the taxpayers for this waste of time and money -- time and money that could have been better spent finding ways to get Louisianians access to health care," Galland said.
"We are doubling down on our campaign to ensure every American has access to health care," Galland continued. "We are expanding our billboard campaign in Louisiana. And we will will not rest until Governor Jindal and all of the other Republicans blocking access to Medicaid get out of the way."
Calling all HuffPost superfans!
Sign up for membership to become a founding member and help shape HuffPost's next chapter
BEFORE YOU GO
PHOTO GALLERY
United States Governors