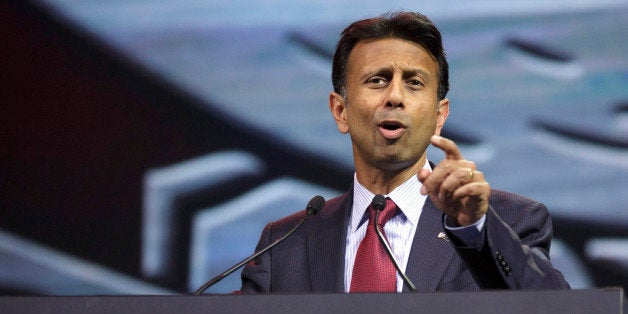 Louisiana Governor Bobby Jindal attempted to beat Stephen Colbert at his own game after the comedian roasted the Republican governor's scientific views. However, his strategy included tweeting out several links to the segment in question.
On Tuesday, the Comedy Central host mocked Jindal during a "Colbert Report" segment on the Values Voters Summit, which took place in Washington, D.C. last weekend. Colbert showed a clip of The Huffington Post's Howard Fineman questioning Jindal -- who holds a degree in biology from Brown University -- on whether he believes evolution explains the existence of complex life on Earth.
"The reality is I was not an evolutionary biologist," Jindal replied, deflecting further questions on his personal scientific views.
"Jindal is off to an impressive retreat from knowledge, but there's a lot more science he could run away from," Colbert said. "For example, he should insist thunder is just God bowling."
On Wednesday, Jindal took to Twitter to fire a few barbs back at Colbert. The governor included links to the Colbert segment in most of his tweets, likely drawing more attention to the clip.
In 2008, Jindal signed the Louisiana Science Education Act into law. Under the legislation, teachers are allowed to introduce "supplemental textbooks and other instructional materials" to students, which critics say opens the door for teaching creationism as well as skepticism about topics like global warming and cloning.
"I've got no problem if a school board, a local school board, says we want to teach our kids about creationism, that some people have these beliefs as well," Jindal said in an interview last year. "Let's teach them about intelligent design. I think teach them the best science. Let them, give them the tools where they can make up their own mind, not only in science but as they learn and teach about other controversial issues, whether it's global warming or whether it's…climate change or these other issues."
Calling all HuffPost superfans!
Sign up for membership to become a founding member and help shape HuffPost's next chapter
BEFORE YOU GO
PHOTO GALLERY
Politicians Mess Up Science