 Louisiana Gov. Bobby Jindal (R) spent Tuesday fending off a legal attack from his allies.
Two years ago, Jindal visited a charter school operated by the Choice Foundation, a nonprofit organization that manages a chain of charter schools in Louisiana. Jindal was there to announce his support for the Common Core State Standards. As Jim Swanson, chair of the Choice Foundation schools, remembers it, Jindal praised the package of learning benchmarks as state-of-the-art.
Since then, Jindal has changed his mind, demanding that Louisiana drop the Common Core and suspending the state's contracts with testing vendors who create Common Core tests.
Now, Swanson is joining a group of parents and teachers to sue Jindal for trying to reverse his state's adoption of the standards. "This action by him has had an incredible practical effect on the education at our schools," Swanson said Tuesday during a conference call with reporters. "This action of throwing the system into disarray was a very irresponsible action."
The Common Core, a set of learning benchmarks in math and English language arts adopted by over 40 states, has recently become controversial, with tea party networks railing against what they see as intrusive federal overreach, and teachers' unions decrying what they call hobbled and rushed implementation.
On Tuesday, the Choice Foundation, together with a number of teachers and parents, filed suit against Jindal, claiming his executive actions on the Common Core -- specifically, his suspension of the testing contracts -- exceed his authority.
Jindal's administration has claimed that the testing contracts are illegal, an allegation that the suit calls "a pretext to conceal their attempt ... to set their own education policy, despite the Louisiana Constitution's grant of that authority to the Legislature" and the Board of Elementary and Secondary Education (BESE).
The suit, filed in East Baton Rouge Parish, is asking for a preliminary injunction and has a hearing scheduled for August 4, which the litigants hope will allow the state to continue its plans to administer Common Core exams immediately.
"The governor and his administration have exceeded their authority and have impinged on the constitutional rights of the legislature and BESE," said attorney Stephen Kupperman of Barrasso Usdin Kupperman Freeman & Sarver, LLC, the firm acting on behalf of the litigants in the suit.
In some Louisiana parishes, school will begin as early as three weeks from now, and teachers still don't know what material their students will be tested on by the end of the year. In grades four and eight, standardized tests determine whether students will be promoted or held back. "We are now unclear on what standards our kids are supposed to be able to achieve at the end of this school year," Swanson said.
Jindal called the suit baseless. "This lawsuit has no merit. Louisiana Revised Statute La. R.S. 39:334 gives the Division of Administration the authority and responsibility to ensure that all offices of the executive branch follow proper contractual procedures," he said in a statement. "And under the Louisiana Constitution, the Governor's Office has the responsibility to ensure the laws of the state are faithfully executed. The Louisiana Department of Education needs to stop delaying [...] and follow the law."
The suit is setting Jindal against his allies. In the past, Jindal has spoken forcefully in favor of school choice, charter schools and school vouchers -- particularly in the face of the U.S. Department of Justice's suit against Jindal's expansion of vouchers, which use public money to fund private and often religious school tuition. Partially bankrolling the Common Core suit is the Black Alliance for Educational Options, a group that once stood with Jindal as he sought to fend off the federal government on the voucher issue.
"We have fought together on the same side on lawsuits and those sorts of things, but for us, the overriding interest has always been children," BAEO President Kenneth Campbell said when asked about the rift. "The same way that we stood with the governor at times [...] we think the governor is wrong on this issue." Campbell added that he hopes Jindal doesn't take the filing personally.
Jindal, who is seen as a potential 2016 presidential contender, has framed his souring on the Common Core as a consequence of what he calls the federal government's intrusion on state issues. He said in June that he would "not be bullied" by the feds, and that Secretary of Education Arne Duncan's "comments & actions" prove that the Common Core is indeed a "fed takeover."
Jindal's anti-Common Core moves have set off a chain of negotiations, during which BESE sent Jindal two testing plans they said would fit into Jindal's interpretation of contract law -- a prediction that proved incorrect. Following Jindal's July 17 meeting with state schools chief John White, neither party had come to a resolution.
"I'm not surprised," BESE President Chas Roemer told HuffPost shortly after that meeting. "The governor doesn't have any intention of coming to a solution. He continues to point to procurement policy [...] and he uses that as a way to determine education policy. That's not what the Constitution allows."
BESE is not party to the lawsuit, but White issued a statement saying that "it is critical that our state resolve as soon as possible the issue of who determines the content of state tests." On Tuesday, Roemer said that BESE is still retaining legal counsel -- meaning it could still file its own suit against Jindal.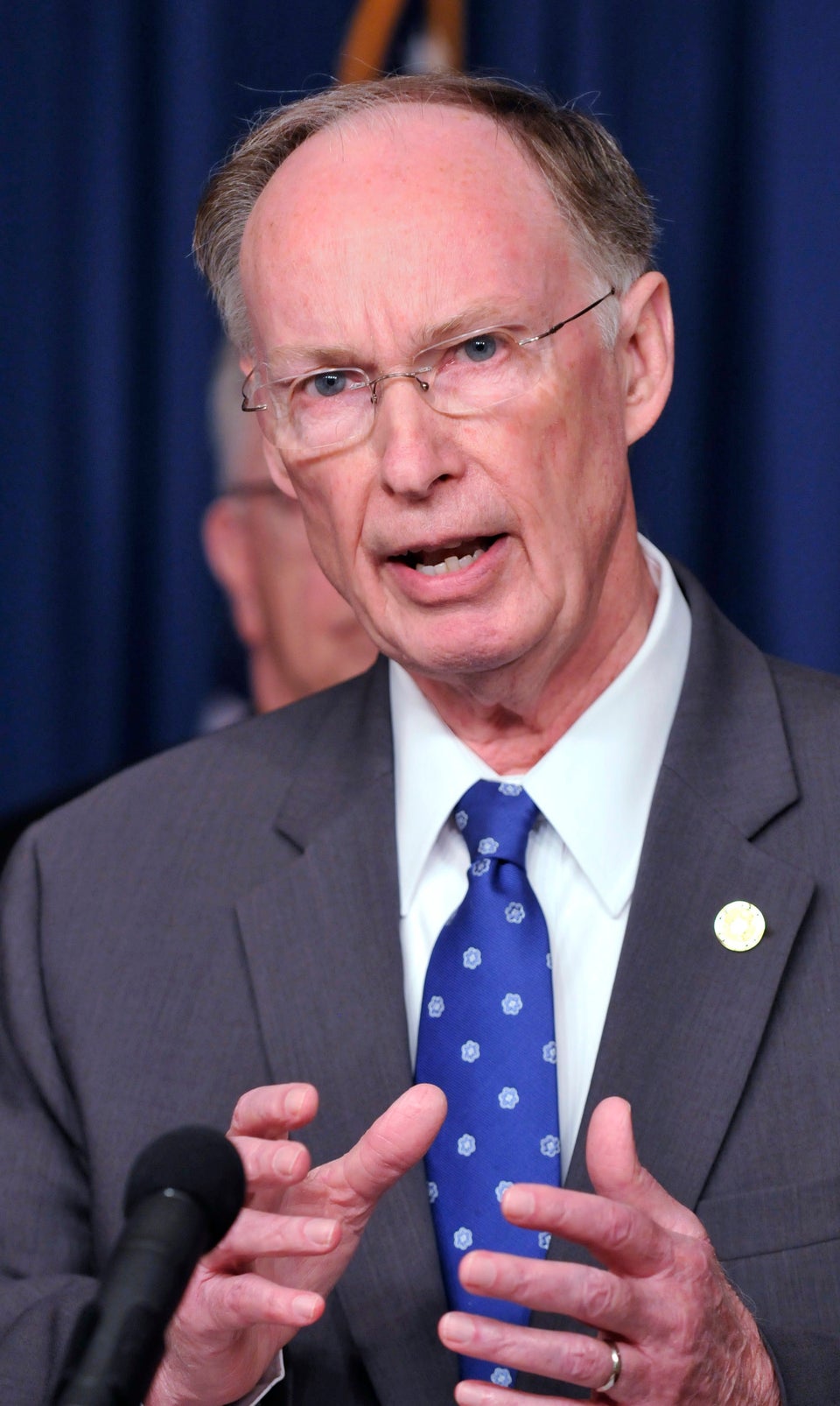 United States Governors
Popular in the Community