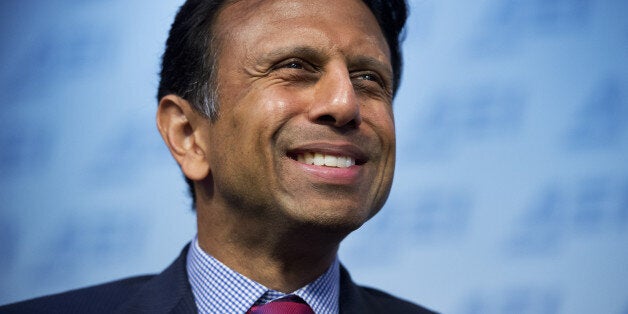 Louisiana Gov. Bobby Jindal (R) wants teachers to know they can complain about the Common Core State Standards all they want.
On Wednesday, Jindal issued an executive order aimed at protecting the rights and freedom of speech of teachers. The order was issued in response to recent reports "about teachers who were quieted by local school officials after voicing concerns over Common Core," according to a press release from the governor's office. A subsequent press release from the same office implied that Jindal believes John White, the state's education superintendent, could be playing a role in silencing teachers.
The press release for the executive order specifically highlights a recent article from The Town Talk, a Louisiana newspaper, in which an educator said she was "written up" by school administrators after writing a Facebook comment critical of the Common Core.
"Teachers are the backbone of Louisiana's educational system and offer a necessary voice in the ongoing discussions regarding classroom curriculum and testing procedures and must be afforded the opportunity to offer this crucial perspective," the executive order reads.
Jindal has a notoriously fraught relationship with the Common Core standards, which have been voluntarily adopted in over 40 states, including Louisiana. While Jindal originally championed the standards, which are intended to make sure students around the country are being held to the same benchmarks, he has since turned against them, saying they are an instance of federal intrusion.
Louisiana adopted the Common Core standards in 2010 -- after states were incentivized with federal money to approve higher education standards -- but this past summer, Jindal took steps to try and stop the program's implementation. When a state judge blocked the governor's actions in August, Jindal sued the federal government, claiming that the Common Core has "has turned into a scheme by the federal government to nationalize curriculum."
A few hours after issuing the executive order on Wednesday, Jindal sent out a second release, suggesting that he thinks state Superintendent John White -- who famously supports the Common Core -- intends to silence teachers. According to the press release, White has indicated that he "intends to marginalize the opinions of teachers and parents who oppose Common Core."
In the American Press interview, White also noted that he thinks "one way or the other ... it's good that parents are involved in their kids' education."
Speaking to The Huffington Post on Thursday, White denied that he has had any role in silencing teachers.
"Anyone who works in public schools know that teachers' voices have been squelched for generations by bureaucrats and politicians," White told HuffPost. "That's not an issue with Common Core, that goes back generations. And it's not acceptable on any issue."
"I think the last thing Louisiana needs is a spat between government officials," White added. "I think we need [...] support for our teachers and to listen to our parents."
"We have not received many complaints about [teachers being silenced]," said Les Landon, spokesman for the Louisiana Federation of Teachers, according to The Times-Picayune. "But a teacher does not surrender his or her First Amendment rights when they go to work. We will defend that right."

A spokeswoman for the governor told The Times-Picayune that Jindal's office has received calls from teachers who feel silenced.
"We have received a lot of calls and letters from teachers who are opposed to Common Core, and we want to be sure that these teachers' rights are protected," said Shannon Bates, Jindal's deputy communications director. "If teachers are being quieted in one parish -- it can happen in others, and we want to make sure these teachers are able to be heard."

Popular in the Community