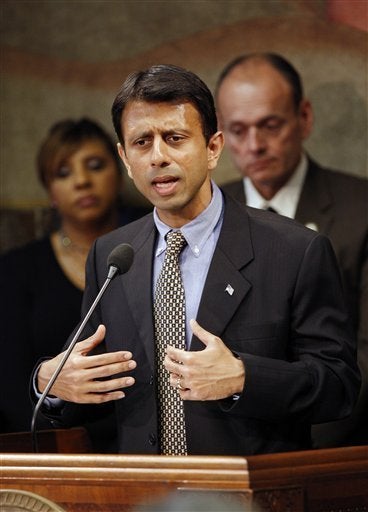 WASHINGTON — Louisiana Gov. Bobby Jindal again found himself carrying the Republican mantle opposite a primetime appearance from President Barack Obama on Tuesday, saying Republicans must be ready to defy the president when they disagree with his policies. He also joked about his widely panned response to Obama's address to Congress last month.
"We are now in the position of being the loyal opposition," Jindal said at a Republican congressional fundraising dinner that only by coincidence fell on the same night as Obama's news conference. "The right question to ask is not if we want the president to fail or succeed, but whether we want America to succeed."
However, Jindal also argued that it's okay for Republicans to want President Obama to fail if they think he's jeopardizing the country.
CNN described the argument as a "spirited defense" of those who, like Rush Limbaugh, say they want Obama to fail.
Jindal described the premise of the question -- "Do you want the president to fail?" -- as the "latest gotcha game" being perpetrated by Democrats against Republicans.

"Make no mistake: Anything other than an immediate and compliant, 'Why no sir, I don't want the president to fail,' is treated as some sort of act of treason, civil disobedience or political obstructionism," Jindal said at a political fundraiser attended by 1,200 people. "This is political correctness run amok."

Since conservative radio talk show host Rush Limbaugh said that he hoped that Obama would fail, Republicans have been pressed by Democrats and the media about Limbaugh's comments.

Jindal ... told the Republican audience he would "not be brow beaten on this, and I will not kowtow to their correctness."

"My answer to the question is very simple: 'Do you want the president to fail?' It depends on what he is trying to do."
Saying "the time for talking about the past is over," Jindal said Republicans have begun to find their voice after back-to-back elections losses _ motivated by what he called historic Democratic spending excess.
Jindal is widely considered a potential 2012 GOP presidential candidate, but his televised response to Obama's speech at the Capitol last month was widely panned. Some compared his delivery to the late children's television host Mister Rogers and said the address could hurt Jindal's national potential.
At Tuesday's $2,500-per-plate dinner _ which President George W. Bush headlined last year _ Jindal opened his speech by poking fun of himself. He threatened to deliver a reprise of the earlier performance and then jokingly compared it to torture.
"They're not allowed to show my speech at Gitmo anymore," he said. "They've banned that."
The National Republican Congressional Committee, which works to get Republicans elected to Congress, said it raised more than $6 million at the event.
Popular in the Community