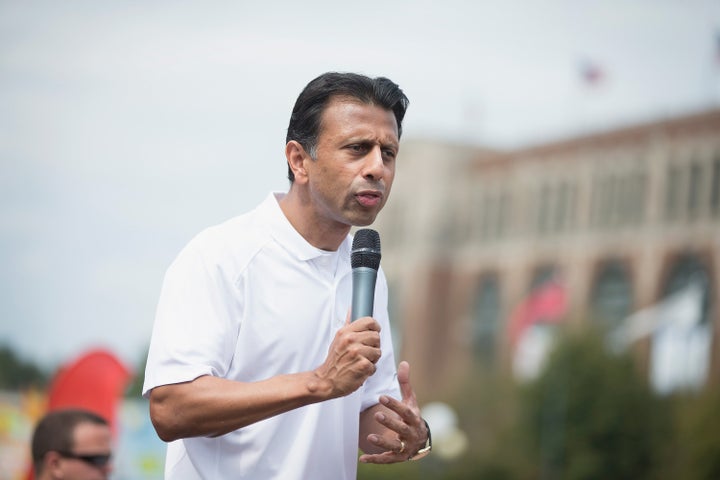 WASHINGTON -- Louisiana Gov. Bobby Jindal's presidential campaign has been propped up by the $4.6 million he helped two supposedly independent outside groups raise in the first half of 2015. The majority of the funds raised by these groups comes from people and companies that have benefited from Jindal's administration or continue to lobby his office.
In total, a handful of donors with influence in Baton Rouge combined to contribute $2.5 million to Believe Again, a super PAC, and American Future Project, a 527 group.
Twelve donors who combined to give $725,000 were previously appointed to important board positions by the governor to oversee things ranging from Louisiana State University to the state airport authority and a panel overseeing the construction of a new hospital. (Some of these donors were corporations whose officers received appointments from the Jindal administration.)
"USAA provides financial support to candidates and organizations that embrace policies that help us serve military families," USAA spokesman Roger Wildermuth said in a statement.
The Jindal campaign did not respond to a request for comment.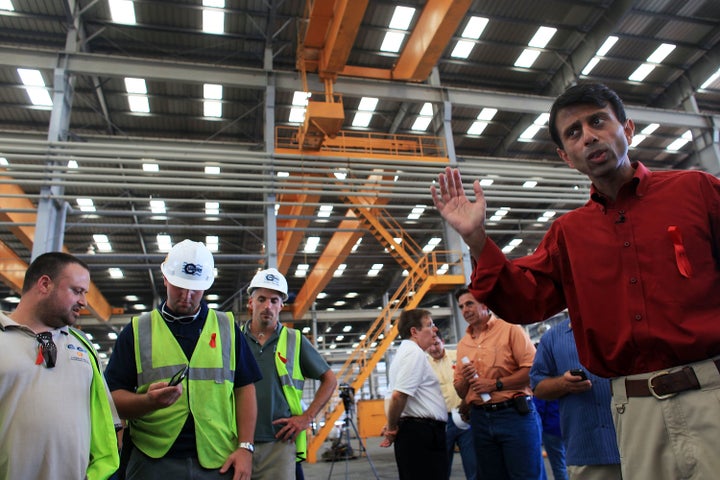 Other companies and executives employ lobbyists in the state capital. The California auto auction company Copart and its top executive Willis Johnson gave $200,000 to Believe Again while employing lobbyists in Baton Rouge. Richard Zuschlag, the head of another company employing lobbyists aiming to influence Louisiana government decisions, Louisiana-based ambulance service provider Acadian Companies, gave $25,000.
The already powerful Louisiana nursing home industry has gained from Jindal's administration and also battled him to a standstill over related Medicaid reimbursement policies and his privatization agenda.
One of the state's largest industry lobbies, with millions in campaign donations made every year, the nursing home industry takes advantage of policies the state has enacted and maintained to fund beds with Medicaid funds -- even when they are empty.
An investigation by WVUE New Orleans revealed that the funding of nursing home beds, including empty ones, was maintained at the same levels even as the Jindal administration and the Republican legislature pursued austerity policies to slash other health care and education spending.
Now, thanks to Citizens United, the nursing home industry is able to bundle more than it previously could to help Jindal's presidential campaign tread water.
A total of 78 nursing and rehabilitation homes operating in Louisiana contributed a combined $357,879 to American Future Project or Believe Again.
Nearly all of the nursing home contributions to both American Future Project and Believe Again were made on April 13, meaning they were collected at a fundraiser attended by Jindal. The governor did not announce his presidential bid until June 24, and with the lack of enforcement from the Federal Election Commission, was able to raise unlimited sums for supposedly independent outside groups.
One nursing home operator, Teddy Rae Price, donated $150,004 through 22 separate entities. This included a $50,000 contribution from Price's Central Management Company to the super PAC Believe Again.
Billionaire ship builder Gary Chouest, a longtime supporter of Louisiana Republicans and Jindal, gave $1 million to Believe Again. In 2008, when Jindal took office the very first state contract for economic development went to Chouest's Edison Chouest to expand a shipbuilding facility. The contract was initially negotiated with Jindal's predecessor, Democrat Kathleen Blanco, but was requested and approved by Jindal's administration and the legislature.
Tom Benson, owner of the New Orleans Saints and New Orleans Pelicans, contributed $25,000 to Jindal's super PAC in April. In 2009, the state entered into an agreement with Benson's Saints to spend $85 million on renovations to the Superdome that would expand profits for the franchise. If the team did not meet the total increase in revenue expected by the renovations, the state would pay out up to $6 million to cover the shortfall.
This does not even cover all of the money donated to outside groups to support Jindal's presidential campaign. Another group, America Next, is registered as a 501(c)(4) nonprofit and does not have a to disclose its donors. The group has already spent more than $700,000 in dark money asking Iowans to vote for Jindal in the first-in-the-nation caucus. Its donors will, in all likelihood, not be revealed.
Support HuffPost
The Stakes Have Never Been Higher
Popular in the Community