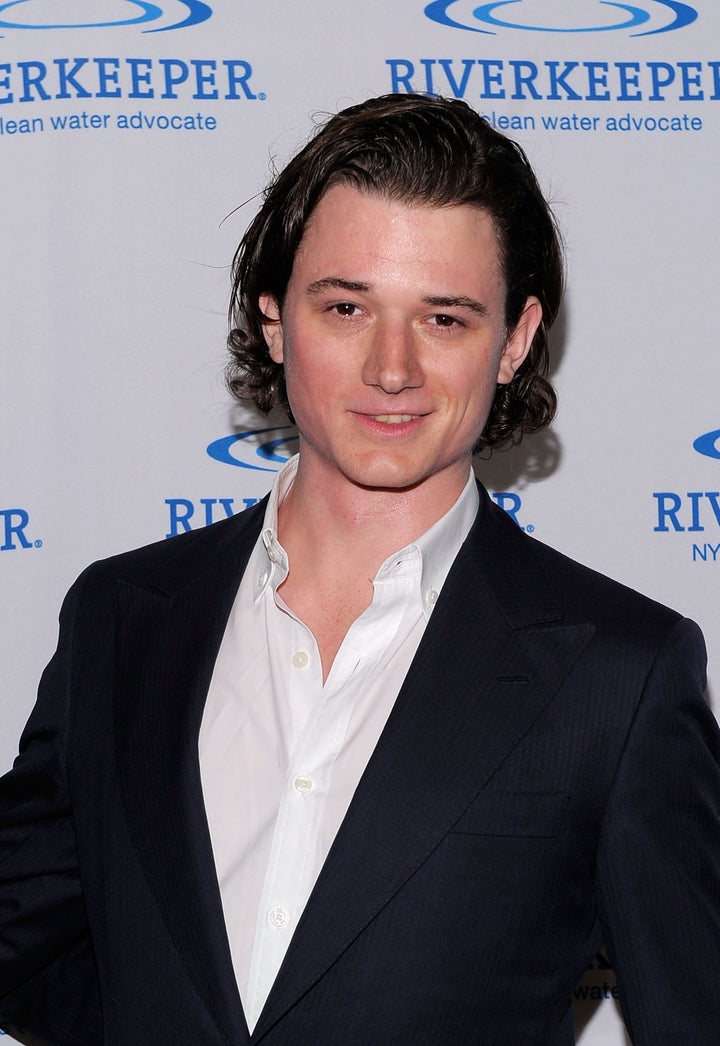 "Friends, Family, Countrypeople…" the email began. The invitation announced a directorial debut, and it was signed, Bobby Kennedy III.
A week later, a group of casually but well-dressed 20-somethings gathered at the Angel Orensanz Foundation on Manhattan's Lower East Side and enjoyed 90 minutes of open bar before their host signaled it was time to start.
The boyish-looking 26-year-old grandson of Robert F. Kennedy took to the stage in a full suit and a skinny tie (minus the fedora he's often been photographed around town in) and welcomed the crowd to "ELEW: Live from Infinity," a one-act comedic play he wrote and directed.
The lights went down, rock-jazz pianist Eric Lewis -- also known as ELEW -- started playing a foreboding tune on the piano, and out came the puppets (Kennedy would have liked to work one of the puppets himself, but he dislocated his shoulder rock-climbing in Tibet).
As a scion of America's most storied political family, Kennedy might be expected to be exploring politics, but for now, he finds puppets more appealing.
"People that, I feel at least, get into politics too early before they've had a chance to express themselves and kind of be free and do what they want to do, end up being the most corrupt politicians," Kennedy said. "I don't really care for American politics as they're currently playing out. Campaign finance is basically legalized bribery."
The Brown University graduate worked briefly for a political website and hosted a fundraiser for President Obama in 2008, but first and foremost he considers himself a writer. Kennedy recently got back from Italy, where he wrote and starred in a film. The musical, Kennedy's latest project, ran for two nights only and will be featured in a documentary he's making about Lewis, the first musician to perform for President Barack Obama in the White House.
"It's a story about immortals -- people that attain immortality through going through various universes and defeating your alternate selves," Kennedy added. "It's kind of hard to pin it down."
Hard to pin down, indeed. The show is described in promotional materials as a documentary-stageplay-music event hybrid. The invitation mentions a group of sinister puppets who "engage in melodic battles against up-and-comers to defend their musical high ground." Lewis plays the part of the puppets' evil overlord, ELEW, who "must wage piano-war against a more valiant version of himself to court the favor of the twin goddesses Destiny and Fate."
Kennedy said his influences included the myths he was encouraged to read as a child by his father, Bobby Kennedy Jr., who attended opening night. "You'll have to tell me if he walks out because I wont be able to see," Kennedy joked.
Bobby Kennedy Jr. did not walk out of the 24-minute performance, where Lewis proved to be much more the focal point than the puppets. Lewis played two pianos at once; the puppets were just heads on a stick operated by costumed men, as opposed to what you might be picturing from "Forgetting Sarah Marshall." Kennedy did acknowledge he's seen that movie 30 times though.
"That was definitely another influence," he said. "Dracula musical!"

Popular in the Community