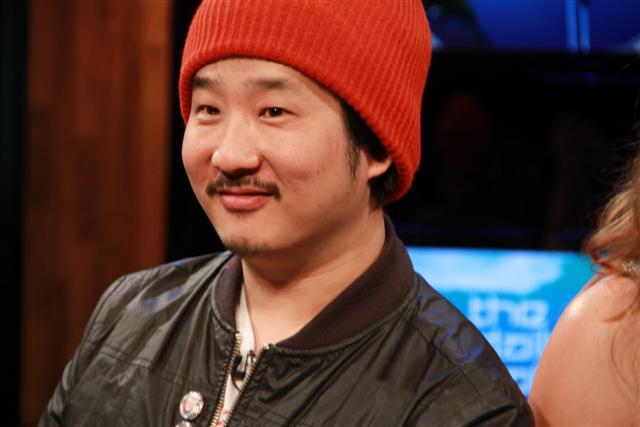 Being a comedian isn't always that glamorous. It's common knowledge that, for the most part, comics endure an excruciating ride professionally and emotionally. All those years of having to prove yourself--the highs, the lows, the gigs you get, the gigs you'll never get. Oy. Who needs it?
But, take a look around at the comics that have actually made it, folks like Bobby Lee, for instance, and you'll find something rare--a captivating cocktail of vulnerability and strength with some tenacity chased back for good measure. There's also some dark comedy that may weigh a bit heavily on the soul of these creatures. Whatever it is, we keep coming back for more of ... Sarah Silverman, Lisa Lampanelli, Mo Collins, Daniel Tosh, Michael McDonald, Jen Kirkman, Jeff Ross, and Greg Fitzsimmons--to note just a handful.
Lee fits nicely on that bill. For a Korean American guy that emerged out of La Jolla's Comedy Store back in the '90s, he found some glory--and longevity--on the long-running late-night Fox sketch show MADtv. Who can forget the iconic characters he parodied to hilarious and often pain-inducing ends--Connie Chung, North Korean President Kim Jong Il, John McCain? Film roles followed--Kickin' It Old School and Harold & Kumar Go to White Castle come to mind. And lately, he's been generating buzz appearing on the round table of fierce comics on Chelsea Lately.

I recently caught up with Lee, who spoke candidly about comedy, his upcoming appearance on the new NBC sitcom, Sean Saves The World, and other curious anomalies--some playful, others deep, but all of which managed to shape the comedic beast into the surprisingly deep, funny guy that he is.
Greg Archer: You're funny. It's good you're in comedy.
Bobby Lee [Laughs]: Thank you very much.
Greg Archer: Sure. It's great to see you on Chelsea Lately, too.
Bobby Lee: I love Chelsea so much. I really do. She's the best.
Greg Archer: So, tell me. Where are you at? What's happening? What are finding funny these days?
Bobby Lee: Oh, well, as I get older, I don't think the world is becoming that funny. Comedy is changing a bit. But, I've never really been that funny off stage, you know?
Bobby Lee: Yeah, people go, 'Oh, you're crazy.' People invite me to a party and go, 'Run around naked and do cocaine and, like, hump people.' And I'm going, 'Nah ... I'll just stand in the corner.' I'm one of those people that will walk into a bar, and if I wasn't a comic--because some people know who I am--I would just blend in. But I think people just think I am crazy because they see me doing stand-up, but I am generally not. I am very sad. I'm one of those guys that lights candles and listens to Rachmaninoff and ...
Greg Archer: Wow. So, you're deep.
Bobby Lee: Yeah, I'll go into my nook. I have a little nook ... and I'll cry.
Greg Archer [Laughs]: Wait a sec ... this is beginning to sound a lot like my life. Stop it.
Bobby Lee: Yeah, and I'll have some razor blades ... But, you know, I'm single and basically unfuckable.
Greg Archer: Ah, you're a handsome guy. Come on ...
Bobby Lee: I guess I am in handsome--in certain parts of the world. If I was, like, in Mongolia, living on a mountain and in my village, I could be the hottest guy. In L.A., I'm ... average?
Greg Archer: Well, you mentioned just a moment ago, that comedy, or the comedy landscape, has changed a little bit. How so?
Bobby Lee: I would say comedy has changed in that I am no longer the young guy, right? Now, I am in a comedy club and I am 'the middle-aged guy.' And then young kids are coming up. So, it's not that comedy has changed in terms of what's funny. For me, it's changed in that sometimes, I don't feel my finger is on the pulse ...
Greg Archer: But you have something on the pulse ...
Bobby Lee: I talk about how I feel about certain things. There's also certain things that kids say that I don't know anything about. Like, when they go, 'LMFAO' ... I don't know what that means. I just learned 'LOL' only a week ago. I just don't know anything. I just learned what twerking is.
Greg Archer: Yeah, I guess everyone just did, right?
Bobby Lee [Laughs]: I should get more hungry ...
Greg Archer: So, you're how old?
Greg Archer: No, you are not.
Bobby Lee: I just turned 43 yesterday.
Greg Archer: Happy birthday a day late.
Bobby Lee: Thank you. Yeah, I didn't get to really 'enjoy it,' because I was a guest on Sean Saves the World, a new show on NBC.
Greg Archer: I watched the pilot for that. Yes.
Bobby Lee: I am huge fan of Sean's. I play a gay Asian man. A stalker. I'm stalking Sean on the show.
Greg Archer: That's great.
Bobby Lee: It's funny, because I have an Asian accent in the show, and generally I feel uncomfortable doing an Asian accent. It depends on what it is. But with this ... for some reason, I just felt good about it. And I get to kiss Sean Hayes and it was really cool in a way.
Greg Archer: So, really ... how was that for you?
Bobby Lee: I fell in love with him. He's so nice. He's also executive producing and I just showed up and he was just so dreamy. I mean, I am not gay ... I wish I was.
Greg Archer: There is still time. All the cool kids are doing it.
Bobby Lee [Laughs]: I know. Maybe I'll dabble I'll guess. But I had the best time on that show. Generally I don't have that much fun when I am guest starring on some things, but these were just the nicest people. I had such a high coming off that show. I hope it does well.
Greg Archer: Well, growing up, did you know that comedy was something that you wanted to pursue?
Greg Archer: Your parents were in the clothing business, right?
Bobby Lee: They owned a clothing store for fat ethnic women called Fashion Gal.
Bobby Lee: My whole family--my uncles and aunts--had about 75 stores in the '70s and '80s, and my parents, in the end, had one store left. It was so sad. They would sell clothes but they would sell, like, Michael Jordan posters and nunchucks. It sort of became a free-for-all store. They wanted me to take over the business and go to college. But as soon as I was 13 years old, they knew that was not going to happen, because, you know ... I started smoking pot at 13.
Greg Archer: Uh, good for you.
Bobby Lee: Well, thank you.
Greg Archer: You know, I have these huge mood swings and I wonder--had I started smoking pot at a young age, maybe I wouldn't have had these mood swings!
Bobby Lee [Laughs]: Yeah ...
Greg Archer: I mean now, I am just a middle-aged, rather good looking--I think--blonde, Polack with mood swings. I mean, pot would have helped me.
Greg Archer: You know, I think I am going to devote the next 20 years to being a comic. I should just do it.
Bobby Lee: How old are you, Greg?
Greg Archer: In my forties.
Bobby Lee: It's not too late to start [Laughs]. But you know, in hindsight ... I don't know if you know this about me, and I don't really care if people know, but I have 10 years of sobriety.
Greg Archer: Good for you, man.
Bobby Lee: Thank you. When I was 17, I got sober. I stayed sober for 12 years, but this is how comedy started for me. And you're the first person I have ever told this to.
Bobby Lee: Yeah. I mean, I was also thinking about it the other day and thought ... OK, so what happened was when I was 17, I went to a drug rehab in La Jolla. Even in drug rehab, I met a bunch of kids in that area. I grew up in a town called Poway, California, which is 30 minutes Northeast. When I got out of the treatment center, I just literally started hanging out in La Jolla with the kids that I went to rehab with. What happened, I graduated from high school and I moved to La Jolla. And if I hadn't have done that, I wouldn't have gotten a job at The Comedy Store.
Greg Archer: There was also a coffeeshop, and then didn't you just go next door and that was the comedy place?
Bobby Lee: Yeah, right. That's how I got the job. At the end of the day, if I hadn't done drugs, I wouldn't have been able to catch that. See the connection? It's like, no drugs, no La Jolla. No La Jolla, no comedy.
Greg Archer: So, this is how it happens.
Bobby Lee: You know, maybe God would have directed me in a different way. I don't know.
Greg Archer: What do you love most about it--being up in front of people?
Bobby Lee: I don't necessarily love that, as much as I love the business that I am in, which is the little tiny lotteries you get. Because it's so painful. When MADtv got cancelled, I didn't work at all--for three years. Like, in the Hollywood aspect of it. All of the doors were closed. That was really painful. And then ...[some characters] became famous, and that was what helped me through my Vicodin withdrawal 10 years ago. I just couldn't work, so I hit the road and stand-up really saved my life. Without stand-up, I would have died. Then I started working again ... Harold and Kumar 3. I did The Dictator. I just started picking back up. Those ups and downs--it's what I love about the business I am in.
Greg Archer: So, Vicodin was the thing that got you?
Bobby Lee: Yes. I was sober for 12 years and then I relapsed on Vicodin.
Greg Archer: I talk to so many people during the year that I often myself becoming like a therapist on their ass, but I am often intrigued about what pulls people through those tough times. Or, what they've learned? What do you think you have learned from all that--from life, yourself, whatever?
Bobby Lee: I am one of those guys that believe that it's a disease. And once you pick up, it's over. But now, I don't really feel or think about it anymore. It's out of my life. I'm very lucky because I don't have control when I am on it, but I have a little bit of honest about myself that I think was passed down from my parents; and I can look at my life and go, this is not the direction. A lot of people that are in the disease of drinking and using can be caught up on the denial aspect of it. I don't have a problem with that. I am very sensitive. I can just feel when things are getting out of control and I go, 'Oh, you have to deal with this. Because you can die.' I've always sort of had that.
Greg Archer: That's good.
Bobby Lee: I'm sorry this conversation is not funny.
Greg Archer: No. It's great. It's real. And you are funny. So, tell me--how would you describe yourself as a comic?

Bobby Lee: I pretty much am this big, sweaty ball of flesh. You know what I mean? But there are a lot of qualities about me that don't fit what people think I should do. But generally, I am just myself, a crazy John Belushi type. But I'm not comparing myself to him. I think I am against stereotype. Generally Asian guys are more quiet--they study and have a good work ethic. Generally, I have none of those things.
Greg Archer: Got it. So, what's some of the best advice you've been given about life?
Bobby Lee: Two things, generally, for me, is what life is about. And they're not funny. No. 1: what I have on my screen saver is, 'This is it.' Which is, the moment is the only thing to be in. And our brain is a muscle, right? And when that's operating in tasks, what it does is replay these old tapes like, 'You suck.' Or 'Why aren't you married?' I just try to quiet that down and try to limit that. Yesterday I was really nervous about doing first scene in front of a live audience. When I was in my room, I just started touching the room with my hands--to feel that 'I am here.' Because my mind goes, 'What if you bomb? What if this happens?' Things that aren't real.
Greg Archer: Yes. I get it.
Bobby Lee: So, living in the moment, is one. And No. 2 is getting out of yourself and helping other people. Because all of my suffering stems from thinking from myself.
Greg Archer: I understand that.
Bobby Lee: If I help people, it helps. It really does.
Take note: Bobby Lee hits Northern California for a gaggle of stand-up gigs. (Sacramento's Punchline: Sept. 20-22; San Francisco's Punchline Oct. 3-5).
Popular in the Community