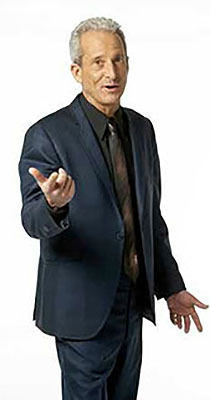 "Bobby Slayton is one of the few original politically incorrect comedians. He'll pick on everyone from the Mafia to the Muslims. I wanted to punch him in the mouth a couple of times when he opened for me but I was laughing too hard to make a fist. No one is safe from the bite of the pit bull."
The speaker is actor-singer Robert Davi who invited comedian Bobby Slayton to open for him twice last year, once at the Redondo Beach, CA, Performing Arts Center for 1,400 people and again at Herb Alpert's elegant, intimate Vibrato Grill Jazz in Bel Air. The juxtaposition of the classic American songbook and Slayton's brand of comedy was striking.
If only one word were allowed to describe Slayton's comedy, that word would probably be "irreverent." Also fitting are words like "profane" and "acerbic." But, Slayton says, "Everybody tries to pigeonhole you. I'm honest. I say what lots of people would like to say."
Born in the Bronx, Bobby Slayton grew up in suburban Westchester County. "I don't talk about my childhood much. It was regular, boring. Most comics," he says, "had miserable childhoods. Mine was wonderful. Yeah, I hated school, especially Hebrew school, but I had a great childhood.
"You know," he adds, "I never wanted to be a standup comic A lot comics watched other comics on TV and say they knew they wanted do this. I watched it but never crossed my mind. I was always the class clown though. I made people laugh. In home movies I'm always shoving my brothers out of the way to get attention.
"I was 21 or 22 and I moved to San Francisco. For one time in my life I was in the right place at the right time. There was a comedy boom. I did it once but not again for a year. I thought, 'This is a challenge. This is what I could be good at.' I realized that I was born to do this. I started out with a little group of guys -- me, Robin Williams, Jim Giovanni, Kevin Pollack, Paula Poundstone....a lot of guys who played a lot of clubs."
The "pit bull" appellation came about from a radio interview. Slayton says he used to be "very docile. Then, on Alex Bennett's radio show I joked about MacDonalds. Bennett said I was like a 'pit bull' in my attack. I liked that, so I began to use it."
The "Pit Bull of Comedy" finds nothing sacred. He's fearless and clearly loves being on stage and has a great time performing. Jews, gay people, black people, Muslims, sex, his wife (and an audience member's wife, if the occasion arises), airlines and relationship rituals are among his topics. His comedy, though very funny, is not comedy for the scaredy-cats or those who insist on being politically correct -- or, even, totally appropriate -- among us. He never apologizes for what he says. And, since it's his view of the truth and it is in the context of a comedy show, he doesn't have to apologize.
In 2010 he did Born To Be Bobby, a one-hour special on HBO. Amazon.com describes Born To Be Bobby by saying, "Comedy veteran Bobby Slayton pulls out all the stops for this hour-long comedy special that finds him riffing on the differences between men and women, the general hotness of Victoria's Secret employees and other sexually charged topics. Slayton says they call him "the Pit Bull of Comedy," and there's reason to fear his bite: The brash comic clearly gets his kicks from ripping good taste and political correctness to shreds."
Here are two samples from that show:
First, he discusses men asking (or not asking for) directions
Here he shares his thoughts on airport security:
Talking with him one-on-one, Bobby Slayton to be proves to be funny, smart and -- dare I say it? -- a nice guy. He talks very quickly but always has something interesting to say.
With dozens of roles in theatrical and TV movies, and on, Slayton's probably most recognizable for his 1998 portrayal of Joey Bishop in the HBO movie The Rat Pack. He 's been in scores of TV shows and films, Dreamgirls, Get Shorty and Bandits among them.
"I'm not good at acting," he says. "In all my parts I pretty much play myself. To me a great actor has range. Yes, secretly I've always wanted a great role and to be nominated for an Academy Award, but I'm fine with the fact I never made it big. Everything I did seemed to come out OK.
"I'm just so tired of traveling and so tired of all the rejection in my career. I've had some great moments and had some great times -- the movies, coming home and doing all the parent things."
The "parent things" make Slayton very proud. He is visibly delighted with his daughter Natasha, a member of G.R.L., the newest group formed by Pussycat Dolls founder Robin Antin. "Natasha is beautiful and she's very talented," says her dad.
Mike Weatherford, entertainment reporter/show reviewer for the Las Vegas Review Journal, says Slayton is among his favorite comics and it was "really too bad" when his long-term gig in his own room at Hooters Hotel and Casino ended. "He's very funny and audiences really like him," Weatherford says.
As can happen with every entertainer, Slayton also gets people in the audiences who don't like him. At a recent Las Vegas show, a self-described "Muslim-American attorney" whose husband shouted at Slayton and then walked out, stood up and loudly took issue with the comic's remarks about Muslims and added her own insults about Jews. It got a bit scary when she, her husband and some friends/sympathizers waited in the showroom lobby for him. It turns out that Slayton had left the area immediately after his show and didn't encounter those angry audience members "People do get offended sometimes," he says. "But if they shoot me, just shoot and kill me. Don't put me in a wheelchair. That really scares me."
Comic Paul Scally, a transplanted Brit who now lives in Las Vegas, opened a recent show for Slayton. He says, "Bobby Slayton is fearless. He's a pure pro. It's a pleasure to watch and see what he does to an audience. I'd love to work with him again."
Bobby Slayton At The Comedy Store, London
Calling all HuffPost superfans!
Sign up for membership to become a founding member and help shape HuffPost's next chapter