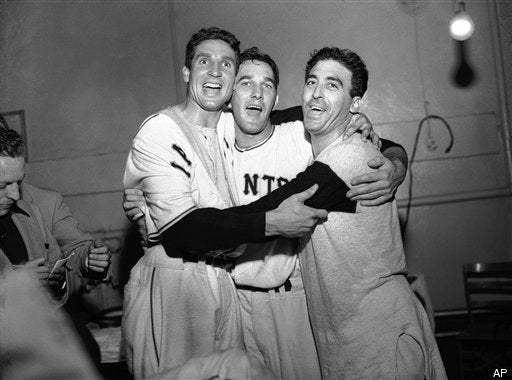 Thomson's heroics may have depended on the absence of injured catcher Roy Campanella from the Dodger lineup. Branca's first pitch to Thomson was a batting practice fastball down the middle of the plate. Campanella would surely have gone to the mound, possibly with manager Charlie Dressen, to inquire about Branca's physical and mental readiness. Rube Walker, Campy's back-up, did not, leading to another subpar fastball which produced Thomson's home run.
Thomson's hit would probably not have been a home run in any other major league park. The bathtub-shaped Polo Grounds had ridiculously short fences--258 in right, where Mel Ott and later Dusty Rhodes learned to place short chip shots right down the line for homers, and 279 in left. Shortstops would occasionally drift back on in vain for pop-ups which caught the left-field upper-deck overhang for home runs. Thomson's homer was a strong line drive but well away from the foul line, where most cheap home runs land. It probably traveled only 320 feet or so.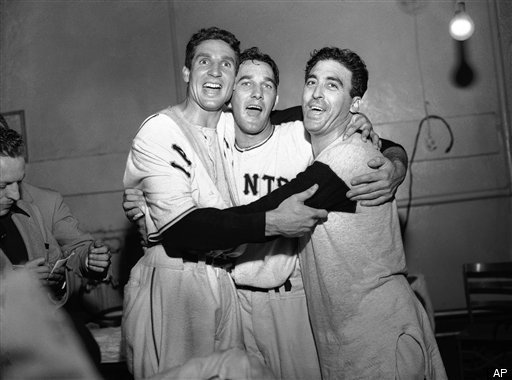 The Giants did indeed cheat by stealing signs from visiting teams at the Polo Grounds. Signs for coming pitches were caught by binoculars in the centerfield clubhouse and relayed by wire to the Giants bullpen, then hand signaled to batters. Thomson denies getting a signal about the second (limp) Branca fastball. The theory that stolen signs won the pennant for the Giants, however, has a problem: during their incredible stretch run the Giants did just about as well on the road where they couldn't steal signs (17-4) as they did at home (20-3).
The Giants hit and pitched well, but they were a pretty terrible fielding team. The infield made well over a hundred errors. Alvin Dark, at shortstop, made 45 all by himself. How did a porous team like this win almost every day for the last seven weeks of the season?
The real batting hero of the 1951 Giants was neither Thomson nor the brilliant rookie Willie Mays, but the great Monte Irvin, consigned to the Negro Leagues for the best part of his career, but a .312 hitter in 1951 with league-leading 121 RBIs. He was the real muscle in the Giants' lineup. Oddly in that dramatic ninth inning, he was the only Giant to make an out.
The answer to the most common trivia question about the game is: Willie Mays. The question is, who was on deck when Thomson hit the home run?
Popular in the Community