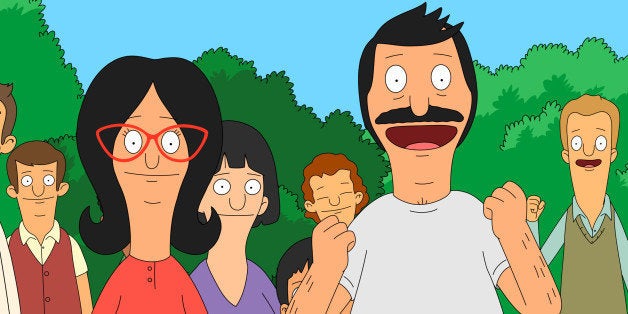 The animation studio behind the TV show "Bob's Burgers" is dragging animation into the digital age and saving a whole lot of trees in the meantime.
Believe it or not, animated shows are still created mostly on paper -- leading to thousands of sheets ending up stacked in basements at major studios. But Bento Box Entertainment, which produces Comedy Central's "Brickleberry" and Hulu's "The Awesomes" in addition to the Fox hit "Bob's Burgers," is pioneering a new way to take characters from an artist's hand to your TV screen. Animators at the company, founded in 2009 and based in Atlanta and Los Angeles, draw directly on tablets, making the process simpler and more eco-friendly.
Other popular animated shows like "Family Guy" and "The Simpsons" still do most of their drawing the old-fashioned way. These shows have been known to use around 25,000 to 35,000 large pieces of paper to animate each episode, the Bento Box team said. "Using less paper reduces the show's carbon footprint," Mark McJimsey, Bento Box's co-founder and executive producer, told HuffPost.
Here's a behind-the-scenes look at an average animated series that still uses paper: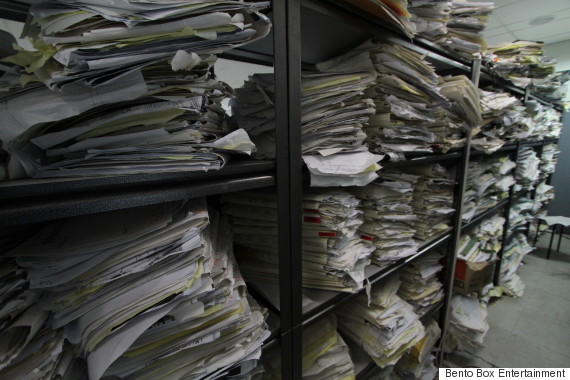 And here's what animation process looks like using Bento Box's technology in one of the company's U.S. studios:
To create an episode, the team at "Bob's Burgers" first writes and storyboards the scenes. Then, they send them over to another team of animators in South Korea, who animate on tablets. Those animations are then sent back to the U.S. team to edit them into an episode.
Bento Box worked closely with Canadian animation software company Toon Boom to develop the software it uses to create its shows. "The way we use it is unique to us," said Joel Kuwahara, Bento Box's cofounder, executive producer and head of technology.
"Toon Boom together with Bento were pioneers in launching an all digital paperless (frame by frame animation) workflow in S. Korea," Francisco Del Cueto, CTO at Toon Boom, told The Huffington Post in an email.
Using this technology makes things faster and easier for the entire team. "It puts more creative control back into our hands," Kuwahara said. "Everything is in this file."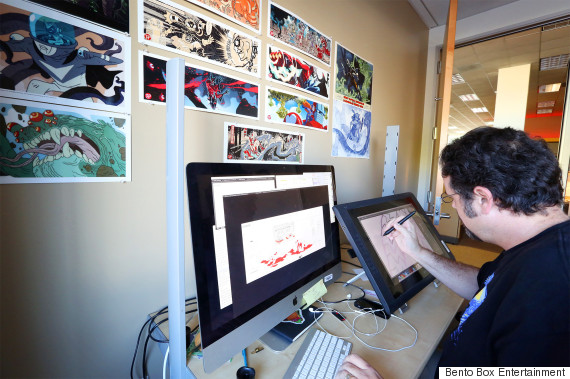 An artist working on 'Bob's Burgers' in one of Bento Box's U.S. studios
When Bento Box first started animating digitally, there was a stigma against it.
McJimsey said the team produced a piece of the show the traditional way (on physical paper) and the new way (by drawing directly on tablets) to compare. "Everybody was hard-pressed to determine which was which," he said.
"The fear was that the results would look different or sterile," said Kuwahara. But that wasn't the case. "It's still handcrafted, but drawn directly on the computer," he noted.
Bento Box is proud to have pioneered this new approach. "We were the first ones to do it this way, and it's proven successful," McJimsey said.
This article was updated after publication to include a comment from Toon Boom.
Related