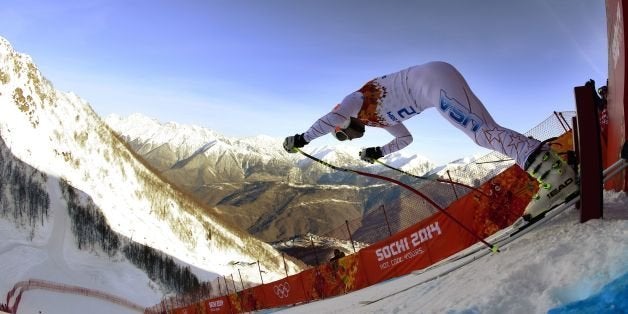 * Sullivan escape highlights danger
* Miller shaken by team mate's close shave
ROSA KHUTOR, Russia, Feb 8 (Reuters) - Bode Miller laid bare the dangers faced by the downhillers going for gold on Sunday when he said the treacherous Rosa Khutor piste "could kill you".
The American veteran clocked a speed of 132.59 kilometres (82.4 miles) per hour as he topped the timesheets in the third and final training run for the showpiece men's race but was clearly shaken after seeing team mate Marco Sullivan narrowly escape a serious crash.
Sullivan lost control on a flatter section soon after landing off the fearsome Bear's Brow jump and was heading towards a flimsy-looking red plastic safety fence at high speed before veering to abandon his run.
Moments earlier, Slovenian Rok Perko crashed heavily and was left with a bloody nose as the slick 3,495 metre track caused havoc with 10 racers failing to finish.
"Not kill myself was the primary (objective)," Miller told reporters after an impressive show of speed and control through the twists and turns of a course he said was "damned fast".
"It's very treacherous. This course has teeth everywhere. The top is aggressive and speeds are so high and the turns are so swingy and bumpy that you can hook an edge anywhere.
"You saw Marco today. It doesn't look like it, it's an innocuous place and there's nothing there, but he almost killed himself. If that crash doesn't go just the way it went, he goes flying through B nets going 75 (mph / 121 kph) straight into the trees.
"That angle he was going at right there is the worst spill zone on the entire course and this is one of those things that if you are not totally focused and paying attention, this course can kill you."
The 33-year-old Sullivan, part of a four-pronged American challenge for Sunday's race, managed to smile later but said his close shave had been a wake-up call.
"I definitely got a little adrenaline shot there, it was definitely not planned for, it was a close call....a little mishap," he grinned.
"Where I was heading towards the fence it's just a row of B net, the ones with poke in poles, and you blow through that pretty quick."
Steve Nyman missed team mate Sullivan's run but summed up the perils of a course which offers skiers no let-up with bone-jarring turns and jumps coming thick and fast.
"I'm glad he's okay I heard he got on his back seat out there," Nyman told reporters. "People can't imagine how tiring this thing is, it's relentless and it rattles.
"My quads were burning, I'm huffing and puffing and taking deep breaths. I was almost laughing at how hard I was breathing."
Despite the danger Miller, looking to become the oldest Olympic downhill champion at the age of 36, said he will attack as he always does on Sunday.
"You're not safer going easy," he said. "The teeth of this course is based on your athleticism and your ability to get on the front of the ski. If you try to go easy, I think you are more likely to get hurt.
"But this course is so damn fast and the snow is so hard, that you definitely don't want to sacrifice edge pressure." (Editing by Ed Osmond)
REAL LIFE. REAL NEWS. REAL VOICES.
Help us tell more of the stories that matter from voices that too often remain unheard.
BEFORE YOU GO
PHOTO GALLERY
PHOTOS: Sochi 2014 Opening Ceremony