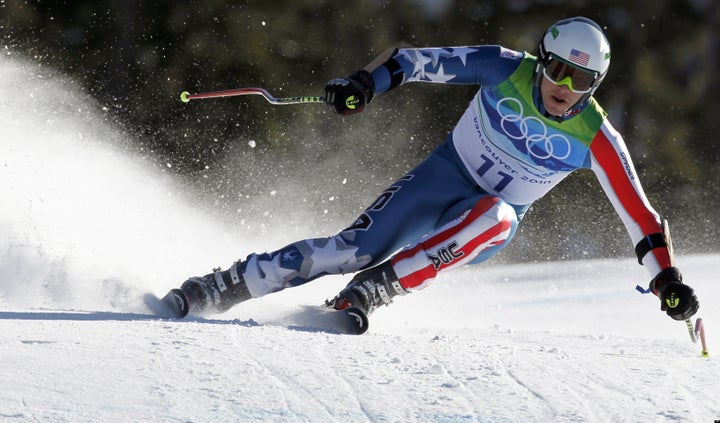 For all of you non-conformists out there, this one's for you!
One of the Olympics I have had the privilege of covering for the network radio rights holder was the 2006 Winter Games in Torino. I was hired as an alpine correspondent and play-by-play analyst for Westwood One Radio Network. Bode Miller had come into those 2006 Games as the favorite to win five medals in alpine. He was in fact the American 'poster child' for those entire Games, having won two Silver medals at the Winter Games in 2002 and enjoying tremendous success on the World Cup circuit leading up to the games. And the interview he did on CBS' Sixty Minutes, which aired prior to those 2006 Olympics in which he admitted to partying so much, that "there's been times when I've been in really tough shape at the top of the course,' obviously contributed to all the hype and controversy about him leading into those Games.
He went on to say in that interview: "Talk about a hard challenge right there. I mean, if you ever tried to ski when you're wasted, it's not easy ... You hit a gate less than everyone a second, so it's risky, you know. You're putting your life at risk there. It's like driving drunk only there's no rules about it in ski racing."
Bode's reckless words and ski style contributed to making him THE story at those 2006 Games. And I spent a lot of time during those Olympics in the Italian Alps chasing Miller to get an interview. He was not talking to anyone and would quickly ski pass anybody with a microphone or a pen on his way to his recreational vehicle which was parked nearby. One place you could find Miller was in the local night club in Sestriere almost nightly until 4AM. I would get the nightly up-dates on his whereabouts by the young interns who worked for the television network. They would tell stories of seeing Miller out partying almost every evening even on the nights before he was competing in an alpine event.
Miller puts the exclamation point on the word 'individualism.' He is as unconventional as they come. Most Olympic enthusiasts know his background. He grew up in the mountains of New Hampshire with hippie parents who lived without a telephone, indoor plumbing or electricity. He has his own way of training and has spent a lot of his career feuding with the US Ski Team.
I've always thought his story was so compelling, yet I was disappointed when he chose to party away his Olympic chances in 2006 and downplay the importance of winning an Olympic medal for himself, his teammates and his country. After all, the guy has so much talent! His style of skiing may be as unorthodox as his philosophies on life, but when you do have that much talent, why waste it? Especially at the Olympics! Bode seemed to always downplay the importance of winning an Olympic medal but in 2006, I always thought it was his way to diffuse the intense pressure put on him, pretending it was not a big deal.
And back then, his attitude prevailed over his performance. He went 0-5 in those Olympics. I finally did get him to stop and give me an interview. It was after the Men's Super Combined event. Bode led the Men's Downhill portion of the race but in the second portion of the event, the slalom, he straddled a gate and was disqualified. When the event ended, he was skiing away. I was able to catch up to him and he stopped to talk to me.
I asked him how disappointed he was being DQ'd in the combined, after leading after the downhill portion of the race. He said he was not disappointed at all. He told me 'It saves me from the two hour drive (down the mountain to Turin) to go to the medal ceremony!"
That was Bode Miller. Defiant. Independent. His own Guy.
It's good to see that he won a gold medal in the men's combined event yesterday. Add that to the silver he won in the super G and the bronze medal he earned in the downhill and Miller has earned the title, 'the most successful skier in US history.' He has also tied the record for the most medals won by a male Alpine skier at a single Olympics, joining ski legends Jean-Claude Killy of France, Kjetil Andre Aamodt of Norway, and Toni Sailer of Austria.
All that success and Bode has done it his way. Good for him!
Ann welcomes your comments. Be sure to check out Ann's web site at www.annliguori.com
REAL LIFE. REAL NEWS. REAL VOICES.
Help us tell more of the stories that matter from voices that too often remain unheard.