A Silicon Valley startup wants to disrupt the bodega, a beloved fixture in urban centers around the country, but the internet isn't buying it.
The startup, called "Bodega," seeks to replace its human-run counterparts with what are essentially vending machines, strategically stocked and placed in building lobbies, dorms, gyms, and wherever else someone might conceivably need to buy something like deodorant at two in the morning.
Instead of carrying a wide range of goods, the vending machines would learn over time and only stock items that appeal to customers in each particular location, say the startup executives.
"Each community tends to have relatively homogenous tastes, given that they live or work in the same place," Bodega co-founder Paul McDonald told Fast Company. "By studying their buying behavior, we're hoping to eventually figure out how the needs of people in one apartment building differ from those in another. We could customize the items in one dorm versus the next."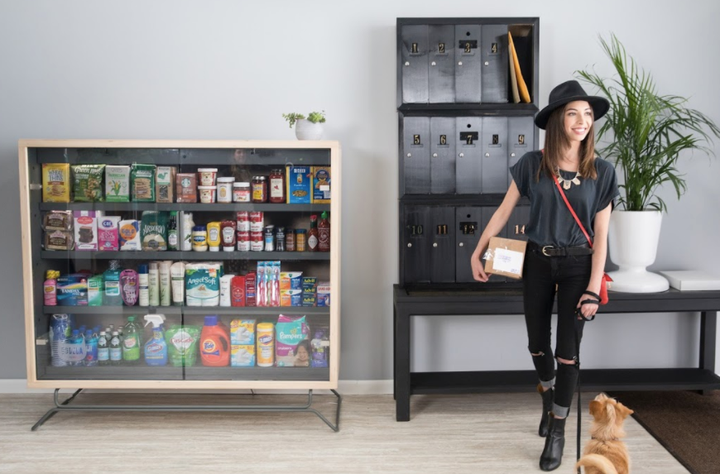 McDonald and Bodega's other co-founder, Ashwath Rajan, are both former Google employees.
Fast Company's profile of the company, which officially launched Wednesday, provoked a storm of outrage on social media. On Twitter, people rushed to defend the mom-and-pop stores that are so often run by immigrants and people of color, and celebrated for having a cat or two. In addition to appropriating the name, even Bodega's logo ― a silhouette of a cat head ― was lifted wholesale, internet denizens argued.
(Reached for comment by HuffPost, the on-demand delivery service Postmates carefully distanced itself from the startup. While Postmates' drivers can supply everything a bodega ― or Bodega, for that matter ― might carry, a spokeswoman emphasized the company buys all its merchandise from local stores.)
McDonald told Fast Company he "wasn't particularly concerned" about people reacting negatively to the name, as the company surveyed the Latin American community and decided it wouldn't pose a problem.
That came as news to Frank Garcia, chairman of The New York State Coalition of Hispanic Chambers of Commerce, which represents around 80,000 businesses, including bodegas and mom-and-pop restaurants.
This is sacrilegious what they're doing.
"We're very disturbed that a name to us so important as 'bodega' would be used to hurt our own members," Garcia told HuffPost. "This is sacrilegious, what they're doing."
Garcia's grandfather headed up the Latin Grocery Association in the 1960s, where the term "bodega" took root to indicate to immigrants that they were welcome in a particular establishment.
"My grandfather would be rolling over in his grave," he said.
The local stores provide much more in their neighborhoods than foodstuffs and other sundries, he added. When residents don't have enough money for diapers and milk, for instance, bodegas will often offer credit to community members they know.
″[This company] said they went to the community to ask if it was all right to use the name?" Garcia asked incredulously, "They never did that."
Instead of approaching them, he said, Bodega tried (and failed) to trademark the name outright.
Garcia said his group has every intention of fighting to thwart the company.
"The community has earned the right for people to respect the name, and respect how important these businesses are to the community," he added. "These are business owners that work 24/7, and now you've got a well-funded company that's going to come in like Uber did, and they're going to hurt the community."
The name Bodega sparked a wave of criticism on social media far beyond what we ever imagined. When we first came up with the idea to call the company Bodega we recognized that there was a risk of it being interpreted as misappropriation. We did some homework — speaking to New Yorkers, branding people, and even running some survey work asking about the name and any potential offense it might cause. But it's clear that we may not have been asking the right questions of the right people.

Despite our best intentions and our admiration for traditional bodegas, we clearly hit a nerve this morning. And we apologize to anyone we've offended. Rather than disrespect to traditional corner stores — or worse yet, a threat — we intended only admiration. We're here to learn and improve and hopefully bring a useful, new retail experience to places where commerce currently doesn't exist.
Whatever the intent, Twitter wasn't into it:
Calling all HuffPost superfans!
Sign up for membership to become a founding member and help shape HuffPost's next chapter