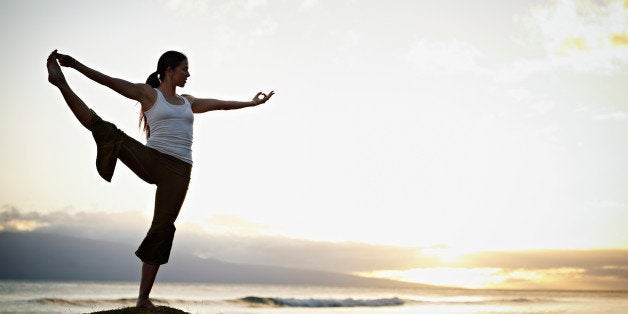 This holiday was more stressful than usual, and for no particular reason. Sure, there were work deadlines and money hemorrhages and family drama and too much food and too little sleep, but there always are. So why this year did I feel so shut down? Even my latkes sucked this year, and my latkes NEVER suck. I found myself curled in a ball on the upstairs couch more often than I would have liked.
When I begin to get overwhelmed and anxious, I react by trying to control the situation. I have multiple to-do lists, color coded, on different sized note pads and Post-its. I'm sure if I get to the end of the to-do list, I will find... freedom. Aaahh. Spaciousness. Wide sky. I'm convinced that if I just throw myself with enough gusto into doing doing doing, I will round a corner one day and see the finish line. I will run through the ribbon with my arms held high in a victory pose and then (and only then) will I feel at peace.
I'm not sure why I persist in this delusion, when it has never once worked.
In service of this unrealistic goal. I employ generous measures of self-denial. The first form this denial takes is neglect of my physical self -- rejection of my body and its needs. I don't eat or I mindlessly eat too much. I don't exercise, because I don't have time. I don't stretch and my old back injury acts up, so I take more and more ibuprofen and muscle relaxers and "power through." The ibuprofen upsets my stomach, so I scarf antacids by the handful. I don't sleep well because I can't stop running through the list in my mind.
The plan the whole time is that when I reach this mythical finish line, I will "take better care of myself."
Perhaps you have such a plan. Perhaps you imagine the finish line is January 1, and you can abuse yourself in a method of your choosing until then, when things will finally change, like, forever after.
Except they won't, and you know it. When I began to face the truth -- that my resolutions almost always crumbled before January 15 rolled around -- I stopped making them. Now, I try to see the New Year as a useful marking of time rather than a clean slate. Because I have come to believe there is no such thing.
My body is the scene of more that one crime in this lifetime. Crimes done to me and crimes I've committed against myself. I have legitimate reasons for wanting to shut it off at the slightest provocation. I resent my body and its annoying needs, its troublesome memories and emotions, its alarming register of the passing years. But I have learned time and time again that it is my only way back to feeling grounded and present in the world.
I went to an exercise class on Christmas Eve (dreaded because I had played truant for so long). I went for a long walk when I had absolutely no time to do so. I began rolling out of bed into a yoga pose or two. Slowly, I started to feel a bit less like a walking to-do list and more like a human inhabitant of this earth.
So again, I go back to the beginning. I go back to my body. Not one day a year, but every day. Each morning, I must choose to say, Hello, Body! I know you, house of all I've witnessed and thought and experienced in this lifetime. I see you, you have carried me this far. I feel you, and you are not half bad.
REAL LIFE. REAL NEWS. REAL VOICES.
Help us tell more of the stories that matter from voices that too often remain unheard.