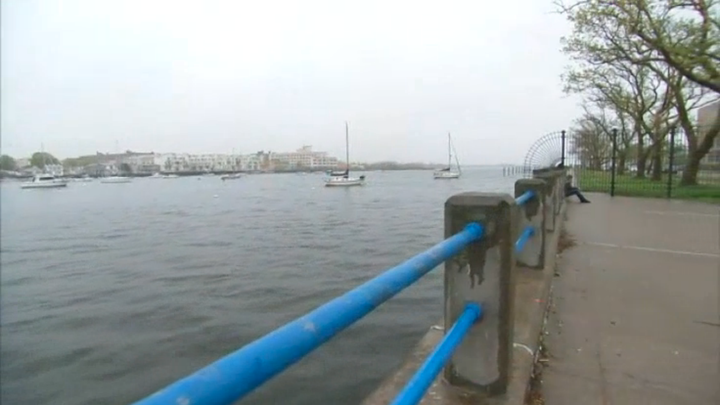 A body washed up on a New York City beach Monday wearing so-called cement shoes in what could be a chilling throwback to mob-killing lore.
The victim had his feet encased in concrete and his arms bound behind his back and was wrapped in black plastic bags, police said Tuesday.
"It was old school," Robert K. Boyce, the chief of detectives for the New York Police Department, told Newsday of the gruesome discovery. "We are treating it as a homicide."
But if the killers were hoping for a long sleep, they should have done a better job, a law enforcement source told DNAInfo. Air got into the cement, letting the body float to the surface. 
Boyce said a passing student at Kingsborough Community College spotted the body in the Sheepshead Bay neighborhood of Brooklyn and alerted authorities around 10:30 a.m. Monday.
The victim is described as having a back tattoo of the Virgin Mary with a rose. As of Wednesday morning, the man's identity had not been publicly released, police told The Huffington Post.
Sources told DNAInfo that the victim had a criminal history for fraud and narcotics and had survived a shooting earlier this year -- suggesting that he hadn't been in the water for too long.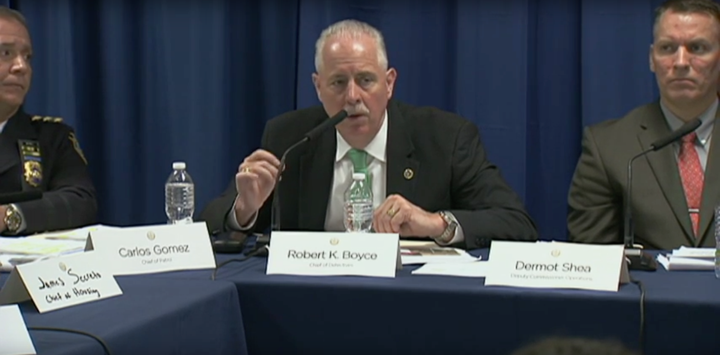 Boyce didn't address whether the victim was alive before he was submerged. But an autopsy scheduled for Tuesday evening was expected to reveal more details into his death. (The NYPD did not confirm on Wednesday whether the autopsy had taken place.)
Binding an individual's feet in such a way while the person was alive, however, likely wouldn't be an easy feat. Cement takes hours to set, requiring the victim's captor to be patient and the victim to be compliant -- willingly or otherwise.
Bodies found floating in the waters around New York aren't exactly uncommon, especially in the springtime when the waters warm and speed up the decomposition and release of gases. What is uncommon is finding a body's feet in concrete.
One of the last known instances was in 1964, The New York Times reports, when the body of Ernest Rupolo, a 42-year-old informant, was found in Jamaica Bay. He had two concrete blocks tied to his legs.
The Times reported at the time that Rupolo had supplied police with information on several murders and accused several men of being Mafia members.
REAL LIFE. REAL NEWS. REAL VOICES.
Help us tell more of the stories that matter from voices that too often remain unheard.
BEFORE YOU GO
PHOTO GALLERY
10 States With The Most Serial Murder