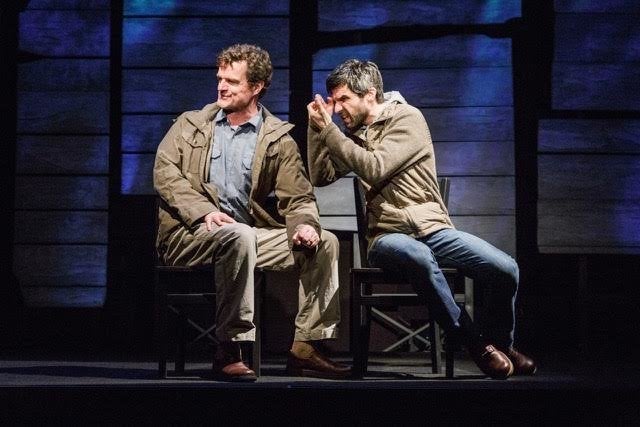 A war photojournalist finds an unlikely comrade in a poet-playwright in "The Body of an American," the new off-Broadway play by Dan O'Brien. It's more extraordinary, still, to learn that it's all based on O'Brien's real-life experience.
The play, which is currently in previews at the Cherry Lane Theatre in New York, tells the story of Paul Watson (played by Michael Cumpsty), a Canadian-born journalist who nabbed a 1994 Pulitzer Prize for Spot News Photography after snapping a grisly image of a U.S. soldier's corpse through the streets of Mogadishu. Years later, O'Brien (Michael Crane) feels compelled to contact the reclusive reporter after hearing an NPR interview. When the pair finally meet after a lengthly email exchange, both men are forced to grapple with the ghosts of their pasts.
Presented by New York's Primary Stages in association with Hartford Stage, "The Body of an American" was an obvious choice for Crane, who has maintained a friendship with the real-life O'Brien for nearly two decades. Still, the relationship presented some unique challenges for the actor, who hoped to push his portrayal of the playwright out of the realm of sheer mimicry.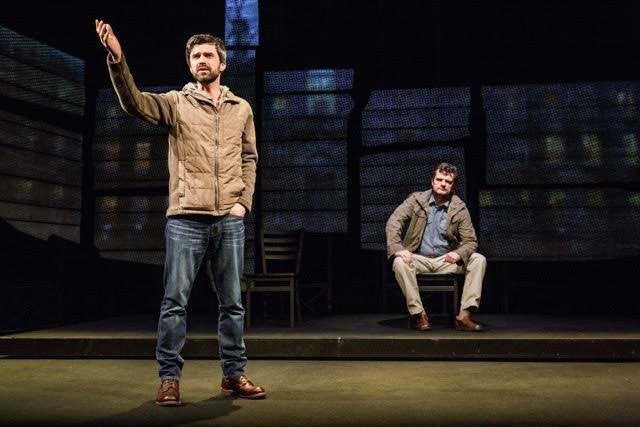 "It's not exactly Dan — it's a dramatic character that's based on him. The neuroses might turned up a few notches," Crane, whose stage resume includes "Gloria" and "Bloody Bloody Andrew Jackson," told The Huffington Post in an interview. His final portrayal, he said, "has [many of the same] traits and is similar in many ways, but is very much his own thing."
"There's a kind of a celebration of connection and the recognition of how hard it is to connect under the barriers we put up against connection," he told HuffPost. "I think what the play is saying to all of us who feel anxious and turbulent and horrified by the dark side of life that we don't understand…In the midst of the most awful circumstances, there are still ways to build meaning."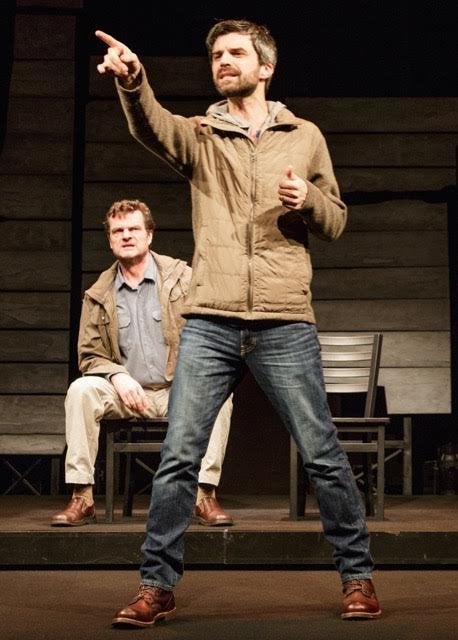 Ultimately, both actors see the show as an offbeat, albeit platonic, "love story" between two heterosexual men with very different life experiences.
"It's a complicated world, but one way that we can make some order out of the chaos is through friendship, through intimacy and vulnerability with another person," Crane said. "It's about war, it's about family."
Added Cumpsty, "If you can find common ground with people, there's an enormous amount of security to be found in that. What we're searching for is mutual understanding."
"The Body of an American" opens Feb. 23 at New York's Cherry Lane Theatre. Head here for more details. 
PHOTO GALLERY
Michelle Obama Brings "Broadway At The White House"
REAL LIFE. REAL NEWS. REAL VOICES.
Help us tell more of the stories that matter from voices that too often remain unheard.