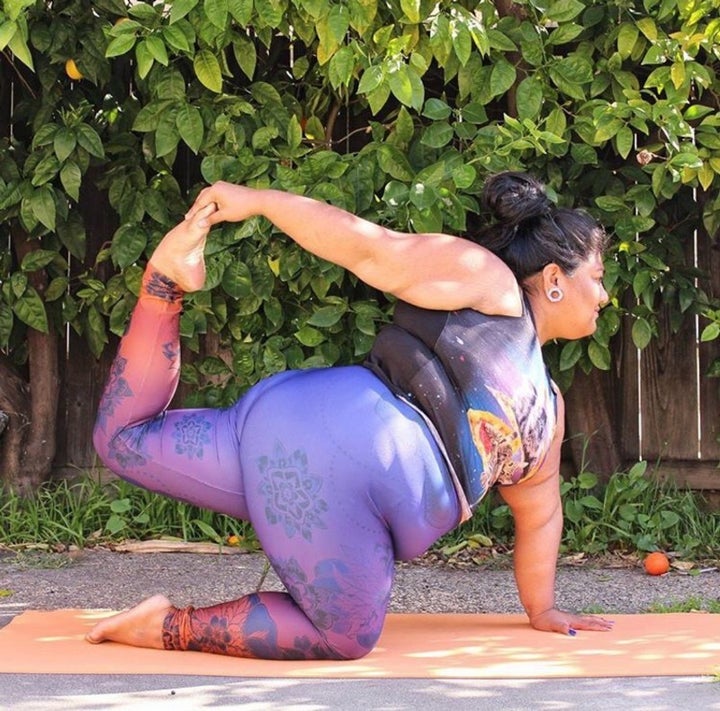 When one looks at the magazine covers of yoga journals, where yoga studios are prevalent or the type of people that frequently talk about their love of yoga what comes to mind? Yoga has a stereotype of being a practice only done by young, slim, wealthy, white women but that is simply not the case. Yoga is and should be an inviting space to all kinds of people, regardless of size, shape, race, gender, ability, sexual orientation or religious affiliation. There are many inspirational women who are breaking barriers, opening doors and creating inclusive spaces for those who might not have thought yoga was for them. Curvy women, women of color, differently abled women and LGBTQIA folk are showing us that anyone can do yoga if they put their mind to it.
This kind of representation is vital for those of us who don't normally see ourselves doing the kind of poses, wearing the kind of clothes and living the kind of yogi life that we typically see. Yoga heals the mind, body and soul; it is healthy, happy and so much fun! The word "yoga" means union, and connection, it is meant to be inclusionary. I know that for me yoga is a way to relieve stress, reflect on the positive aspects of my day and center myself for my upcoming responsibilities in life. From those who have never tried yoga to those who are more proficient in the art form here is a list of five extraordinary women who are bringing diversity and joy into the yoga community:
Valerie Sagun believes that as long as you have the determination, motivation and patience, anyone can do yoga. The 28-year-old body positive activist is a curvy girl Instagram icon. Her adorable yoga outfits, inspirational quotes and boundless self-love have her legions of fans flocking to see her every pose. The Bay Area blogger started yoga while she was in college, two days a week for two hours a day. She started going to yoga studios via Groupon, a cheap and great idea for those of us who do not have a ton of money to spend on yoga classes. Sagun knows that she is different than other Instagram yogis in the sense that she is a curvy woman of color, but she embraces her identity and has been actively doing yoga for five years now. Sagun was just featured in JCPenney's "Here I Am" line, which was created to promote healthy, positive conversation and representation of different women's bodies.
Sagun suffers from depression but says that yoga has helped to center her mind and help her focus on positive things. She states,
I feel like I can look at things without being so negative to myself, I can tell myself that I'm worthy of being here and being happy, and it helps me to stop obsessing over the things that go wrong and the things that I would want to change and things I can't really change. It helps keep me in the present.
This positive message is at the heart of Sagun's yoga movement and in the heart of yoga itself. Sagun goes on to say that though some yoga positions are at first unnatural to the body it helps create awareness for our own body and how it moves. Valerie Sagun is helping people everywhere get over their mental hurdle of self doubt when it comes to their lives and bodies and take the yoga plunge.
Lauren Ash loves all things self-care, spiritual, celebrating one's identity and finding inner peace. So that is why in 2014, the girlboss started her incredibly creative lifestyle brand, Black Girl in Om. The brand focuses on cultivating holistic wellness, inner beauty, and self empowerment for women of color. The brand has an online publication, podcast and pop up yoga classes, meditation exercises and wellness events throughout the Chicagoland area. Most classes are as low as $15, encouraging people of color from all walks of life to take part in self care and self love. Black Girl in Om started in the living room of her mentor, arts curator Janice Bond's, home once she started to realize the significant lack of black women who had inclusive spaces to practice yoga.
Only two percent of black women in the United States practice yoga. That means that out of 16 million women in the United States, only 30,400 black women do yoga. Ash is doing her part to change that. Black women suffer from some of the highest level of stress, high blood pressure, diabetes, hypertension and other stress and dietary related issues That's why Ash wanted to create a community of women of color to share in a positive, inclusive space that promoted health and wellness while celebrating their culture. She believes that holistic wellness is a preventative measure, and one that is greatly needed in her community. When asked what she hopes to achieve with Black Girl in Om Ash states that she hopes more women of color will be able to center their lives with self-care and self-love, and not make it a marginalized thing they do just once a week. Ash believes her only real challenge in starting her brand was herself and that combatting any and all doubt or fear that crept into her mind started to dissipate once she learned to trust herself. Yoga and the peacefulness and self-awareness it brings is at the center of Ash's philosophy of life. She is an extraordinary woman for bringing yoga into the lives of many other women of color as well.
Dana Falsetti is an incredible curvy yoga instructor who started off just like the rest of us: a terrified beginner in a yoga class.
I was definitely the biggest person in the room, and I had gone in expecting that, because that's just been the reality of my life. So I was the biggest person in in the room and also a beginner, and I remember looking around the room, and we're doing down dog pose which is supposed to be this resting pose, and I remember it not feeling like that at all for me, my shoulders weren't strong enough to support me and I didn't have flexibility, it was so uncomfortable.
This mindset did not last for long as Falsetti stuck with yoga, partially out of pride but mostly as a way to lose weight, manage her depression and binge eating and change the perception she had of her body. She says that the whole practice was about limits, and she had spent her whole life thinking of her body as a problem and limiting everything in her life. She used to think that her belly was too big or that her things were getting in the way when it came to yoga, but slowly those thoughts started to go away. She realized these limits were only the ones she was making up for herself, so she soldiered on. We are so glad she did.
Falsetti stopped focusing on losing the weight and started focusing on her internal self. She created a two minute video for the fitness app Cody, and today that video has over six million views. That positive representation for an unconventional yogi was breathtaking, and many people left comments for Falsetti thanking her for bringing diversity into the yoga community. The 22 year old is well on her way now teaches yoga to others around the country, focusing on body positive fundamentals. She understands that our bodies are capable of doing so many cool things and not to limit ourselves in any way. She inspires her Instagram followers with her poses, and when she is asked how she got to where she is now she thanks the power of visualization.
"People see these photos and it's someone who looks a little bit more like you or just someone in a bigger body doing something that you think you can't do, and you start wondering, 'Oh, maybe I could do that."
4. Rina Jakubowicz (Instagram: @rinayoga)
There are certainly not enough Latina yogis in mainstream yoga but Rina Jakubowicz is changing that for sure. The vibrant, upbeat yoga instructor does not shy away from a challenge, and believes that positive energy is contagious. The international, bilingual superwoman is unstoppable. She has been a teacher of teacher for over eleven years and presented at many yoga conferences around the world, including ones in Chile, Puerto Rico, Mexico and Andorra. Jakubowicz is a regular contributor for YogaJournal Online and MindBodyGreen, as well as being the yoga expert for Univision's Tu Desayuno Alegre and YogaJournal's magazine cover model in March 2015. And if that wasn't enough, she also owns her own yoga studio, Rina Yoga, in Miami, created the app Snooze Yoga, and a yoga curriculum for children and teens called Super Yogi's Schoolhouse. Is there anything this woman can't do?
Jakubowicz started yoga fifteen years ago when an ex-boyfriend suggested she try it. She thought she was too type A to enjoy something she deemed boring, but when a swami came to Miami to teach a class her and her mother decided to give it a shot. After an intense first class where she could do none of the moves but loved the challenge, so she committed to doing three hours of yoga a day everyday for six months, and finally earned a teaching certificate. It just went uphill from there. The Venezuelan-born teacher has spoken about her Latin heritage, and bringing yoga to the Latin community in Miami and Southern American countries.
There isn't really a spokesperson for yoga in the Hispanic market; even in Latin America there's not a go-to person that has widespread exposure. There hasn't been that person who can explain that yoga is not a religion; and that it can really help their body feel good and their mind feel better and relax.
She teaches those classes in Spanish and people are starting to turn around to yoga and are fascinated by what it can do for them. Her dedication to bringing yoga to the Latin population is truly empowering.
Tiffany Joiner is a differently abled yoga instructor living in London. The 35 year old became a fan of yoga after a trip to Dubai in 2006. But when a terrible accident in Dubai left her paralyzed from the waist down, she thought her chance at doing yoga was gone forever. At the age of 28 Joiner fell almost 26 feet off of a balcony.
"I couldn't bear to admit to myself that I was different, changed, damaged and I think that's why I didn't crumble,"she said. She didn't crumble, instead she turned to yoga for solace and became an instructor for differently abled people. "I threw myself into my new life," she said.
Joiner has been able to go quad biking, scuba diving, traveled through South America and underground mines all by herself. Her accident doesn't define her, instead she defines her own life. In London she teaches adaptive yoga classes and finds it amazing to be able to help people and prove they are able to live full and happy lives of their own accord no matter what. She's helping people love their bodies and what their bodies are capable of. "I began to love my body again, to respect that after all it had been through, it was strong and powerful and defying all expectations." Joiner says yoga gives one a sense of independence to do things their own way. With almost 10,000 Instagram followers she is truly on her way to inspiring and giving back to even more people.
Related
Before You Go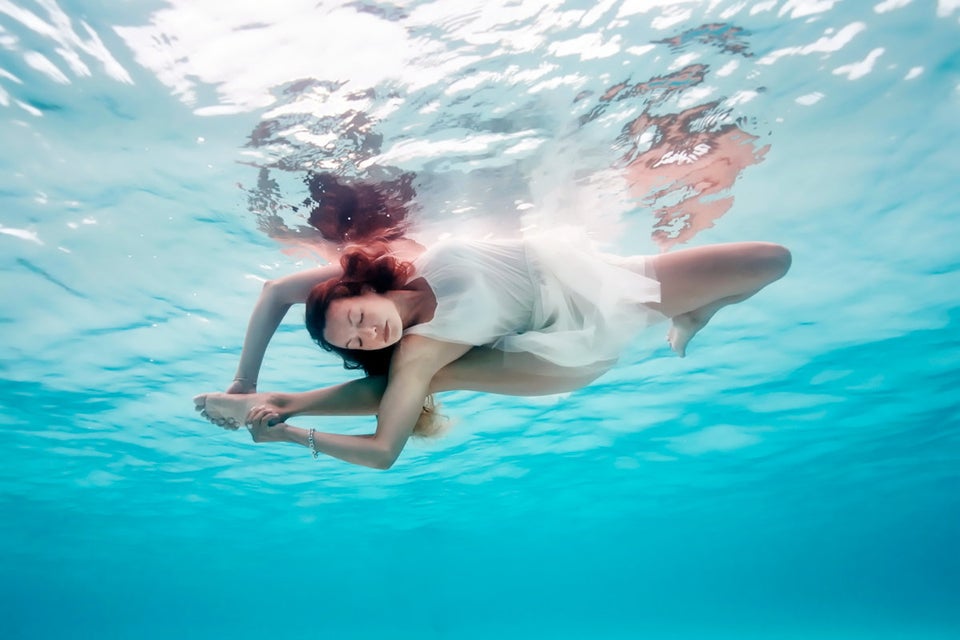 Underwater Yoga