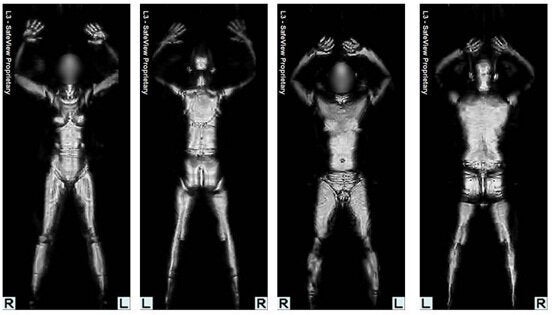 *UPDATED*Despite past statements by federal agencies that images from body scanners were not and could not be saved or recorded, a government agency has admitted to storing approximately 35,000 body scan images, CNET reports.
According to CNET, "U.S. Marshals Service admitted this week that it had surreptitiously saved tens of thousands of images recorded with a millimeter wave system at the security checkpoint of a single Florida courthouse."
The resolution and detail of the body scan images varies depending on the technology used in the scanner (i.e. X-ray backscatter vs millimeter wave. See full-body millimeter wave images on TSA.gov).
Privacy advocates have denounced the machines for generating images so graphic they are tantamount to "virtual strip-searching," and, in the UK, minors were recently barred from passing through the controversial full body scanners over child pornography fears.
As CNET writes, the TSA recently noted that it requires all checkpoint scanners used at airports to have the ability to save and share images. The agency added that such features are only for "testing, training, and evaluation." CNET reported that these capabilities "are not normally activated when the devices are installed at airports," although TSA spokesperson Sari Koshetz later told the Huffington Post that the body scanners' image storage capabilities are "never activated when deployed in airports."
While we have said this many times, it bears repeating, TSA will not keep, store or transmit images. Once deleted, they are gone forever. For additional privacy, the officer viewing the image is in a separate room and will never see the passenger and the officer attending to the passenger will never see the image. The officers have 2-way radios to communicate with other in case a threat object is identified.
UPDATE: TSA spokesperson Sari Koshetz noted that the images produced by millimeter wave scanners resemble "blurry negatives" with a "humanoid form" and compared the images produced by scanners using X-ray backscatter technology to "chalk etchings." No faces are shown and "very little detail" appears "unless a threat object is visualized," she said. Additional information on privacy and body scanners is available from the TSA here.
Below, an example of the images saved by the machines at the Florida courthouse, via CNN: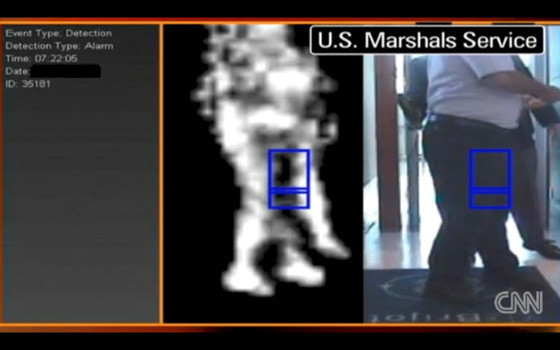 Related
Popular in the Community