Jeremy Schwartz had an epiphany last February on the banks of the Amazon River.
The chief executive of the Body Shop -- which pioneered ethical, natural beauty products in 1976 -- wanted to find a way for the L'Oreal-owned cosmetics chain to reclaim its place as a corporate leader in environmental consciousness. With a cadre of colleagues, he flew down to South America, hoping to find inspiration there.
"It's taken me about two years to crack, I've been on an intellectual journey to ask the simple questions: What does the future hold? And how can we be an original, progressive company?" Schwartz, the company boss since 2013, told The Huffington Post in a recent phone interview. "That trip to the Amazon was an enlightening ah-ha moment, standing on the edge of the river."
The simple fact is that the Body Shop, which once pushed most of Europe to ban testing on live animals, has lost its edge over competitors. To reclaim its position as an activist firm, the company is focusing on campaigning for legislative change. Currently looking at areas where it believes it could make the most impact, the chain plans to remain tight-lipped about the effort until sometime next year.
In the meantime, the store is planning an advertising campaign for next year focused on biodiversity, at least 10 percent of which can be found in the Amazon Rainforest. This rejuvenated focus on the environment comes after nearly two decades of decline for the company, which turns 40 next year.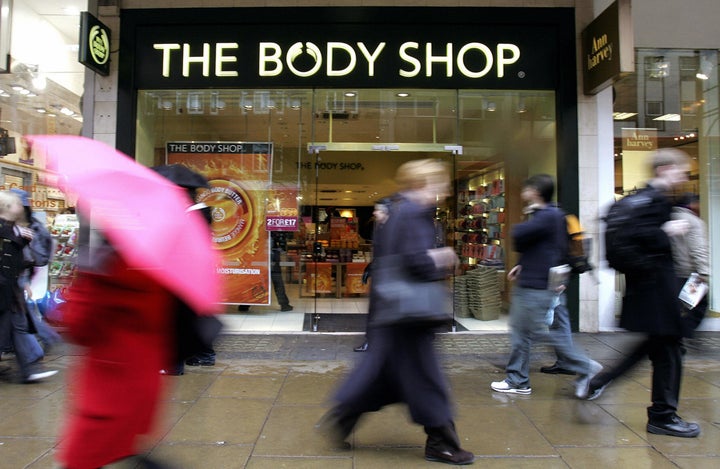 Under the 26-year stewardship of late founder Anita Roddick and her husband, T. Gordon Roddick, the Body Shop set a new standard by "retailing with a conscience" on a large scale. The company sourced the ingredients in its products to indigenous farmers in developing countries. It enforced eco-friendly growing methods in its supply chain.
In 1993, the firm banned any products tested on animals. Three years later, the Body Shop gathered 4 million signatures on a petition to ban cosmetic testing on animals in the European Union. By 2004, the ban went into effect.
Back then, the company focused on making change by targeting Europe and North America.
But Schwartz realized, standing before the lapping 4,000-mile river earlier this year, that companies have an incomplete vision for the ideal ethical consumer. So the thinking goes, the tote bag-slinging urbanites of New York, Paris or Tokyo care about sustainability, while folks in Lagos, Sao Paulo or Mumbai just want to lift themselves out of poverty, whatever the environmental cost.
Yet, as more rural Nigerians, Brazilians and Indians migrate to their countries' big cities, memories of the nature they left behind are fresh.
"These people are incredibly passionate about it," Schwartz said. "The reason they are, in my humble view, is that they're the first generation of people from the countryside."
How this will factor into the company's future campaigns remains unclear. Schwartz wants to try something edgy. Something that harkens back to company's glory days.
"How can we do something which, 20 years from now, people will say, 'God, they were a bit crazy,'" Schwartz pondered. "People said Anita was crazy to come out against animal testing."
But, by 2000, the company had lost its way.
Bigger, deeper-pocketed rivals jumped on the natural products bandwagon and devoured the Body Shop's share of the market. The Roddicks ceded control over the company to its new chief executive, Patrick Gournay, who quickly cowed to profit-hungry investors. The store, which once uniquely offered products you could feel good about buying, suddenly was focused more on products its new leaders thought people were more likely to purchase -- ingredients be damned.
In October 2000, Anita Roddick -- a devoutly antiestablishment environmentalist -- said she would be "out the door" if the Body Shop released an anti-aging cream. Nowadays, it offers plenty.
"The Body Shop is now really a dysfunctional coffin," Roddick said at a book festival in Scotland in 2001. "The market controls everything, but the market has no heart."
She and her husband resigned as co-chairs a year later. 
In 2006, a year before Anita Roddick died of a brain hemorrhage, French cosmetics giant L'Oreal paid more than $1 billion to buy the Body Shop. The move initially sparked calls for boycotts from animal welfare activists, who feared the behemoth would erode what remained of the Body Shop's eco-friendly ethos.
It's normally the case that multinational companies swallow small, ethically driven competitors, in part, to transfer some of their environmental knowledge and skills into their own global supply chains.
Unilever, for example, took radical steps to become a corporate leader in sustainability after it acquired Ben & Jerry's, the Vermont-based ice cream brand certified by the business nonprofit B Lab as an environmentally friendly vessel of both profit and positive social change.
But what L'Oreal was surprised to find after the acquisition was how poor the environmental systems were at the Body Shop. Sure, the retailer sourced its materials from farmers in developing countries, but L'Oreal had, by this point, developed better mechanisms for monitoring its supply chain and working toward environmental goals.
L'Oreal's brimming coffers -- annual operating profits rose past $4.1 billion last year -- helped, too. The Body Shop opened about 110 stores in its first year with L'Oreal. It now has more than 2,500 stores in more than 60 countries.
"We are seeking to leverage all that L'Oreal can bring us, for example, by leveraging the fact that they are sourcing from our [supply chain] and we can benefit from where they source their ingredients, too," Schwartz said. "But to have our own voice is crucial, because you have to be able to say how you feel."
Calling all HuffPost superfans!
Sign up for membership to become a founding member and help shape HuffPost's next chapter