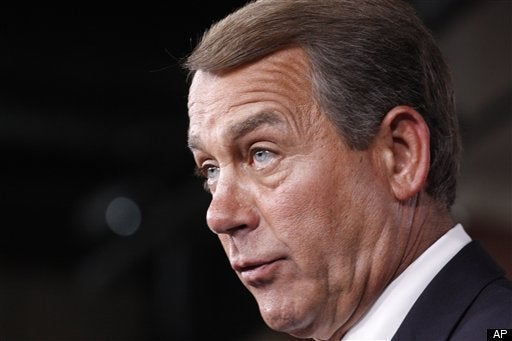 House Minority Leader Rep. John Boehner (R-Ohio) said Thursday that he's never met an American who supports the creation of a public health insurance option as part of the legislative reform effort.
"I'm still trying to find the first American to talk to who's in favor of the public option, other than a member of Congress or the administration," Boehner said, according to Politico's Glenn Thrush, who noted that Boehner made this claim with a "semi-straight face."
Really, is it that hard to find someone who supports a public option?
Terri Nelson, a psychotherapist who lives and works in Oxford, Ohio, in Boehner's district, told the Huffington Post that she has repeatedly contacted the leader's office to voice support for the public option.
"I've contacted him twice in writing since the spring, and he's responded to me twice in writing," Nelson said. "And I contacted his office by phone maybe six or eight times."
Her repeated message to Boehner, she said, goes like this: "It is imperative that we have a public option."
Boehner spokesman Michael Steel responded in a statement to the Huffington Post: "Obviously, Boehner was glad to hear Ms. Nelson's concerns, and hopes his response convinced her of the dangers of a government takeover of health care."
The Democratic Congressional Campaign Committee immediately fired up an online petition for folks to email Boehner about their support of a public option.
UPDATE 2: It's a pile-on.
And, in response to his remark that the public option "is about as unpopular as a garlic milkshake," Boehner's colleague, Rep. Mike Honda (D-Calif.) brought him several cloves of garlic on Friday. Gilroy, Calif., which Honda represents, is the "Garlic Capital of the World."
Honda also shared a limerick that absolutely stinks, even next to garlic: "Two things make for a strong healthy heart. Gilroy garlic, for one, a good start. Public option? Also high, in the American eye, 65 percent n'er want it to part."
Steel reacted: "We said 'thanks.' We like garlic. The point Boehner made yesterday was simply that garlic milkshakes aren't popular, like the Democrats' government takeover of health care."
UPDATE 3: Americans United for Change tees up a golf-themed ad: "Boehner's Bogey."
Popular in the Community