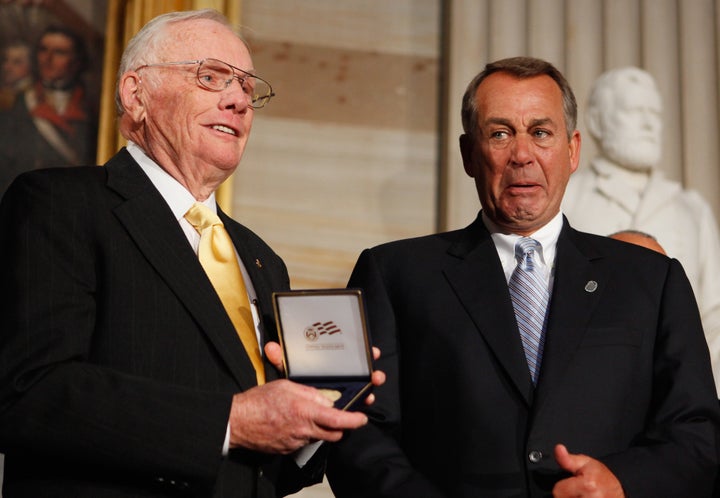 WASHINGTON -- His sniffles began during the speech, but it wasn't until after House Speaker John Boehner (R-Ohio) stepped down from the podium during a Wednesday ceremony at the Capitol that the bawling started.
Boehner was one of several Hill leaders who gave remarks at an event honoring astronauts John Glenn, Neil Armstrong, Michael Collins and Buzz Aldrin with the Congressional Gold Medal. Congress approved the medal in July 2009 to mark the 40th anniversary of the Apollo 11 moon landing.
"Neil Armstrong was once asked: Why did you, this one man, choose to speak for all when you set foot on the lunar surface? As it turns out, there was no script, there were no notes," Boehner said. "When the moment came, Neil's thoughts turned to the 400,000 people who worked on the project ... He said he knew 'it would be a big something for all those folks and a lot of others who weren't even involved in the project.' So it was."
And then, as Boehner lined up to present Armstrong with his medal in front of the crowd, the weeping began.
An attendee at the ceremony said Boehner's strong emotional reaction was startling.
"It was certainly a moving event, but seeing him sob and gasp for air was sort of off-putting," said this attendee.
Boehner spokesman Brendan Buck said the speaker was just moved by the chance to honor the astronauts.
"Like the speaker said, honoring these American heroes was a pretty cool opportunity," Buck said.
Boehner's public displays of crying have become a hallmark of his time as speaker. He fought off tears during his first address to the new House majority in November 2010, and cried as he accepted the gavel from former Speaker Nancy Pelosi (D-Calif.) in January 2010.
"I wear my emotions on my sleeve," he said when asked to respond to critics who say his tendency to shed tears makes him look "weak" or "strange." "I'm not going to apologize for being emotionally attached to the things I feel most strongly about."
Here are some shots of Boehner at Wednesday's ceremony:


Clarification: An early version of this article suggested that the ceremony marked the 40th anniversary of the moon landing, when it was the medal that was approved on that anniversary two years ago. This ceremony was the presentation of that medal.
Popular in the Community