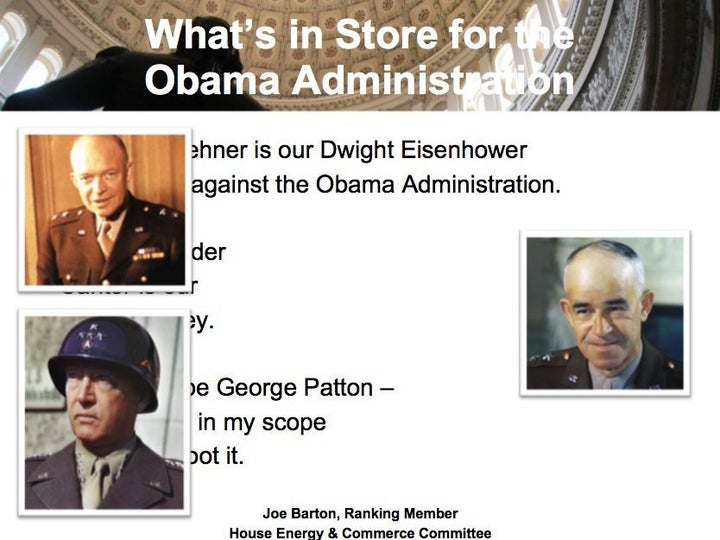 John Boehner is Dwight Eisenhower. Eric Cantor is Omar Bradley. And Joe Barton is George Patton. That's according to a presentation that Barton plans to give to the committee of House Republicans Tuesday that will determine whether he wins the chairmanship of the powerful Energy and Commerce Committee.
Eisenhower, Bradley and Patton were accomplished leaders and revered generals, but they were also defined by the evil nature of their enemy, Nazi Germany. Barton, in a presentation laced with violent rhetoric, specifically refers to himself and other Republican leaders as in a "battle against the Obama administration." Boehner is the incoming House speaker and Cantor will be elevated to minority leader.
"Speaker Boehner is our Dwight Eisenhower in the battle against the Obama Administration," says Barton's presentation, which was obtained by The Huffington Post.
"Majority Leader Cantor is our Omar Bradley," it goes on.
"I want to be George Patton - put anything in my scope and I will shoot it," promises Barton.
The slide is headlined: "What's in Store for the Obama Administration."
Barton most recently made headlines for apologizing to BP for the Obama administration's aggressive pursuit of the company for damages in the wake of the Gulf Oil spill.
A Barton spokesperson didn't immediately return a call.
Popular in the Community