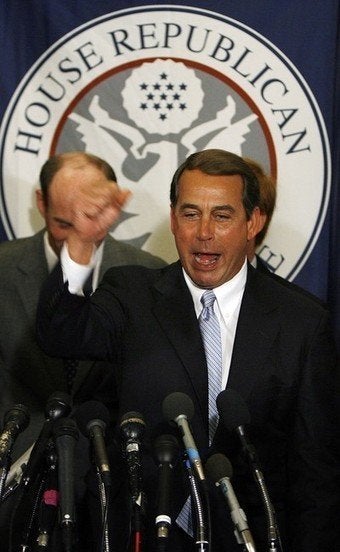 House Minority Leader John Boehner (R-Ohio) said on Thursday that President Barack Obama "slapped the table," wagged his finger and scolded him at a recent White House meeting.
Boehner's crime? Allegedly scaring the American public into a state of economic anxiety.
In a speech before the Conservative Political Action Conference, the Ohio Republican accused the president of excessive "finger-wagging" lectures. Driving the point, he relayed his version of a jobs-related conversation that Republican leadership had with Obama and his advisers.
"I was in the White House for a meeting a few weeks back," Boehner recalled. "We were talking about the economy and jobs and I was explaining that these Democrat policies, you know -- cap and trade, national energy tax, government takeover of our health care system, card check, higher tax rates -- all of this was paralyzing business owners because they had all of this uncertainty. And you know no small business owners can plan, invest or hire new workers in this kind of environment.
"But the president didn't like it," he added. "He looked at me and he slapped the table and said, 'Boehner, it's not my policies that are paralyzing these employers. It's you Republicans who are scaring them.'
"I said, 'Mr. President, the American people aren't scared about what we have to say. They're scared by the policies that are being promoted by your administration and your colleagues up on the Hill.' I told him, 'well here is the thing, the American people want leaders who will listen they don't need any more lecturers coming to Washington."
The Huffington Post has asked the White House to confirm Boehner's account, and we will update this post with their reply -- if it comes.
The conservative crowd at CPAC cheered loudly when Boehner, insisting that "nobody's immune" from the president's finger wagging, declared:
"Voters thought they were electing a commander in chief in 2008. Instead they got a professor who offers finger-wagging lectures."
Popular in the Community