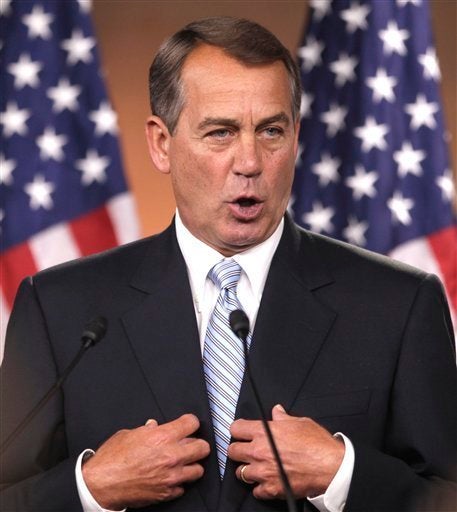 WASHINGTON -- Breaking with a bipartisan tradition kept by previous House speakers, Rep. John Boehner (R-Ohio) announced that he is not putting on a Cinco de Mayo reception at the Capitol next month.
"We've told the Hispanic Caucus that they are welcome to host one this year," said Boehner spokesman Michael Steel. "The speaker won't personally be hosting it, but we are supportive of them having it."
Leaders of the Congressional Hispanic Caucus reached out to Boehner earlier this month urging him to host the reception. It has been an annual event since at least 2003, when Illinois Republican Dennis Hastert was the House speaker.
On Thursday, Minority Leader Nancy Pelosi (D-Calif.) added her voice to the chorus. Boehner's Democratic predecessor sent him a letter saying that she had held the event every year when she was speaker and offered to assist in planning it again.
"Members of the House and Senate, Walter Reed Hospital wounded soldiers and their families, and other invited guests attended this reception, which included a brief speaking program with Mexico's Ambassador and Members from both sides of the aisle," Pelosi wrote.
Steel wouldn't say why Boehner isn't hosting the event or if the Ohio Republican has other plans on May 5.
One possibility is that he doesn't want to pay for it. A source familiar with planning for the annual event said the costs for the event typically come out of the speaker's budget.
May 5 also falls on a Thursday when the House is slated to hold its last votes of the week "no later than 3pm," according to the floor schedule posted by Majority Leader Eric Cantor (R-Va.). That could mean Boehner is angling to leave town for the weekend.
An aide to Rep. Charles Gonzalez (D-Texas), who chairs the Congressional Hispanic Caucus, said his group got a formal response from Boehner's office Monday saying the speaker won't be putting on the event.
"The letter didn't really answer our question of, 'Will you host one?'" said Gonzalez spokeswoman Patricia Park. "It was more a response like, 'That's a good idea. You should host something.'"
Gonzalez is currently talking with the Congressional Hispanic Caucus Institute about the possibility of hosting a reception with them, added Park, since "the speaker pretty much handed off the responsibility."