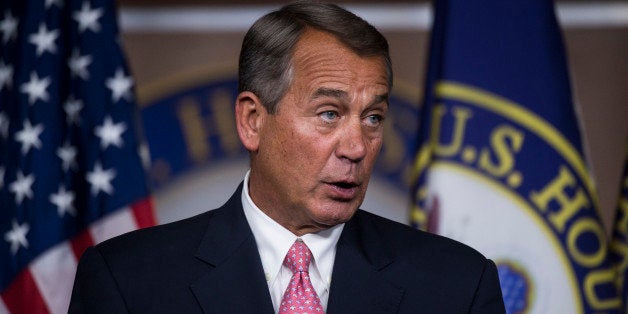 House Speaker John Boehner (R-Ohio) reiterated his opposition Thursday to a Senate Ukraine aid bill that includes a U.S. quota increase at the International Monetary Fund.
Boehner told reporters at his weekly briefing that the IMF boost, which was requested by the Obama administration, was irrelevant to the current crisis in Ukraine.
"Let's make sure we all understand something: The IMF money has nothing to do with Ukraine," he said.
The Senate Foreign Relations Committee passed legislation Wednesday with IMF language as part of a broader package that includes $1 billion in loan guarantees to Ukraine and targeted sanctions against Russian officials. The House passed a more pared down bill last week containing $1 billion in loan guarantees, but no sanctions or IMF quota increase.
Boehner expressed doubt over whether the Senate would even be able to pass its own bill, calling it a "big, big 'if.'" Republicans in the upper chamber are expected to demand a 60-vote threshold for cloture, but members of the Foreign Relations Committee said they expect a strong vote on final passage. They pointed out that the bill cleared the committee by a 14-3 vote, with just three Republicans voting against it.
House Republicans have also taken issue with the pay-for within the Senate bill for the IMF provision. The Congressional Budget Office estimated the cost of the IMF reform at roughly $315 million, and the Senate bill offsets some of that spending by taking money from U.S. military accounts.
Rep. Buck McKeon (R-Calif.), chairman of the House Armed Services Committee, called the Senate proposal "looney."
"Senator Menendez's bill to fund reforms at the IMF on the backs of our troops is just looney and I will strongly oppose it if it comes to the House," he said in a statement Wednesday. "If the Senate is serious about protecting Ukraine, they should work with the House to pass something that can be adopted quickly by both chambers."
Republicans also see the move as opportunistic, since President Barack Obama and Democrats have been pushing for IMF reform for almost a year. In his budget for fiscal year 2015, Obama included an increase of about $63 billion from an existing credit line to the IMF. The White House has stated that the Ukraine crisis actually underscores the need to raise the quota and would strengthen U.S. influence within the agency.
The tussle over IMF reform will undoubtedly delay the nation's ability to provide quick economic assistance to Ukraine. Congress will recess next week, meaning lawmakers will not revisit the issue for 10 days.
Popular in the Community