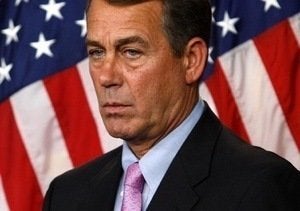 The health legislation authored by House Republicans and set to be unveiled in the next few days reportedly would not prevent health insurance companies from discriminating against patients with pre-existing conditions.
That's not just a stark contrast to Democratic-produced legislation; it puts Minority Leader John Boehner (R-Ohio) and his co-authors at odds with many members of their own party.
Many of the most respected health care voices in the GOP have historically treated the idea of eliminating pre-existing condition exclusions as an obvious plank in any reform effort. A Democratic opposition researcher provided the Huffington Post with several examples.
Even deeply conservative figures like Senator Tom Coburn (R-Okl) insisted as recently as August that "everyone agrees" that legislation should "eliminate pre-existing conditions" as an excuse for denying coverage.
Coburn's colleague in the Senate, John Barrasso (R-Wyo.), explained in July that after listening to people in his home state, he understood that Congress needed "to take care of things like pre-existing conditions so that that doesn't stop them from getting insurance."
Another Senate Republican who was heavily involved in negotiating health care reform, Chuck Grassley of Iowa, has unequivocally declared that the government has "to prohibit insurers from denying coverage to people with preexisting medical conditions and charging higher premiums to people who are sick."
Even the Republican Whip in the Senate, Jon Kyl of Arizona, has stressed the need to make sure that patients "cannot be denied care because [they] have a pre-existing condition..."
On the House side as well, many Republicans will find themselves at odds with the legislation that their leadership is about to introduce.
Rep. Paul Ryan (R-Wisc.), who is widely regarded as one of the sharpest health care policy wonks in Republican circles, told MSNBC back in May that consumers needed to have "access to affordable coverage, regardless of [their] pre-existing condition." Representative Dave Camp (R-Mich), meanwhile, has insisted that Republicans "must address" the issue of pre-existing conditions. Rep. Joe Barton (R-Tex.) has called for the creation of a "straightforward national plan that covers pre-existing conditions."
To be sure, Boehner's forthcoming proposal includes a host of other provisions that conservatives hold close to their hearts. The bill, according to a report from Dow Jones, "would allow insurance firms to sell policies across state lines, permit small businesses to pool together to bring down costs they face, implement changes to medical malpractices, and give state governments more flexibility to pursue rule changes in their states."
And in an email on Tuesday to the Huffington Post, the Minority Leader's chief spokesman stressed that the GOP proposal will contain alternative provisions to deal with the pre-existing condition issue.
"There's been a lot of confusion about this," said Boehner spokesman Michael Steel. "Our bill will help folks with pre-existing conditions, we just do it differently. We expand and improve high-risk pools and reinsurance programs as well as expanded options in the individual markets. We will also lower the costs by creating state-level plan finders. The Democrats' big-government mandate will raise costs for every American with health insurance and cause more Americans to lose their current coverage."
The approach reflects the stance taken by other Republicans, who have downplayed the regulatory role the government can play in determining who private health insurers will or will not cover. During the 2008 presidential campaign, Sen. John McCain (R-Ariz.) did not put the elimination of discrimination based on pre-existing conditions in his health care reform proposal. Instead, he proposed a Guaranteed Access Plan, which, according to his campaign, would use state funds to "contract with insurers to cover patients who have been denied insurance and could join with other state plans to enlarge pools and lower overhead costs."
Still, at this juncture in the health care reform debate, even the private insurance industry has conceded that it will likely have to end or drastically alter its pre-existing condition policies (provided that there is a mandate that all people -- healthy or not -- purchase insurance in the first place).
Boehner's apparent resistance to attaching that provision to the House GOP health care package leaves him susceptible to the political attack that he is overly friendly to the insurance industry.
Calling all HuffPost superfans!
Sign up for membership to become a founding member and help shape HuffPost's next chapter