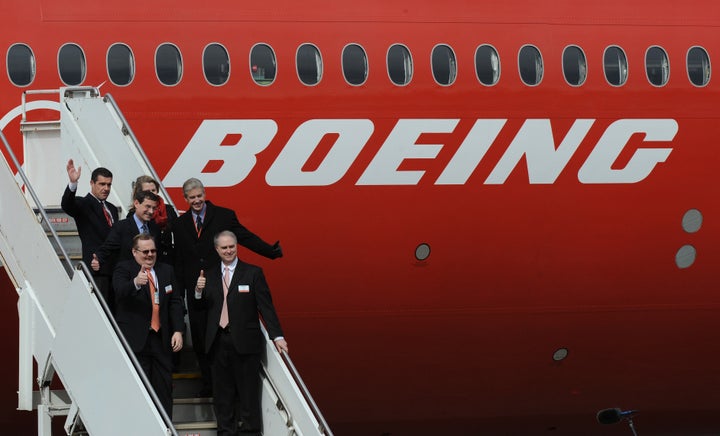 Facing an onslaught of criticism from Republican lawmakers and corporate interests, National Labor Relations Board acting general counsel Lafe Solomon today defended his decision to file a complaint against Boeing after the company made plans to move a production line for its new 787 Dreamliner from Washington state to South Carolina.
In the complaint filed last month, the board said Boeing's move broke the law because the company was retaliating against its Washington workers for past labor strikes. The complaint could potentially scuttle the aerospace manufacturer's plans in South Carolina and force the company to bring the assembly line back to Washington.
The NLRB move has infuriated Republicans and perhaps revealed a significant shift from the pro-management labor board of the Bush era. Last week Sen. Lindsey Graham (R-S.C.) said that the Boeing complaint indicated the board had a pro-union "agenda" under the Obama administration. Graham cosponsored a bill he claimed would strengthen states' "right-to-work" laws and said he plans on introducing legislation that would "defund" the Boeing complaint.
"I'm afraid the NLRB has an agenda that is not healthy for the country," Graham told reporters.
Solomon fired back at his critics in a statement today, saying, "There is nothing remarkable or unprecedented about the complaint issued against the Boeing Company on April 20. The complaint involves matters of fact and law that are not unique to this case, and it was issued only after a thorough investigation in the field, a further careful review by our attorneys in Washington, and an invitation by me to the parties to present their case and discuss the possibility of a settlement."
Boeing executives have explicitly cited the strikes as a reason for moving the production line in both company documents and news interviews. Solomon recently told the New York Times that he had no choice but to file the complaint given the evidence, noting that workers' right to strike is federally protected.
On Thursday a group of 19 Republican senators sent a letter to President Obama announcing their intention to "vigorously oppose" his nominees to the labor board in light of the Boeing complaint, which they viewed as an attack on right-to-work states like South Carolina. "If the NLRB prevails, it will only encourage companies to make their investments in foreign nations, moving jobs and economic growth overseas," the letter read.
In his statement today, Solomon asked that "all interested parties respect the legal process, rather than trying to litigate this case in the media and public arena."
Popular in the Community