When it comes to great investments, it's hard to beat collecting $7,250 for every $1 you spend.
That's the benefit Boeing Corp. will reap from a ramped-up lobbying push in Washington state that ended with a massive $8.7 billion tax subsidy, according to an analysis of lobbying data released Thursday. The tax break came as part of a deal to keep production of a new jet, the 777X, in the Seattle area.
Lobbying data is notoriously difficult to parse -- matching individual dollars to specific legislative priorities is often impossible. It's plausible that the company could have achieved the same result with a single phone call, given how terrified state officials were that the company might ship high-paying jobs elsewhere. The governor's office had estimated that Washington would lose an estimated 20,000 jobs and more than $20 billion in economic activity if Boeing took production of the new jets elsewhere.
But the new analysis of the lobbying data shows that Boeing didn't leave anything to chance in pursuit of its goal: that it went about getting want it wanted the old fashioned way, by spending gobs of money on lobbyists to follow lawmakers around, to call them incessantly and otherwise convince them that tax revenue isn't really all that important anyway.
Boeing spent about $1.3 million to lobby state lawmakers from 2011 through 2013, according to the findings from the
nonprofit National Institute on Money in State Politics. In the previous three-year period, the company spent $450,000. (The $7,250 - to - $1 calculation assumes every lobbying dollar was spent to win the tax subsidy).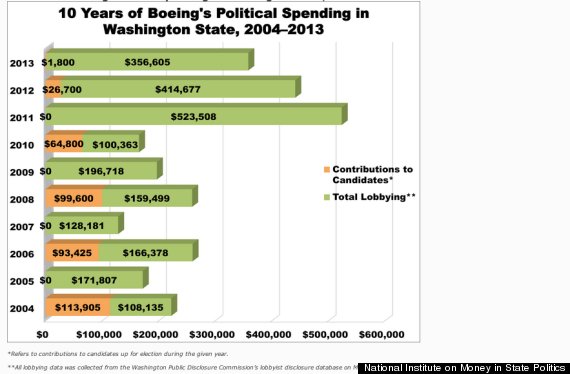 Ordinary taxpayers in Washington state aren't as fortunate as Boeing. Washington has one of the most regressive tax systems of any state in the country. A recent report by the Tax Foundation found that Washington has the fourth-highest average sales tax rate in the U.S.
Low-income people in Washington state are taxed at six times the rate as a share of their income as the top 1 percent, an economist for the Center for State Tax Policy recently told the Washington Post.